WASHINGTON -- In an anti-climactic response to a March 31 deadline for reaching a political framework on the Iran nuclear deal, negotiators from Iran, the United States and the five U.S. negotiating partners opted to extend the framework discussions until at least Thursday.
While the Obama administration has urged those skeptical about the negotiations to wait until the final June 30 deadline to pass judgment, members of Congress are already interpreting the failure to reach a framework agreement by March 31 as evidence that the talks are doomed and that Congress must act.
"It is clear the negotiations are not going well. At every step, the Iranians appear intent on retaining the capacity to achieve a nuclear weapon. Without significant change, we have little confidence the negotiations will end well," said Sens. Lindsey Graham (R-S.C.) and John McCain (R-Ariz.) in a joint statement Wednesday afternoon, shortly after negotiators announced a second extension of the Tuesday deadline.
Disappointment on Capitol Hill was somewhat inevitable as lawmakers have increasingly hyped the importance of what was always an ambiguous benchmark.
"The end-of-March target date for achieving a political framework was meant to be a soft deadline -- a deliberately low hurdle that both sides would use to reassure their impatient domestic critics that a comprehensive deal was, in fact, achievable," wrote Suzanne Maloney of the Brookings Institution on Monday. "But those same partisan pressures -- amplified by escalating regional unrest -- conspired to transform this purported 'soft deadline' into a moment of truth for the tortuous process and, by extension, for the Obama administration's Middle East policy."
Until now, President Barack Obama has been able to stall efforts by Congress to influence the progress of the Iran negotiations through legislation of its own. Arguing that congressional weigh-in would undermine the authority of negotiators and potentially tank the ongoing talks, he convinced several key Democrats to temporarily withhold their votes on two pieces of legislation -- one by Senate Foreign Relations Committee Chairman Bob Corker (R-Tenn.) and one by Sens. Mark Kirk (R-Ill.) and Bob Menendez (D-N.J.).
However, Obama will not be able to forestall congressional action indefinitely. Even some Democratic Party loyalists are hesitant to wait until the final June deadline, arguing that doing so would mean accepting a fait accompli.
The Corker bill, which would give Congress a vote on any final nuclear agreement and would strip the president of his authority to temporarily suspend sanctions against Iran, is scheduled for committee markup when the Senate returns from recess on April 14.
On Tuesday, as it was becoming increasingly clear that the March 31 deadline would yield little in the way of a substantive agreement, Sen. Mark Warner (D-Va.) became the most recent Democrat to back the Corker bill. His press secretary, Rachel Cohen, confirmed to The Huffington Post that although Warner would not add his name to the growing list of cosponsors, he planned to vote for the legislation. With Warner, the Corker bill has a tentative 64 of the 67 votes needed to override the president's promised veto.
A handful of other Democratic senators who have supported previous legislation to restrict Iran's nuclear program have been noticeably quiet on the Corker bill. These lawmakers still face the decision of whether to throw their weight behind Corker's measure or urge their colleagues to wait until June 30.
Obama must also deal with supporters of the Kirk-Menendez bill, which calls for increased sanctions against Iran if the June deadline fails to produce a final agreement. Like Corker's legislation, the Kirk-Menendez bill is close to a veto-proof majority, with eight Democrats counted as original cosponsors.
Back in January, Menendez wrote a letter to Obama, promising to forgo a vote on his bill until after the original March 24 deadline for a political framework. But he warned the president, "We remain deeply skeptical that Iran is committed to making the concessions required to demonstrate to the world that its nuclear program is exclusively peaceful by March 24 -- the deadline agreed upon for a political framework agreement."
"Considering Iran's history in nuclear negotiations and after two extensions of the Joint Plan of Action, we are concerned that Iran is intentionally extending the negotiations to improve its leverage at the negotiating table," Menendez continued.
On Wednesday morning, Kirk said it was time to revive his sanctions bill. "In the last week, the Administration has made a series of dangerous nuclear concessions to Iran and gotten nothing serious in return," the senator said in a statement. "By passing Kirk-Menendez, we increase pressure on Iran for a good deal. Without it, we'll get a badly lopsided deal that paves Iran's path to nuclear weapons and sparks a nuclear arms race in the Middle East."
Ultimately, it is Senate Majority Leader Mitch McConnell's decision if and when either bill goes to a vote. During a visit to Israel this past Sunday, the Republican senator discussed his options with Israeli Prime Minister Benjamin Netanyahu.
"Talks continue as usual in Lausanne on a deal that from everything we hear paves Iran's way to the bomb," Netanyahu said to McConnell in video released by the Israeli government.
McConnell assured Netanyahu that he shared the prime minister's concerns about the potential nuclear deal. "The option if there is an agreement is a bill we intend to vote on that enjoys bipartisan support to require that agreement to come to Congress for approval," he said, referring to the Corker bill.
"If there's no deal, then the view of this group, similar to your own, is that ratcheting up sanctions might be the best direction to take in the wake of a deal that does not come together," McConnell added, suggesting that he would push forward with the Kirk-Menendez legislation.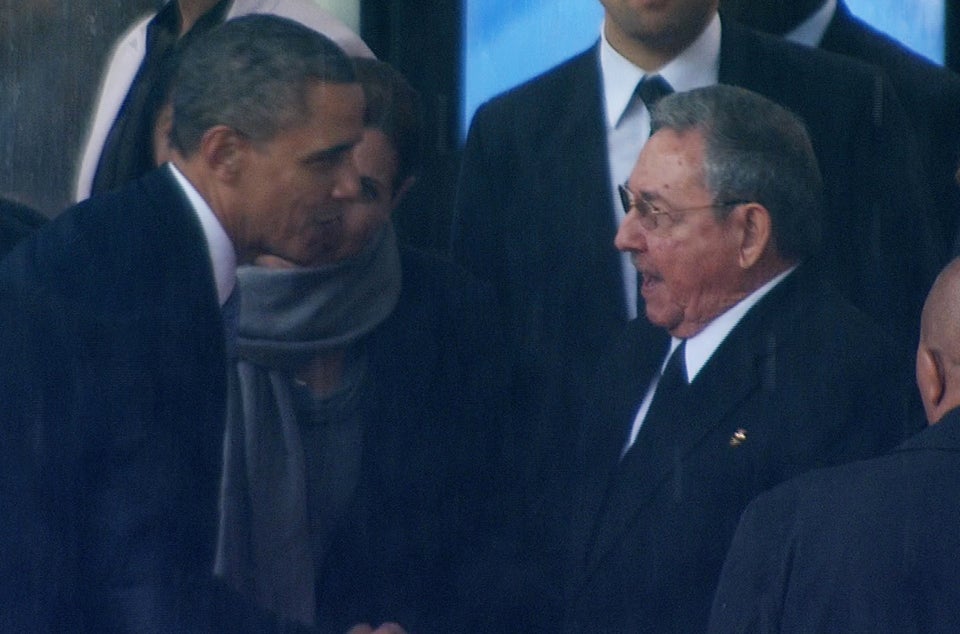 Obama's Handshakes Around The World
Popular in the Community