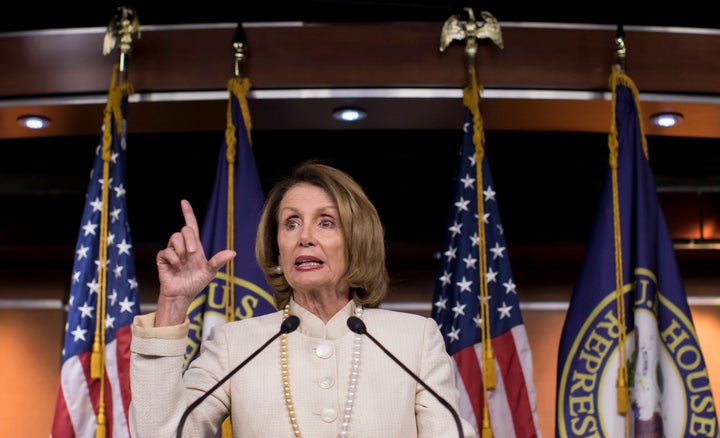 WASHINGTON, Aug 2 (Reuters) - U.S. backers of the Iran nuclear deal are increasingly confident of enough Democratic support to ensure it survives review by Congress, despite fierce opposition by majority Republicans and a massive lobbying drive.
By the time the House of Representatives recessed for the summer last week, no senior Democrat in the chamber had come out formally against the agreement and several central figures, including Minority Leader Nancy Pelosi, were strongly in favor.
Pelosi said she was confident that if, as expected, Republicans pass a "resolution of disapproval" to try to sink the deal, a promised veto of that measure by President Barack Obama would be sustained.
At least 44 Democrats in the House and 13 Democrats in the Senate would have to defy Obama and join Republicans in opposing the deal to get the two-thirds majorities in both chambers needed to override a veto.
"More and more of them (House Democrats) have confirmed to me that they will be there to sustain the veto," Pelosi told reporters.
The United States was the prime negotiator in the July 14 agreement between world powers and Iran to curtail Tehran's nuclear program in exchange for lifting sanctions, and its engagement is essential for implementing it.
In the last two weeks, the White House has rolled out its big guns at congressional hearings and private meetings to advocate for the deal, which Obama says is not perfect but is the best way to keep Iran from getting a nuclear bomb.
Powerful pro-Israel lobbying groups that believe it would endanger the Jewish state by empowering Iran have been especially active, although some pro-Israel factions support the deal.
Opponents had hoped influential Democrats would come out against the deal early, to give momentum before the recess.
But despite signs of skepticism, the few Democrats who did openly oppose it, including Representatives Grace Meng and Juan Vargas, are not among those considered influential on the issue.
"That shows the strength of the firewall we have here," a senior Democratic congressional aide said.
At least 13 Democrats in the Senate and 44 in the House would have to join Republicans in opposing the deal to get the two-thirds majorities in both chambers needed to override a veto.
PRESSURE ON JEWISH LAWMAKERS
To date, no Senate Democrat has formally announced opposition, although many are undecided. A few influential leaders, including number two Democrat Dick Durbin, are strongly in favor.
The Senate recess begins on Friday and both houses return to Washington on Sept. 8. Congress then has until Sept. 17 to accept or reject the pact, which the White House considers one of the major foreign policy initiatives of the Obama presidency.
"I'm encouraged right now," said Democratic Representative David Price, who has taken on the task of convincing lawmakers from both parties to back the deal. But he cautioned that it is still early in the process.
The pressure has been particularly strong on high-profile Jewish Democrats known as strong supporters of Israel.
The New York Post put Senator Chuck Schumer, the number three Senate Democrat, on its front page, under the headline: "Where's Chuck? Senator hides from Post's Iran questions." Schumer says he has not made up his mind.
Other prominent Jewish Democrats say they are still undecided, including Representative Eliot Engel, the top Democrat on the House Foreign Affairs Committee.
"There'll be a lot of pressure on Democrats to support the president," Engel told Reuters.
Engel met with Obama in the Oval Office last Wednesday, and Israeli Ambassador Ron Dermer at the Capitol on Thursday.
He said it would be "very tough" to win over enough Democrats to override the president's veto. But when asked if he would vote to do so, Engel said, "I'm considering it." (Additional reporting by Richard Cowan, Alex Wilts, Idrees Ali and Matt Spetalnick; Editing by David Storey and Tom Heneghan)
Calling all HuffPost superfans!
Sign up for membership to become a founding member and help shape HuffPost's next chapter