WASHINGTON -- As Washington and its negotiating partners celebrate a historic step toward dismantling Iran's nuclear program, a lesser-known and cash-strapped UN agency will serve as the world's eyes on how that nation fulfills its obligations, taking responsibility for a whole new set of verification and inspection requirements announced last week. And someone -- most likely Washington -- is ultimately going to have to pay.
The International Atomic Energy Agency, or IAEA, doesn't capture as many headlines as other players in the negotiations. But IAEA's operations are on the proverbial front lines, as its on-the-ground inspection teams will be the primary check on Tehran's nuclear ambitions. It's likely that only by its say-so the world would start tentatively lifting sanctions.
But those inspections require personnel, personnel require resources, and all of them require money, which the IAEA doesn't have much of.
A substantial chunk of the agency's funding comes from UN members' voluntary contributions beyond their annual obligations. While it's unclear how much additional money will ultimately be required for the IAEA to continue monitoring Iran should a final deal be reached, the U.S. has consistently coughed up a good portion of that voluntary money when it's been needed in the past. The Obama administration has indicated it intends to continue to meet the agency's needs on Iran.
"The United States is committed to working with other IAEA member states to provide the agency the resources it needs to continue carrying out this [Joint Plan of Action]-related work," a State Department official told HuffPost, requesting anonymity in order to discuss the sensitive negotiations.
The IAEA declined to comment on potential funding troubles.
"As the E3+3 and Iran have not yet finalized a Joint Comprehensive Plan of Action, the IAEA is not in a position to provide comments about its possible financial implications," said Susanna Lööf, a press officer for the agency.
Established in 1957, the IAEA is responsible for watching and maintaining nuclear security throughout the world. It's made up primarily of member states to the United Nations, and though technically separate from that international body, it reports to the UN General Assembly and Security Council.
The agency gets the funds to operate from member states' annual obligations. Programs get funded, but with hardly any wiggle room between the dollar signs when new or unexpected responsibilities arise. Budget trade-offs are a standard method of operation.
In previous years, tracking Iran's nuclear program ate up roughly 12 percent of the IAEA's €164 million inspection budget, which is part of the agency's relatively modest €500 million annual allocation (that includes both regular contributions and additional, voluntary contributions from member states). In addition to Iran, the IAEA is also tasked with monitoring the nuclear tracks and safeguards of some 180 other countries, according to its latest annual report.
As recently as November, the IAEA told member states it required an additional €4.6 million to adequately keep tabs on Iran's facilities in accordance with the still-valid Joint Plan of Action. That plan, implemented at the beginning of last year, was an interim agreement to curb Iran's nuclear program while all sides continued to negotiate a final deal, and involved increased inspections of Iran's facilities by the IAEA.
Plenty of countries -- including those outside the P5+1 team -- have pledged more money than the agency said it needed to continue running those inspections. As of February 2015, it had collected €1.1 million of the total pledges.
"The December pledge by the United States was for €750,000, in addition to the €850,000 that we had previously pledged for IAEA verification activities under the previous duration of the [Joint Plan of Action]," the State Department official added. "We strongly welcome the contributions already announced by some member states, and we hope others will join us in giving positive consideration to providing additional extra-budgetary contributions toward the IAEA's [Joint Plan of Action]-related efforts."
If a deal is eventually finalized, the IAEA will almost definitely require a bigger check than what the U.S. has given it.
As a critical player in any successful deal with Iran, the IAEA's position at the negotiation table has its own potential complications. No one -- least of all the P5+1 negotiating partners -- want to let a lack of funding hinder its crucial inspections and verifications, so the agency's additional needs will likely be met. But the agency also could find itself in the crosshairs of those that want the deal to fail, since the success of any deal hinges on its performance.
"It's going to be a definite increase over what we're committing now," said Blaise Misztal, director of the Bipartisan Policy Center's foreign policy project, where he has published several pieces on IAEA funding and the Iran deal.
The money isn't necessarily tough to get, he added. "Additional funding under the [Joint Plan of Action] was pretty easy to get for the IAEA. The P5+1 kicked in pretty quickly."
One potential hurdle is that the IAEA's budgetary needs seldom align with the budgetary deadlines of legislative bodies. The problem may not be whether the money is earmarked, Misztal said, but when it can be free of bureaucratic red tape.
"It can always be a concern," he said. "It wasn't part of [the IAEA's] regular budget ... it sort of happened at these weird 6-month [or] 4-month intervals."
The other potential concern is that funding IAEA could give some leverage to skeptical Capitol Hill lawmakers who disapprove of the deal. A sizable portion of UN funding is beholden to Congress. Rumblings from the Hill have suggested that such funding could be a target as legislators search for an entry point into the talks.
Sen. Lindsey Graham (R-S.C.), a Foreign Relations Committee member and one of the Iran deal's most prominent critics, threatened last month to slash UN funding should Obama try to bypass Congress in lifting sanctions.
Slashing UN funding could affect the IAEA's budget, too, effectively undercutting current checks on Iran's nuclear program.
Graham's office did not respond to a request to clarify the senator's position on UN funding relative to the negotiations.
Before You Go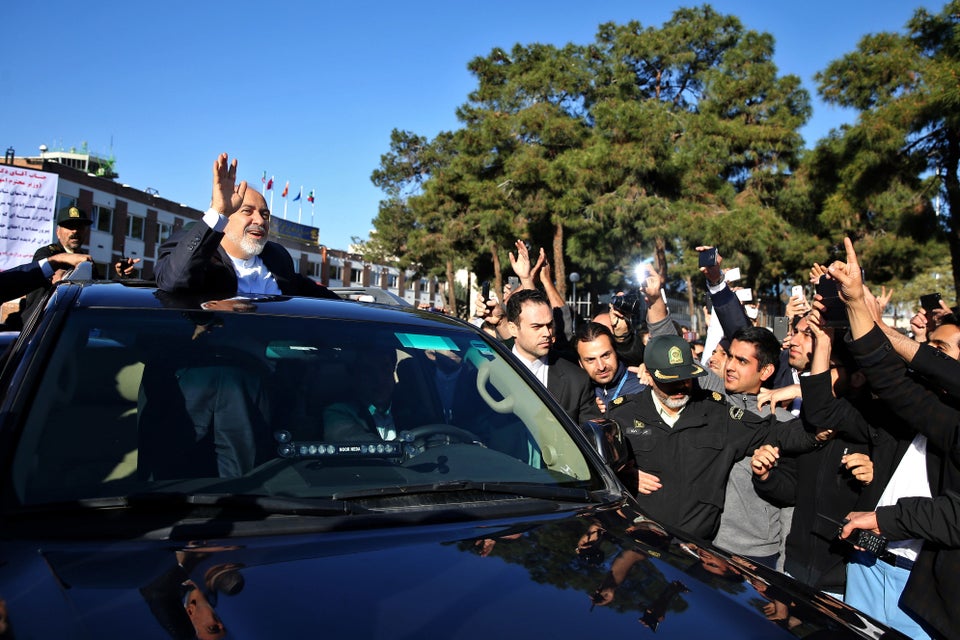 Iran Celebrates Nuclear Agreement
Popular in the Community