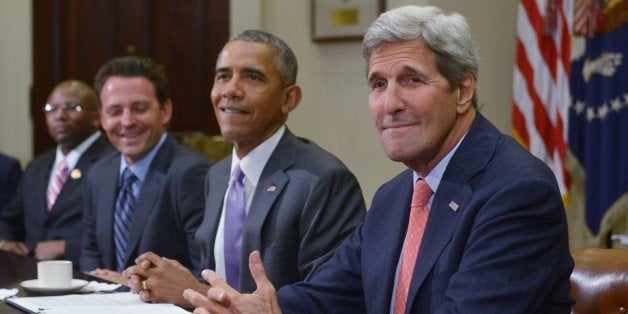 Americans learned from a decade of war in Iraq that military intervention around the world has true costs. Those costs come in the form of lives lost and our national reputation tarnished. They also come in opportunities lost here at home to reinvest in our people and communities. That is why so many Latino leaders have stood up in support of the nuclear agreement with Iran.
Ill-considered decisions led us to spend many billions on a decade-long invasion and occupation of Iraq, a war waged in the name of preventing the proliferation of weapons of mass destruction which were never there. Today, when we have the choice to avoid the path to war for the same goal, America should be responsible enough to take it, both for our security and our strength at home.
Imagine, for just a moment, what investments America could have made in education, infrastructure, and jobs instead of fettering it away in the sands of Iraq. Our nation has urgent needs to address, yet we often find it easier to spend money on overseas fights than on strengthening our communities here. Keeping the promise of a lifted lamp for new Americans requires more. And any war with Iran aimed at destruction of every nuclear site would only be more costly -- Iran is a third larger and twice the population of Iraq. The costs in lives and dollars would be massive, both for us and our allies.
America's Latino community knows better than most that when America engages in reckless interventionism at the cost of diplomacy and alliance-building, we betray important values. An honest accounting of American engagement in Latin America bears this out and most Latinos need not look far for the costs of unfortunate interventions. It is a lesson we must learn from when dealing with Iran's nuclear ambitions.
Diplomacy must be our preferred route; empowering the people of Iran to make change within their own country must be our policy. Walking away from the deal on the table would mean betraying the very alliances that have helped America impose sanctions, isolate Iran, and bring it to the table. We should have more respect for our friends than that.
Many Latinos came to America from countries with repressive and violent governments and so we view Iran's treatment of its own people and its trustworthiness under this deal with great suspicion. But the support of leading scientists, national security experts, and military leaders give us confidence that the deal is built on verification rather than trust.
The support of political dissidents from Iran especially gives us hope that Iran may be slowing moving towards a new direction. Of course, opponents of the deal are many of the same people who mislead America into Iraq and we have confidence our fellow Americans will not be fooled again.
America's leadership is best displayed when we strive to live up to our values as a nation. The values of opportunity, democracy and hard work are what drew so many Latinos to this country. The nuclear deal with Iran is one small part of making those values a reality. Senators face a key vote on the deal today. They should avoid dragging this -- and our country -- through the mud any further, support the deal, and oppose all attempts to scuttle it.
Calling all HuffPost superfans!
Sign up for membership to become a founding member and help shape HuffPost's next chapter