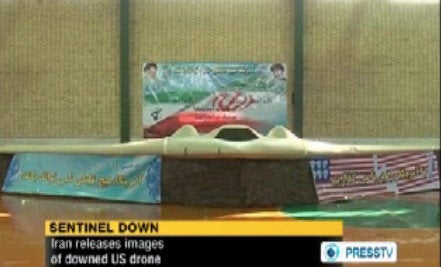 ABC News reports that the drone was on a secret surveillance mission for the CIA.
The chief of the aerospace division of Iran's powerful Revolutionary Guards, Gen. Ami Ali Hajizadeh, said Iranian forces brought the aircraft down with an electronic ambush, causing minimum damage to the drone.
"It was downed through a joint operation by the Guards and Iran's regular army," he told state television.
Iranian state radio has said the unmanned aircraft was detected over the eastern town of Kashmar, some 140 miles (225 kilometers) from the border with Afghanistan.
Tehran appeared to be using the footage of the purported drone to score propaganda points, and a banner at the foot of the aircraft in the video read "The U.S. cannot do a damn thing" – a quotation by the Iran's late supreme leader, Ayatollah Rouhollah Khomeini.
Iran confirmed for the first time in 2005 that the U.S. has been flying surveillance drones over its airspace to spy on its military and nuclear facilities. The U.S. and its allies suspect Iran is trying to develop nuclear weapons, a charge Tehran denies.
U.S. officials, speaking on condition of anonymity to discuss classified information, have said the drone and other stealth craft like it have spied on Iran for years from a U.S. air base in Afghanistan, and other bases in the region.
Calling all HuffPost superfans!
Sign up for membership to become a founding member and help shape HuffPost's next chapter