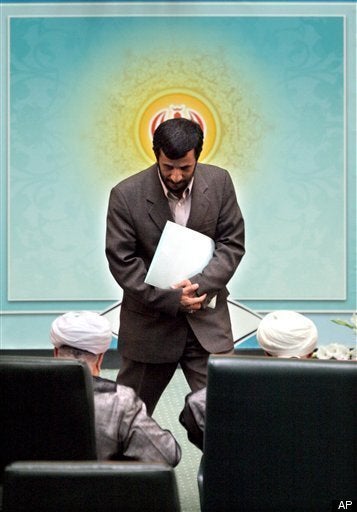 By Katherine Butler | The Independent
Iran's hardline President Mahmoud Ahmadinejad, seeking a return to power for a second term in landmark elections this week, came under attack from one of the country's most senior clerics last night in an outburst that reflected explosive tensions ahead of Friday's polling.
In a highly unusual public attack backed by other leading clerics, Akbar Hashemi Rafsanjani called on Iran's supreme spiritual leader to take action against Mr Ahmadinejad for "mis- statements and fabrications" during a televised debate last week. During the debate, Mr Ahmadinejad, who is facing an unusually strong challenge from reformists, accused Mr Rafsanjani, himself a former president, of corruption and of manoeuvring politically to unseat him.
Mr Rafsanjani fired off a letter to the supreme leader in which he warned that "tens of millions" of Iranians had witnessed the President's statements during the heated TV showdown. He urged Ayatollah Khamenei to take action, hinting that if he did not, furious supporters of the rival candidates might take the law into their own hands. "I am expecting you to resolve this position in order to extinguish the fire, whose smoke can be seen in the atmosphere, and to foil dangerous plots to take action... there is no doubt that some people, parties and factions will not tolerate this situation". Fourteen other clerics from the holy city of Qom, the centre of Iran's powerful religious establishment, issued a separate statement in which they voiced "deep concern and regret" that Iran's image had been harmed by the public debates.
After four years in which Iran's economy has tanked, oil revenues collapsed and relations with the West have festered, Friday's election is seen by many Iranians as the best chance in years for a meaningful swerve in direction. Many more in the West are hoping it will deliver a shift away from the intensely confrontational approach - particularly over Iran's nuclear programme - favoured by Mr Ahmadinejad.
In recent days the growing momentum behind the leading moderate challenger Mirhossein Mousavi, who has attracted the support of mostly educated younger people and the middle classes, has clearly rattled Ahmadinejad supporters. Both sides mounted huge rallies in Tehran on Monday night and there have been reports of tense incidents and sporadic confrontations around the country.
The outcome remains impossible to call, particularly since Mr Ahmadinejad is thought to enjoy the backing of Ayatollah Khamenei who wields ultimate political power. But some analysts believe Mr Mousavi, 67, a former Prime Minister, could deliver a surprise given the feverish atmosphere.
Another of the pro-reform presidential challengers, Mehdi Karoubi, came under mounting pressure yesterday to abandon the race to avoid splitting the votes of moderates but the outsider vowed to press on.
Dr Reza Mohlavi, director of the Centre for Iranian Studies at Durham University, said the contest had tightened sharply following Mr Ahmadinejad's personal attacks on Mr Mousavi and his wife during the televised debates. "After that people really began to show their anger. It is very difficult to call, but I think Mousavi will give the president a run for his money. He is a formidable opponent and he seems to me to be attracting more and more of the silent majority, the intellectuals, the middle classes and the industrialists, who in the past had lost hope of being heard or represented in their aspiration for how Iran should move."
Mr Ahmadinejad however remains massively popular in conservative rural areas and villages, where his credentials as a religious man from humble origins play well. But Dr Mohlavi said Ayatollah Khamenei would be intensely aware of the public mood. Unemployment is rampant, inflation officially 15% but thought to be nearer to 25% and there is urgent need for outside investment in Iran's petroleum and gas industries, which in turn requires Iran to end its diplomatic isolation.
The shift in America's policy towards Iran - Barack Obama has indicated the US now recognises Iran's existence as an Islamic Republic and is not seeking regime change in Tehran - may also mean Iran can allow itself a more pragmatic president. "The ayatollah is a very shrewd and clever politician, and maybe will see that Ahmadinejad's usefulness is no longer there," said Dr Mohlavi. "When Ahmadinejad was elected in 2005, we still had George Bush in the White House, so it was important for Iran to have a leader who could give as good as he got. But now that we have heard Obama's attempt to change the mood among Muslims, I think Mr Khameini is not necessarily going to back Ahmadinejad in the way he did in the past. He will be pragmatic."
His anti-Israel rhetoric and defence of Iran's nuclear programme has caused outrage in the West. Critics at home say his economic policies are failing, but the former Revolutionary Guardsman still rallies Iran's poor with his common touch and promises of state handouts. Ahmadinejad, 52, was the surprise victor in the 2005 race and is bidding for a second term.
Prime minister during Iran's 1980-88 war with Iraq, the 67-year-old is the main moderate challenger. He has repeatedly stressed his belief in following the guidelines of Ayatollah Ruhollah Khomeini, the late founder of the 1979 Islamic Revolution. But he has kept away from the political arena and any publicity over the past 20 years and his present economic and political views remain largely a mystery.
A moderate cleric and former parliamentary speaker, he switched to the reformist camp during the eight-year Khatami presidency. But he has been criticised for sometimes buckling under pressure from Iran's hardline religious establishment. Karoubi was defeated in the 2005 presidential vote despite pledging to give $50 of Iran's oil wealth each month to every Iranian over 18.
Popular in the Community