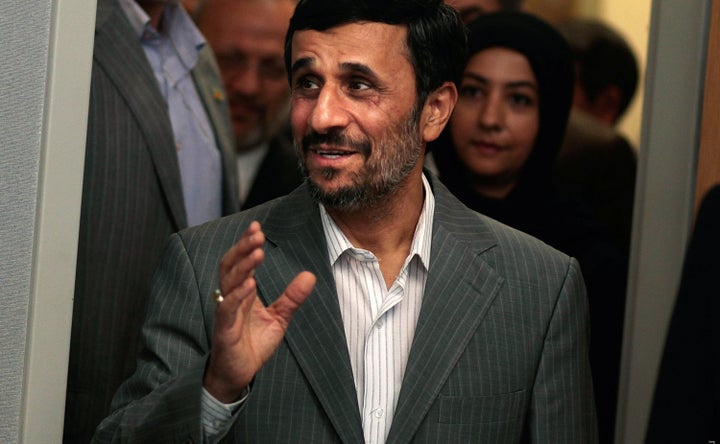 By Borzou Daragahi and Ramin Mostaghim, Los Angeles Times
In New York, Iranian President Mahmoud Ahmadinejad can boast that he's the talk of the town, appearing on television shows with the likes of Christiane Amanpour and Larry King, hobnobbing with fellow heads of state and addressing the United Nations General Assembly on Thursday.
In Tehran these days, the outspoken hard-line politician is under withering attack from all political directions. His detractors in recent weeks have included assorted fundamentalist clergymen who have accused him of interfering in religious affairs, a judiciary that humiliated him by delaying the release of American hiker Sarah Shourd, the editor of a right-wing newspaper handpicked by supreme leader Ayatollah Ali Khamenei, the moderate head of the powerful Assembly of Experts, and a member of parliament who condemned him for praising the pre-Islamic Persian king Cyrus, who is an icon of secular nationalists.
"The president should be aware that he is obligated to promote Islam and not ancient Iran, and if he fails to fulfill his obligation, he will lose the support and trust of the Muslim nation of Iran," said lawmaker Ali Mottahari, who is loyal to a rival conservative faction.
Strife among reformists, conservatives, hard-liners and extreme hard-liners has long shaped Iran's political system. But in recent months, the arguments and infighting have taken on a far sharper tone, with attacks growing more virulent and vocal. At the heart of the matter, analysts say, is Ahmadinejad, a divisive figure whose heavily disputed reelection last year triggered Iran's worst political crisis in decades.
That battle, between the country's security apparatus and reformist opposition, continues to make waves throughout the country. On Monday night, as Ahmadinejad settled into his role as a Manhattan media magnet, opposition supporters in Tehran took to their balconies and rooftops for the first time in months, chanting protest slogans as pro-government Basiji militiamen swarmed through neighborhoods blowing whistles.
"Harsh repression has apparently given some extra oxygen to the regime," said Michel Makinsky, an Iran specialist at the Poitiers School of Business and Management in France. "But the fire is still burning. There is a divorce between society and the regime."
Instead of attempting to heal wounds caused by the election, Ahmadinejad during the first year of his second term embarked on an ambitious and rambunctious foreign and domestic policy agenda, which further alienated the middle class and angered rival conservative factions long suspicious of him and his entourage.
Recently the editor of the daily Kayhan, a hard-line mouthpiece, accused the president of being under the Svengali-like sway of his chief of staff, Esfandiar Rahim Mashaei. The newspaper described the aide as an enemy of Iran duty-bound "to create riots and discord among conservatives" by influencing his boss to take positions on religion and foreign policy that differ from the rest of the establishment.
This came after Ayatollah Ali Akbar Hashemi Rafsanjani, a powerful cleric who is known to be sympathetic to the opposition, accused Ahmadinejad of pushing Iran toward calamity with a belligerent foreign policy that has enraged much of the world.
"In the past 30 years, despite war, aggression against us and our beleaguered revolution, we have never been under so much threat," he said before Khamenei and others gathered for the annual meeting of the Assembly of Experts, which Ahmadinejad did not attend. "I would like you to take all the sanctions seriously and not as a joke."
Analysts say the Internet has played a major role in sharpening tensions within Iran. Just as cable television has changed the nature of U.S. political discourse, the Internet has sped up the Iranian news cycle. Politicians have taken to the Web with glee, poking one another constantly via connected news agencies and blogs. Critics of Mashaei blasted him as a "pagan" within hours after he told Iranian expatriates at a conference in Tehran that the country ought to promote "an Iranian school of thought rather than the Islamic school of thought" abroad.
He fought back on his website, mashanews.com, accusing his detractors of slander.
"Now, you no longer have to read the tea leaves," said Gary Sick, an Iran expert at Columbia University, who served as a Middle East advisor to President Carter. "They say it to each other openly."
Analysts say the nature of the current ruling class has also changed. Clerics accustomed to abiding by the decorum of the seminary are being eclipsed by former military personnel used to giving gruff battlefield orders. Many of the current politicians are former prison interrogators.
The unrest last year empowered the extremist and violent elements in the Basiji militia and Revolutionary Guard called upon to suppress it. Ahmadinejad is more beholden than ever to the unruly mobs, which are now demanding a share of political power and a say in matters of state from both the president they support and the clerical class they are displacing.
"On the one side, the Revolutionary Guard and military men are gaining increasingly dominant power and they are harsh in their dialogue and discourse," said Reza Haqiqatnejad, political editor at Tehran Emrouz, or Today's Tehran, a daily newspaper close to the mayor of Tehran, Mohammed Baqer Qalibaf, who is another conservative rival of Ahmadinejad. "On the other hand, those who were founders of the Islamic Revolution are scared of losing ground. The factions are struggling for power and survival. So do not expect them to be very civilized to each other at this juncture in time."
Harsh political realities lend a desperate air to debates about relatively mundane issues such as the annual budget or the removal of food and fuel subsidies. Analysts say this is caused by the increased complexity and unpredictability of domestic and international events that affect Iran.
The danger of a surprise Israeli or U.S. attack always looms. International economic sanctions keep piling up, and inflation, which has eased somewhat during the global economic downturn, is expected to gallop again once the subsidies are lifted or re-targeted. The disputed results of last year's election continue to sow mistrust within the establishment and contribute to a crisis of legitimacy.
"Conservatives are in deep division on major topics," Makinsky of the Poitiers School said. "The nuclear crisis is a good example. While Ahmadinejad would be open to contemplate an agreement [with the West], he is unable to sell it to the supreme leader and to some ultraconservative Revolutionary Guards who consider any deal with the West as a threat against their power."
Recently, Intelligence Minister Heydar Moslehi acknowledged that seemingly intractable disputes between powerful officials remain Iran's weakest point. And there seems to be no way of stopping the escalating rhetoric. Khamenei, 71, who has tried to halt the squabbling factions from public disagreements, apparently has health problems and will eventually pass away. Within the zero-sum game of Iranian politics, any faction kicked out of the circle of power in the ensuing struggle fears for its own fate.
Opposition leader Mir-Hossein Mousavi spent 20 years in the political wilderness after the death of his patron, Ayatollah Ruhollah Khomeini, the founder of the Islamic Republic. Making matters even more competitive, the election last year showed that the country's large, powerful and educated middle class is up for grabs, and even Ahmadinejad, by praising Iranian nationalist icons, is attempting to woo them.
"The reformists ... feel concern because they think hard-liners such as Esfandiar Rahim Mashaei and President Ahmadinejad's government are competing with them," said Farshad Qorbanpour, a political analyst in Tehran.
Few expect Iran to moderate its domestic or international policies as a result of the infighting, which is expected to grow until Ahmadinejad's term ends in 2013 -- although he can run again in 2017 -- and may get worse afterward especially if Khamenei passes away and the military attempts to further impose its will.
"There may be a silver lining here," Sick said. "But you have to look for it pretty hard. If the troubles keep going, the temptation for a military strongman grows."
Related
Popular in the Community