 A group of Iranian female martial artists have hit out at Reuters over a report that allegedly described them as "assassins," saying they are suing the media organization for defamation, Iran's state television reported on Wednesday.
A Reuters representative told The Atlantic's Max Fisher in an email today that "there was indeed an error in a Reuters video script that was promptly corrected." However, Fisher and others have been unable to locate the video. Press TV's selection of the claimed Reuters video, meanwhile, features a British narrator describing the Iranian female athletes as possibly "the West's worst enemy" and "ninja assassins," according to The Atlantic.
Press TV said Reuters responded to the group's complaints about the "distorted" report by issuing corrections but came short of retracting the piece.
Women are barred from many sports activities in the Islamic Republic due to the country's restrictive moral codes, a point of ongoing contention between the country's restless young female population and the authorities.
It may be why the government has invested so much in areas like martial arts in recent years, with Ninjutsu clubs throughout Iran supervised directly by the Ministry of Sports' Martial Arts Federation.
It's proven hugely popular. A traditional Japanese martial art that often focuses on guerrilla techniques like espionage and camouflage, Ninjutsu is practiced by some three thousand women throughout Iran, according to the UPI news agency.
As The Guardian put it, for women in Iran, it "turns out that when you're denied basic human rights, restricted in your ability to dress how you want and mix with the people you choose, and when your legal testimony is officially recognised as being worth exactly half that of a man's, you develop — if these [Reuters] images are anything to go by — a lot of rage."
So it would seem. These women are not through with Reuters. They say damage has already been done and demand reparation.
Martial artist Raheleh Davoudzadeh told Press TV that the report "can harm our chances to travel to other countries to take part in global tournaments and international championships," concerns possibly heightened by Saudi Arabia's recent announcement that it will allow female athletes to represent them at the upcoming Olympics — an all-time first for the conservative Muslim nation.
It also comes after world football officials denied Iranian women's soccer team entry into an Olympic qualifying round in Jordan over Iran's insistence that its female players wear headscarves, a move that lead Iran to forfeit the game, according to CNN.
Such events have not helped Iran's sports standing internationally, making the Reuters report all the more unfortunate, martial arts trainer Akbar Faraji told Press TV, calling the defamation lawsuit "a matter of reputation."
One female ninja, Khatereh Jalilzadeh, said the group is "taking legal action because the ladies that train in Ninjutsu first and foremost enjoy it as a sport," explaining that it's not political, it's just "about working out and staying fit."
The reporter responsible for all the brouhaha, meanwhile, "left Iran shortly before a court case was opened," noted Press TV.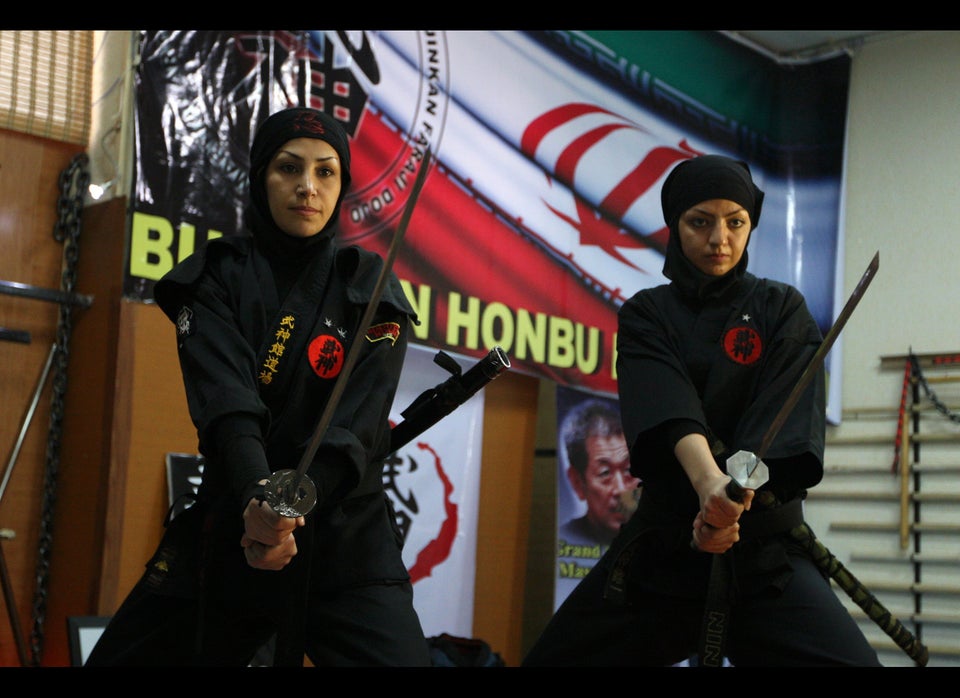 Iran's Female Ninjas
Popular in the Community