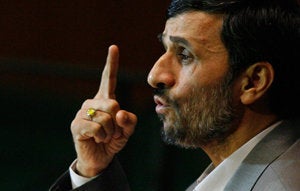 In a move that aims to curb opposition protests, Iran has announced that it will permanently suspend Gmail services.
In place of Google email, users will be able to use a national email service provided by Iran's telecom agency.
Iran's telecommunications agency announced what it described as a permanent suspension of Google Inc.'s email services, saying instead that a national email service for Iranian citizens would soon be rolled out. It wasn't clear late Wednesday what effect the order had on Google's email services in Iran.

Google didn't have an immediate comment about the announcement.
The WSJ also notes that Internet and text messaging services have recently suffered widespread disruptions. 'Satellite dishes from residential rooftops have been confiscated, as well as mobile phones from some opposition members,' Mashable adds.
February 11 marks the anniversary of the Islamic Republic, and the government fears an eruption of protests will take place Thursday.

Related
Popular in the Community