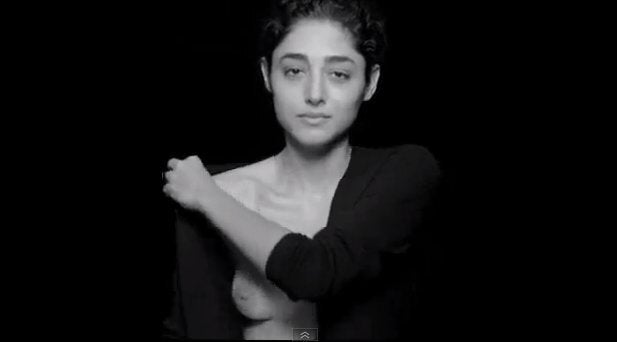 Her offense? Appearing topless in a short black-and-white film.
Farahani appeared partially nude in Jean-Baptiste Mondino's 'Corps et Âmes' (Bodies and Souls) as well as in the French magazine Madame Le Figaro. This week she received word from the Iranian government that she would not be permitted to return to her homeland, according to The Daily Mail.
In the film produced by the Cesar Academy -- roughly the French equivalent of the Academy Awards -- Farahani appears in a series of actors who were preselected for awards. The film cuts between the actors as each completes a line while undressing.
Farahani began her career at the age of six and rose to fame in Iranian cinema by the time she was 14-years-old. The Iranian actress has also worked with Asghar Farhadi, the director of the film A Separation, which received a Golden Globe this year for best foreign film.
WARNING: The video below contains nudity.
An article published by Young Journalists Club accused the actress of crossing the line even over the "little morality" that exists in Western countries. (The site also included a doctored version of the offending photograph, blurring Farahani's body into a disfigured translucent blob.)
The Iranian singer and actress told BBC Persian about her reasons for leaving Iran: "The way I was treated and the mistrust that I received from certain officials lead to my heartbreak," she said, according to a HuffPost translation.
Meanwhile, the photo has whipped the Iranian blogosphere into a frenzy. Some have denounced her as shameless, while others have praised her decision to appear in the film. "Those whose pride is hurt should stop being so zealous and enjoy the artistic beauty of this courageous girl," Amir Fakhravar tweeted in Persian.
Others, however, feared the possible repercussions of Farahani's appearance in the film and magazine. As HuffPost blogger Leila Mouri noted, "Some regarded her move as a radical action that might jeopardize the peaceful, Iranian opposition movement that started in 2009 -- a movement under severe repression by the Iranian government."
According to The Telegraph, the Paris-based actress' photo garnered thousands of comments in the first few hours after it was published on her Facebook page.
Below, watch the film. (WARNING: Contains nudity.)
Translations courtesy of Aria Fani.
Related
Popular in the Community