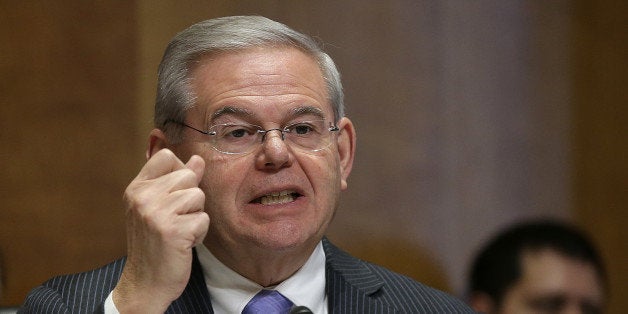 WASHINGTON -- Senate Majority Leader Mitch McConnell (R-Ky.) infuriated Democrats on Tuesday by announcing he would bypass regular order and expedite a bipartisan bill to the floor next week relating to Iran's nuclear program -- a change from a previous agreement to wait until delicate U.S.-Iran talks conclude later this month.
So on Wednesday, the senators hit back: All of the bill's Democratic co-sponsors vowed to vote against moving forward with their own bill.
"There is no immediate or urgent need to circumvent the Committee process and we are disappointed that you've pursued this partisan course of action," reads a letter to McConnell, signed by nine Democrats and one Independent. "As such, and as a result of your actions, we will only vote for this bill after it has gone through the regular mark-up process in the Senate Foreign Relations Committee and after the March 24th deadline for the political framework agreement."
The legislation, introduced by Senate Foreign Relations Committee Chairman Bob Corker (R-Tenn.), would give Congress 60 days to review -- and potentially reject -- any deal that scales back U.S. nuclear sanctions on Iran. The measure has bipartisan support, but Democrats have insisted their support hinges on allowing U.S.-Iran talks to play out first. International negotiations on curbing Iran's nuclear capabilities have entered their final phase as they near a March 31 deadline for a final deal.
McConnell caught Democrats off guard when he announced Tuesday that he would speed the bill to the Senate floor next week. It's unclear why he made the change, and the White House has already threatened to veto it, warning that it could cause already shaky international talks to unravel. A McConnell spokesman did not respond to a request for comment.
Wednesday's letter is signed by all of the bill's Democratic co-sponsors and then some, including Sens. Robert Menendez (N.J.), Tim Kaine (Va.), Joe Donnelly (Ind.), Heidi Heitkamp (N.D.), Bill Nelson (Fla.), Charles Schumer (N.Y.), Ben Cardin (Md.), Chris Coons (Del.), Richard Blumenthal (Conn.) and Angus King (I-Maine).
Ahead of the letter, many of those Democrats were already complaining. Menendez, the ranking Democrat on the Senate Foreign Relations Committee, fumed Tuesday that he would vote against his own bill, if necessary, to protest McConnell's move. Nelson went to the Senate floor on Wednesday morning to air his grievances.
"It's one thing to enter into these matters of considerable national security and try to disrupt them. It's another thing of looking at the consequences that, if these negotiations don't succeed and we can stop Iran having a nuclear weapon, that's one alternative. A very serious alternative is war," Nelson said. "But it's another thing … to make representations to a senator that are not fulfilled. And this senator doesn't like it one bit."
Some Republicans cautioned McConnell against moving forward without Democrats, namely because the bill may not get a veto-proof margin otherwise.
"I understand Mitch wanting to move forward, but this is not about partisan politics to me. This is about world order," said Sen. Lindsey Graham (R-S.C.), also a bill co-sponsor. "I don't want to create a problem for Democrats. If we have to wait until after the 24th -- they insisted upon that -- I'm willing to wait, as long as I know that there will be bipartisan support for a review of the deal."
But even if Graham and other Republicans are successful in bending McConnell's ear, the damage may have already been done in terms of a bipartisan plan forward.
"What happened yesterday, I think, poisoned the well," Menendez said.
UPDATE: 6:30 p.m. -- McConnell later defended his decision to move the bill next week, saying it would allow the full Senate to get started debating the issue while allowing the foreign relations committee to hash out specifics in the bill. If the committee ultimately votes out a bill, he said, that text will become what the full Senate votes on.
"It is my sincere hope that the sponsors of this bill, who will have the opportunity to review and defend their bill in committee, will not filibuster and prevent the full Senate from also acting on their important legislation," McConnell said. "The Senators who introduced this bill should certainly vote to debate this act."
Corker sort of made the case late Wednesday that McConnell's strategy would save everyone some time.
"As I understand it, by virtue of doing what he's done, when we actually do bring it up, it saves him two calendar days. Two days. Whatever y'all call 'em," Corker told reporters.

Support HuffPost
The Stakes Have Never Been Higher
Before You Go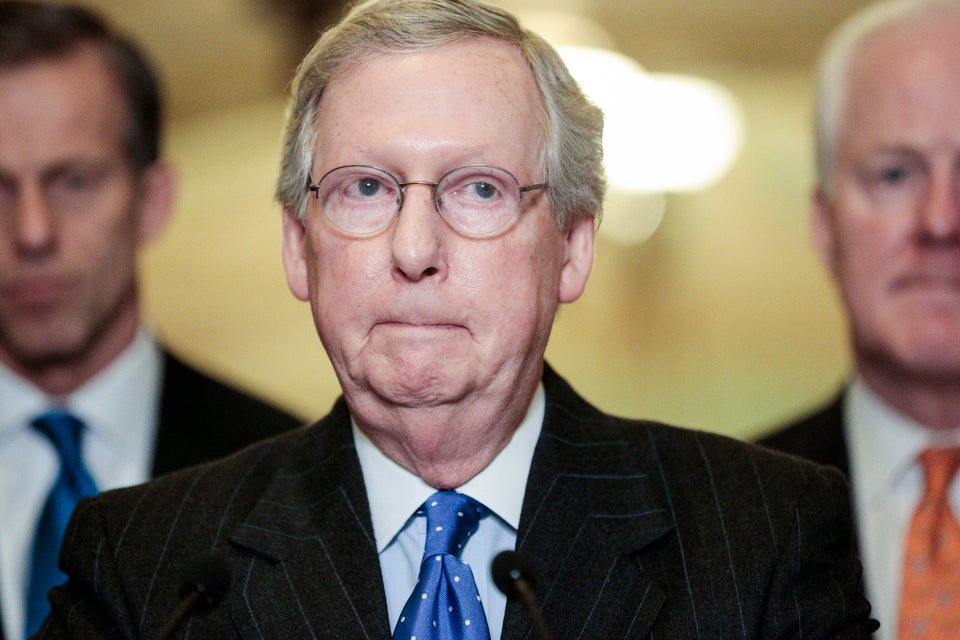 Say Cheese! Mitch McConnell Smiles
Popular in the Community