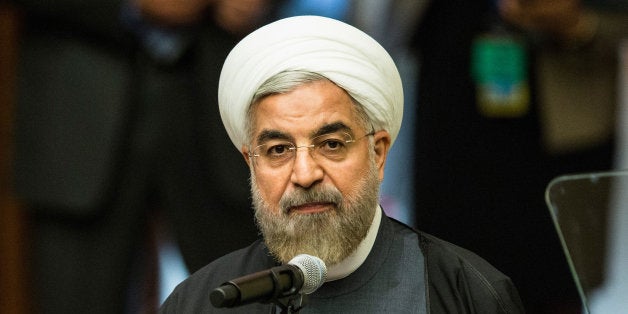 Iranian president Hassan Rouhani addressed his country's continued detention of Washington Post reporter Jason Rezaiain in a meeting with American editors and journalists in New York on Friday.
Poynter's Andrew Beaujon reported that Post editor Martin Baron was among the group which met with Rouhani. New York Times editor Dean Baquet, who was also present, told Beaujon that there were "a couple dozen editors and reporters from most major news outlets" in attendance.
Rouhani is in the US for the annual meeting of the UN General Assembly.
One of the people in the room, Wall Street Journal editor Gerard Baker, wrote an account of the meeting for his paper. He said that Rouhani was less than helpful when it came to Rezaiain, who has been detained along with his wife, a fellow reporter, since July:
Mr. Rouhani declined to offer any new details on the arrest and incarceration of two journalists working for foreign newspapers who have been detained by Iranian authorities for the last two months. He said the fate of Jason Rezaiain of the Washington Post and his wife, Yeganeh Salehi of Au-Dhabi-based newspaper, The National, lay in the hands of the Iranian judiciary, and suggested he was powerless to intervene.

"The judiciary has not rendered a judgment" on their case, he said, but he added, that "I hope there will soon be some finality for them."
There has been no information about why Rezaiain was detained. Iran's foreign minister has previously said only that he is facing charges "as an Iranian citizen," and that he is being interrogated.
REAL LIFE. REAL NEWS. REAL VOICES.
Help us tell more of the stories that matter from voices that too often remain unheard.