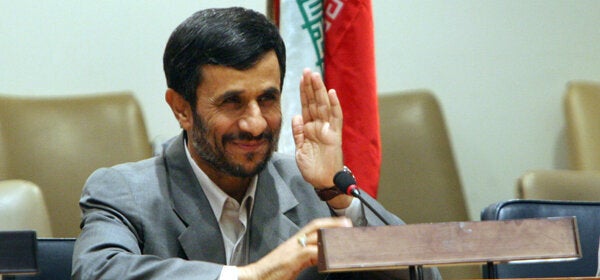 TEHRAN, Dec 12 (IPS) - The main issue in Iran's June 2009 presidential election is certain to be the country's economic woes, but both candidates will be linking the economy to the issue of relations between Iran and the West, according to Iranian politicians and political analysts.
Based on the bitter internal Iranian politics of the past three years, both President Mahmoud Ahmadinejad and whoever is chosen as his opponent are expected to try to pin responsibility for Western financial sanctions on each other. The challenger -- expected to emerge from the more moderate camp -- will charge that Ahmadinejad has exposed Iran to economic turmoil by mismanaging Iranian relations with Europe, while Ahmadinejad will accuse his foe of conspiring with the West to step up economic sanctions against Iran.
These likely campaign themes reflect the deep rift within the Islamic regime between those who believe that normal economic and political relations with the West are a vital to Iran's future and those who disdain such relations as a violation of the Islamic Revolution's values.
Ahmadinejad seems certain to run again, even though he has lost some support among ultra-conservatives who feel he will be blamed for falling oil prices and more economic hardships in the coming months, according to Amir Mohebbian, a conservative political strategist and managing editor of Arya News Service.
The moderate conservatives, led by former President Akbar Hashemi Rafsanjani, and reformists, led by former President Mohammad Khatami, are trying to agree on a "national unity candidate" to run against Ahmadinejad. Rafsanjani is now supporting Khatami as the candidate, according to IPS interviews with a senior Rafsanjani adviser, Mohammad Atrianfar, and Khatami's former vice president, Mohammad Ali Abtahi. But it is not clear yet whether Khatami will emerge as the opposition candidate.
Ahmadinejad's moderate and reformist opponents, as well as some conservative critics, believe Ahmadinejad will be politically vulnerable because of the parlous state of the economy and his own mismanagement of it. Mohebbian, who has supported Ahmadinejad in the past but is now looking for a different conservative standard-bearer in the election, said the president had "increased the expectations of people" based on "a good oil price".
Now that oil prices have plunged below 50 dollars a barrel and are expected to stay there for months, Mohebbian said, "The gap between expectations and reality creates insurgency."
The Iranian economy, which already had serious long-term structural problems, has taken a nosedive since the fall in oil prices and is going to worsen in the coming months, according to economist and political analyst Saeed Laylaz.
He told IPS that the housing construction industry, which has absorbed hundreds of thousands of workers, is about to grind to a halt as a result of the financial shortfall. That in turn could increase unemployment to as high as one million more than existed at the end of the Khatami period, according to Laylaz. Inflation is likely to worsen over the next months as well, causing increased popular dissatisfaction, he said.
Rafsanjani adviser Atrianfar said he believes Ahmadinejad will be vulnerable on the economy because he has systematically lied about the actual levels of exports, jobs and inflation.
Former Vice President Abtahi said the issue of international sanctions and the tensions underlying them will be central in the election, and expressed confidence that "people will support a candidate who can reduce such tensions". Reformist and moderate conservative critics of Ahmadinejad have repeatedly attacked him for what they describe as diplomatic blunders that have led to tougher economic sanctions against Iran by the West.
Since assuming office in August 2005, Ahmadinejad has replaced all the officials who had been involved in efforts to negotiate with the Europeans over Iran's nuclear programme under the Rafsanjani and Khatami administrations. Rafsanjani and other moderate conservatives have charged that that the successive rounds of U.N. Security Council sanctions were the result of Ahmadinejad's bad judgment and reckless behaviour.
But Ahmadinejad is expected to turn the sanctions issue against his opponents by claiming that his government has stood for independence from the West while his opponents from the Rafsanjani and Khatami governments have actively or passively encouraged the European states to increase economic pressures on Iran to give up its uranium enrichment programme.
Ahmadinejad and his followers have portrayed contacts by former officials who negotiated with the European governments and the International Atomic Energy Agency with their European counterparts as treasonous relationships. The most notorious case has been the accusation against Hossein Mousavian, former ambassador to Germany and later deputy secretary of the Supreme National Security Council and a member of Iran's negotiating team on the nuclear programme.
After being dismissed from his position by Ahmadinejad, Mousavian was particularly vocal in criticising Ahmadinejad's diplomatic posture. Mousavian was arrested in May 2007 on espionage charges, and was later accused of having given classified information to the British embassy.
Even after he was found innocent of the charges by a Tehran court in November 2007, Ahmadinejad claimed that Mousavian was guilty and charged that his opponents had pressured the judge to acquit him. Although the intelligence ministry said little publicly about the Mousavian case, the accusation that he had actively collaborated with the British to facilitate sanctions against Iran was spread by a new network of ultra-conservative websites, based on unsubstantiated rumours and innuendo.
Atrianfar, the adviser to Rafsnajnai, noted that, even now, Ahmadinejad continues to maintain that Mousavaian is guilty. This is only the most visible case in a much larger plan to portray anyone who has been involved with trying to improve relations with the West as betraying Iranian interests, according to Atrianfar. "There are so many examples of Mousavian-like accusations about relations with the West," said Atrianfar. "It has been unprecedented in this country."
Former Vice President Abtahi expects Ahmadinejad and his hard-line political allies to continue to exploit the charge that moderates and reformists have encouraged the Europeans to increase the economic sanctions against Iran. "Our opponents are trying to weaken us by taking advantage of concepts like independence to accuse us of being pro-Western," Abtahi said in an interview. "We are always being accused by conservatives of being lenient toward the West and granting concessions to them."
Abtahi concedes that Ahmadinejad's ultra-nationalist line appeals to his political base outside the large cities and that a U.S. demand for a complete end to uranium enrichment only plays into Ahmadinejad's hands politically. "From this perspective you can consider [such a U.S. demand] a great help to Ahmadinejad," said Abtahi.
U.S. policies that were seen as openly hostile toward Iran boosted the extreme conservative supporters in the first electoral test since Ahmadinejad become president, according to Abtahi. He cites the George W. Bush administration's efforts to rally Arab regimes in the region against Iran in the weeks before the March 2008 parliamentary elections. "The conservative papers took advantage of that," he recalled, "and Bush's policy negatively affected Iranian parliamentary elections."
The pro-Ahmadinejad United Principalist Front won the largest bloc of parliamentary seats, with 90 out of the 290 total. That electoral outcome probably confirmed for Ahmadinejad the effectiveness of an ultranationalist electoral strategy against his reformist and moderate conservative opponents.
*Gareth Porter, an investigative journalist and historian specialising in U.S. national security policy, has just completed a 12-day visit to Tehran to find out how Iranian officials, analysts and political figures view possible negotiations between the Obama administration and Iran. This is the third of a five-part series of articles. Part 4 will appear on Dec. 15.
Related
Popular in the Community