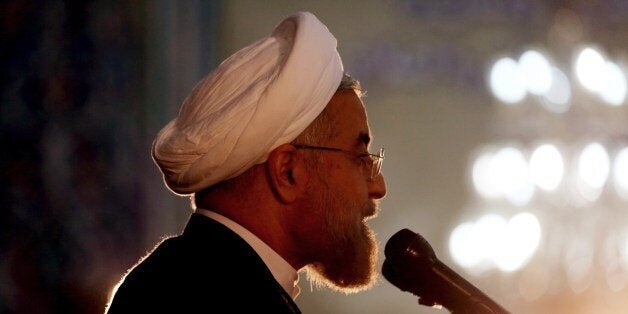 In a speech on August 11, Iran's President Hassan Rouhani fiercely attacked his critics at home, who have been trying to block a possible agreement between Iran and P5+1 -- the permanent members of the UN Security Council plus Germany -- over Iran's nuclear program, saying:
Some people have phobia about reaching agreements with foreigners and ask why are we getting closer to others? They say foreigners are like electricity and are dangerous; do not get close to them. A gentleman (one of Rouhani's opponents) claims that whenever we negotiate with foreign powers, we are defeated... Some people chant slogans (only), but they are political cowards. Whenever there is going to be negotiations, they say we are shaking (with fear). Go to hell to stay warm.
Why is Rouhani so angry? Have the Supreme Leader Ayatollah Ali Khamenei and his supporters created new impediments to a possible diplomatic accord over the nuclear program? As far as we know, Khamenei has been fully supporting the negotiations with the goal of reaching a comprehensive agreement. In fact, in a meeting with Iran's ambassadors on August 13, Khamenei said, "The work that (Foreign Minister) Dr. (Mohammad Javad) Zarif and his team have been doing has gone well and will continue."
Thus, there does not seem to be any problem on Iran's side for a nuclear agreement, and if the Western side also has the political will, an accord might even be concluded during Rouhani's upcoming trip to New York in September, where he'll take part in the annual meeting of the United Nations General Assembly. That would of course require overcoming the fierce pressure by Israel and its lobby in the United States -- and lifting the most crippling sanctions imposed on Iran by the U.S. and its allies.
Iran and the U.S. also have common interest in stopping and defeating the terrorist group Islamic State in Iraq and Syria (ISIS). When asked by Thomas Friedman of the New York Times whether Iran can play a positive role in establishing a more inclusive government in Iraq, President Obama responded, "I think what the Iranians have done is to finally realize that a maximalist position by the Shias (led by Prime Minister Nouri al-Maliki) inside of Iraq is, over the long term, going to fail," indicating that he sees Iran as being helpful.
Iraq's new President Fuad Masum has asked a Shiite politician, Haider al-Abadi, to form a new government and ask Parliament for its vote of confidence. Rear Admiral Ali Shamkhani, secretary of Iran's Supreme National Security Council and Khamenei's personal representative to the Council, congratulated the selection of al-Abadi and invited all the Iraqi factions to support him. Iran's Ministry of Foreign Affairs also issued a statement expressing hope that the new government is installed quickly and receives a confidence vote so that it can confront terrorism and re-establish security in Iraq. In the same meetings with the ambassadors, Khamenei said, "God willing, with the appointment of the new prime minister (in Iraq) a new government will be formed and will teach a good lesson to those who have wanted sedition in Iraq."
Cooperation between Iran and the U.S. in Iraq can contribute significantly to solving the Middle East's immense problems. Without Khamenei's consent, Shamkhani could not have made the statement about the new Iraqi prime minister.
At the same time, although Israel's attack on Gaza has killed and injured thousands and has displaced more than one-fourth of Palestinians from their homes, Khamenei has been relatively quiet. Aside from two mostly rhetorical speeches, he has not said much. The Lebanese Hezbollah also did not enter a new war with Israel to support Hamas. In fact, the Syrian civil war has created a split between Iran and Hezbollah on the one hand, and Hamas on the other hand.
NO POLITICAL OPENING AT HOME
Khamenei clearly seems to want a comprehensive nuclear agreement and elimination of ISIS from Iraq. Rouhani has full authority to address these two problems, but, Khamenei is not willing to allow the opening up of the political system in Iran.
During his presidential campaign last year, Rouhani promised to release political prisoners, including the leaders of the Green Movement, former Prime Minister Mir Hossein Mousavi and his wife Dr. Zahra Rahnavard, and former Speaker of the Majles (parliament) Mehdi Karroubi. But, after a year in office, Rouhani has not been able to persuade Khamenei to release the trio, as the Supreme Leader believes that putting them under house arrest is the minimum punishment that they should suffer for protesting the fraudulent 2009 elections.
Over the past year, Iran's judiciary has executed hundreds of common criminals who had been convicted before Rouhani took office. The judiciary is controlled by Khamenei, not Rouhani, but it is the president who must respond to the criticisms about the executions, both in Iran and worldwide. People expect Rouhani to abolish capital punishment. How can he do that without the necessary authority?
At the same time, Iran's judiciary has announced that it will give an annual award of 30,000 Euro to the "best" defender of human rights. This seemingly good gesture is, in fact, an embarrassment for a regime that violates the human and citizen rights of its own people.
Rouhani had also promised to allow more political discussions and activities in Iran's universities, which had been severely repressed during the eight-year presidency of Mahmoud Ahmadinejad. His minister of higher education, Reza Faraji Dana has fired a large number of university presidents that had been appointed by Ahmadinejad, and he has made revelations about corruption in the Ministry, including granting 3,000 doctoral scholarship to utterly unqualified people who were supporters of the Ahmadinejad administration. This has angered the hardliners in the Majles who are seeking to impeach Faraji Dana.
Ali Janati, Rouhani's Minister of Culture and Islamic Guidance, has allowed more openness -- strongly opposed by the hardliners -- in book publishing, filmmaking, theater, music and the press. The judiciary has closed several newspapers and magazines over the last year.
Another move by the hardliners has been strongly opposed by the Rouhani administration. Tehran's Mayor, Mohammad Bagher Ghalibaf, a former military commander who is close to the hardliners, has implemented a plan for gender segregation of male and female workers in the organizations under his control. Hardline and reactionary clerics are pressuring Rouhani to do the same in the entire bureaucracy, but Rouhani is resisting the pressure.
Rouhani had also promised to shrink the bureaucracy and allow more participation by the private sector, but hardliners have also opposed that as well.
Thus, Rouhani is angry because Khamenei and his supporters have blocked him from implementing his program and opening up the political system, giving more freedom to the people. On August 13, Rouhani said, "I am aware that some people are done opposing me in their think tanks and are now opposing me in practice." He added that his administration is aware of this and will react in due time. He defended Faraji Dana and expressed hope that the Majlis will give his minister a vote of confidence again, adding that "discussing all types of ideas and views is possible in the universities."
Political activists expect Rouhani to open up the system and implement his program. But, in reality, the people themselves should be organized through a wide variety civil organizations to increase their power and create a balance between the civil society and the power of Khamenei and hardliners so as to force them to retreat. In the end, democracy will only come as the result of such a balance. Rouhani must do what he can within his power, but he will not be able to deliver on his promises without the active support of the people and the civil society.
A nuclear agreement between Iran and P5+1, coupled with lifting of the economic sanctions imposed on Iran, will not only improve the relations between Iran and the United States and contribute to addressing the grave problems that the Middle East is facing, it will also diminish the possibility of military attacks on Iran and take away any excuse from Tehran's hardliners to continue oppressing the people under the guise of threat to national security.
Under such conditions, Iran's moderate and progressive forces will be strengthened and the hardliners will be marginalized. The opposition and democratic forces will then be able to raise their voices more strongly, because they will no longer be concerned about Iran becoming another Afghanistan, Iraq, Syria or Libya.
This article was translated by Ali N. Babaei.
REAL LIFE. REAL NEWS. REAL VOICES.
Help us tell more of the stories that matter from voices that too often remain unheard.