WASHINGTON -- It took a presidential veto threat and Senate Majority Leader Harry Reid's refusal to budge, but it appears a contentious Iran sanctions bill has been laid to rest.
"The sanctions bill is on ice while the diplomatic process plays out," said a senior Senate Democratic aide. "The fact that cosponsors of the bill are now publicly distancing themselves from the measure shows just how hasty and ill-conceived this effort has been."
Another Senate Democratic leadership aide wouldn't go so far as to call the legislation dead, but conceded, "Its forward momentum has been stopped and even reversed."
Both aides requested anonymity in order to speak candidly.
The bipartisan bill had been gaining steam over the past two months, picking up a whopping 58 cosponsors -- including 15 Democrats. The measure would boost sanctions on Iran unless it agrees to halt all of its uranium enrichment. But the White House has been pushing back hard against any congressional action on Iran sanctions, warning it could thwart a delicate deal in place between Iran and six world powers. Under that six-month deal, Iran would scale back its uranium enrichment in exchange for sanctions relief. Iranian leaders have already warned that any new sanctions would sink the deal, which would leave the U.S. with few options for resolving concerns with Iran apart from going to war.
The White House pressure has paid off. Reid has refused to bring the bill up for a vote, and during Tuesday's State of the Union, Obama made it clear he would veto the measure if it even made it to his desk. Since then, at least three Democratic cosponsors of the bill have walked back their support for taking it up.
Several senators acknowledged Thursday that the bill isn't going anywhere, at least not anytime soon.
"We want to give the administration the time it needs to negotiate," said Sen. Michael Bennet (D-Colo.), a cosponsor of the bill and the chairman of the Democratic Senatorial Campaign Committee.
Asked if his Democratic colleagues are prepared to hold off on pushing the bill amid international negotiations with Iran, he said, "That's my sense."
"There's no time frame," said Sen. Ben Cardin (D-Md.), a cosponsor of the bill. "That's up to the majority leader, he's the one who schedules votes ... I've always been comfortable with the fact that our first preference is a negotiated agreement."
"Do I think it's going to be brought up? No," said Sen. Carl Levin (D-Mich.). "And I hope it isn't brought up."
Republican proponents of the bill conceded the White House has won this round, but said that's a bad thing.
"The pressure from the administration has made people, particularly Harry Reid, who's the key guy, back off of it," said Sen. John McCain (R-Ariz.).
McCain said that he, for one, would "like to vote on the bill immediately." He grumbled when it was noted that some in the White House have said that those urging action on the bill actually want to go to war with Iran.
"There are certain allegations that are so disgraceful that they don't deserve a response," he said. "That's one of them."
"I appreciate my Democratic colleagues who have stood behind sanctions, but they're making a mistake for the Congress to give in to the administration," said Sen. Lindsey Graham (R-S.C.). "It's the Congress that has gotten the Iranians to the table, more than the administration."
The Huffington Post reached out on Wednesday to all of the bill's cosponsors, requesting comment on whether they are willing to hold off on pushing the bill amid international negotiations. On Thursday, HuffPost reached out again to those who never got back to us. A few responded.
AshLee Strong, a spokeswoman for Sen. John Thune (R-S.D.), said he wants a vote on the legislation "as soon as possible." Similarly, a spokesperson for Sen. Chuck Grassley (R-Iowa) said he "supports the bill and would vote in favor of it whenever it was given a vote."
A spokeswoman for Sen. Kay Hagan (D-N.C.) told HuffPost on background only that the senator's position on the bill "has not changed," though she did not clarify what that meant.
HuffPost readers: Have you received a letter from your senator regarding his or her position on Iran sanctions (S.1881) ? Please forward to openreporting@huffingtonpost.com.
Before You Go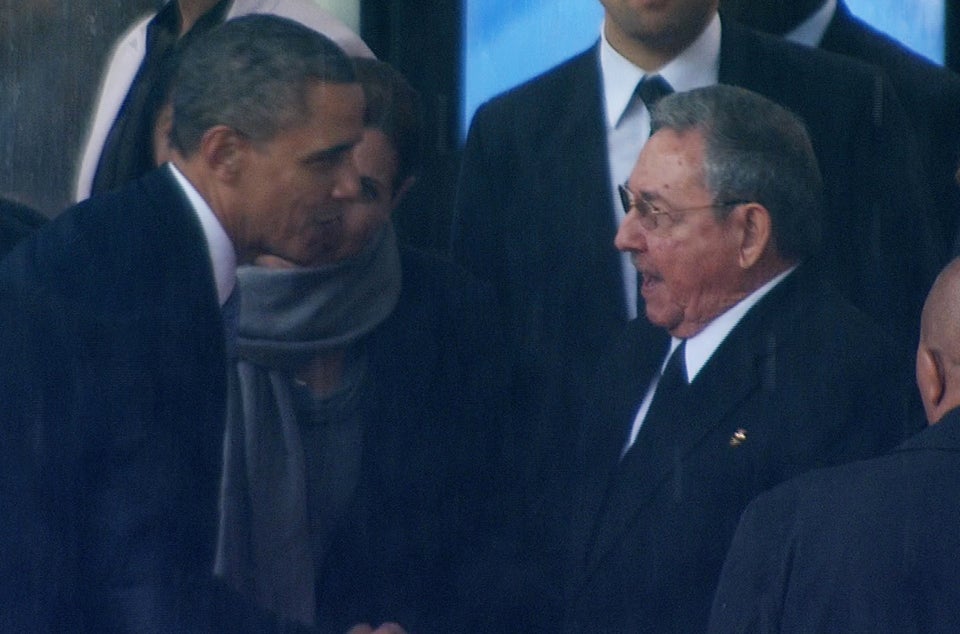 Obama's Handshakes Around The World
Popular in the Community