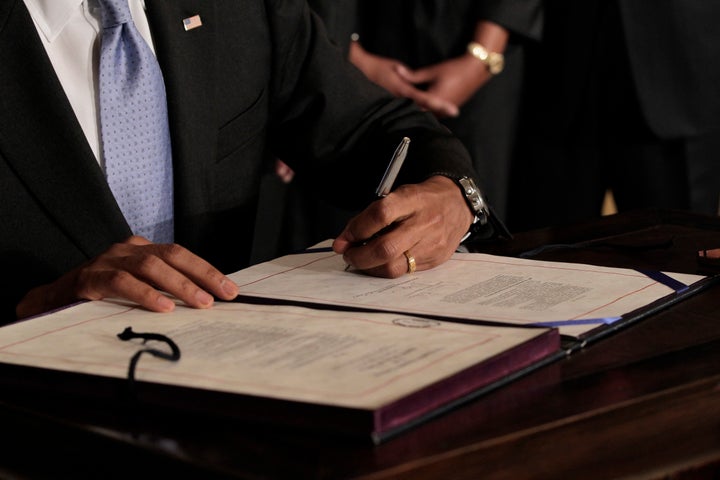 Experts say the current set of U.S. sanctions against Iran are creating great difficulties for Iranian-American citizens and residents who have relative or financial ties to their country of origin, and that many Iranian-Americans may be unknowingly violating the regulations.
The sanctions are intended to place the government of Iran under pressure because of its support for terrorism and hostility. The Department of Treasury's overview of Iran sanctions cites "Iran's support for international terrorism and its aggressive actions against non-belligerent shipping in the Persian Gulf" as the impetus for President Reagan's first round of sanctions (issued in 1987 by executive order) and cites "Iran's active pursuit of weapons of mass destruction" as the basis for President Clinton's 1995 expansion of the sanctions regime.
Interviews with Iranian American advocacy organizations and attorneys who practice in trade regulations and sanctions (which were expanded to prohibit the importation of carpets and foodstuffs under the Comprehensive Iran Sanctions, Accountability, and Divestment Act of 2010 (CISADA), however, reveal a growing frustration with unintended consequences that are wreaking havoc on the lives of many Iranian-American citizens and other U.S. persons.
The sanctions are enforced by the Office of Foreign Assets Control (OFAC), an agency in the Department of the Treasury. The facet of the sanctions most relevant to the average private citizen is the Iranian Transactions Regulations, or ITR.
In a publication entitled "The Impact of U.S. Sanctions Against Iran on You," the Asian Law Caucus enumerates common, accidental violations of the the regulations. The document features a smattering of fact patterns that would be violations of the sanctions. Among the prohibited activities are the sale of property in Iran that a U.S. person obtains after the passing of a family member, the transportation of gifts from Iran with a combined value of more than $100, the purchase or products (carpets, for example) in any country that originated from within Iran, investment in family businesses in Iran, the transfer of funds (such as pensions of U.S. persons who used to work in Iran) to the United States from Iran and the hiring of lawyers or other representatives in Iran to carry out one's business.
This list is nowhere near comprehensive. "The reality with these sanctions is that they prohibit more than they permit," said Farhad Alavi, partner of BHFA Law Group -- a firm that practices heavily in sanctions and trade regulations, told me.
Part of what makes the Iran sanctions remarkable is the personal level at which they're aimed, Alavi said. "This is not a business to business or government to government set of sanctions," he noted. "They affect most transactions that would be done between individuals. Individuals can't invest in Iran, and generally can't deal with their own property absent authorization."
Though OFAC does grant licenses for a variety of activities (including, at times, the sale of one's family home in Iran), these licenses are granted at the discretion of OFAC and it is highly recommend to seek legal assistance before contacting OFAC with such a request.
The regulations don't only apply to U.S. citizens -- they term a "U.S. Person" to include anyone physically present in the United States, permanent residents and/or those acting on behalf of companies organized under U.S. Laws. Duel citizenship or residencies in other nations are irrelevant in the eyes of OFAC.
Alavi said public knowledge of penalties doled out by OFAC is very limited: "Only some enforcements are published by OFAC. I can only give you an example -- in late 2010 an Iranian-American was fined $30,000 for investing in a family catering business in Iran. While this penalty may seem very steep, it was assessed in part because it was deemed a non-egregious violation, so if it was considered egregious, the penalty would have been much higher."
In June of this year, a 43-year-old Pennsylvania man was sentenced to 33 months in prison for violating U.S. sanctions against Iran. The man, Mohammad Reza Vaghari, was convicted of selling products that found their way to Iran by way of Dubai. In August 2010, an Iranian-American, Princeton PhD by the name of Mahmoud Banki was sentenced to two and half years of years in prison for receiving $3 million from members of his family in Iran and assisting others in sending an equal amount back to the Iran. Banki was also forced to forfeit $3.3 million.
Babak Hoghooghi, the managing partner of BHFA Law Group, claimed lawmakers face many challenges when putting together these policies, and that some of the consequences Iranian-Americans face may not have been intended.
"[Policymakers] are not necessarily well-informed about realities on the ground when it comes to Iranian-Americans and their contacts in Iran," he said. "For example, they may not have an idea that the Iranian-American community is relatively new to America and still has close contacts and relatives in Iran -- many of whom travel back and forth. Many may even live and work in Iran while being American citizens. Some lawmakers and policymakers simply don't know, and the onus should be on us, that is the Iranian-American community, to be present at the table when the legislation and polices are being drafted."
Hoghooghi maintains that the current incarnation of U.S. sanctions against Iran is a clear indication that Iranian-Americans were not a part of that process.
Rep. Howard Berman (D-CA) drafted the CISADA legislation that was passed in the House. Through a spokesperson, Congressman Berman released the following statement: "While writing the Iran Sanctions law, I worked closely with members of the Iranian-American community because we shared the common goal of pressuring the Ahmadinejad regime to abandon its plan for developing nuclear weapons. The input I received undoubtedly helped to better tailor the sanctions that were signed into law. I have not heard from members of the Iranian-American community about unintended consequences of this law that may be causing local concerns. However, I would welcome their feedback if this is the case."
Ali Mojdehi, the chairman of the Public Affairs Alliance of Iranian-Americans (PAAIA), said "A large percentage of Iranian Americans still have family -- immediate and close relatives -- living in Iran and still keep relatively frequent communication with them in Iran." Modjehi cited surveys commissioned by PAAIA that indicate 30 percent of Iranian Americans travel to Iran at least once every 2-3 years.
"As such, sanctions impact a significant number of Iranian Americans both personally and professionally," he added. "For example, inheritance is becoming a big issue for many Iranian Americans who have inherited assets from deceased parents and now are not sure how their parents' will can be administered and assets distributed without running afoul of US sanctions laws."
Because of these deep linkages between the Iranian American community and Iran, Alavi noted that sanctions against other nations (North Korea, for example) may not carry the same consequences: "Under current sanctions, an American citizen who was born in America while his parents were in graduate school here at the time who now lives in Iran could be in breach of regulations every day -- just by working in Iran and effectively transferring services to that country and its people."
Ultimately, Hoghooghi maintains it's time that the Iranian-American community demand representation: "We should view it as a challenge for us, and a part of our responsibility and civic duty to advance our self-interest and to be at the table and make sure policymakers and legislators are well-informed."
Popular in the Community