WASHINGTON -- In a remarkable rebuke to Senate Foreign Relations Committee Chairman Bob Menendez (D-N.J.), 10 other Senate committee chairs are circulating a joint letter to Majority Leader Harry Reid of Nevada, urging him to reject an effort by Menendez to tighten sanctions on Iran and warning that his bill could disrupt ongoing nuclear negotiations.
The senators write in their letter that "at this time, as negotiations are ongoing, we believe that new sanctions would play into the hands of those in Iran who are most eager to see the negotiations fail."
Earlier Thursday, a senior White House official had accused Menendez of undermining the negotiations.
"We have consistently and strongly opposed any new sanctions legislation during the negotiation. It is not necessary for Congress to pass this bill, because we are enforcing existing sanctions and can move to sanctions if negotiations don't succeed or if Iran cheats," a senior administration official said. "This bill does not provide the president with the flexibility necessary to negotiate an agreement. The fact is, passing new sanctions now would split the international community, embolden Iranian hard-liners, and likely derail any prospect of a diplomatic resolution. Members of Congress pressing for this bill are effectively choosing to close the door on diplomacy, making it far more likely that we'll be left only with a military option."
White House press secretary Jay Carney warned that the president would veto any such bill.
Yet Menendez is not alone in his call for tougher sanctions. The proposed Nuclear Weapon Free Iran Act, introduced in the Senate on Thursday by Menendez and Sen. Mark Kirk (R-Ill.), is co-sponsored by 12 other Democrats -- including Sen. Charles Schumer (D-N.Y.) -- and 12 other Republicans.
A Foreign Relations Committee aide said that the proposed bill wouldn't blow up the Iran nuclear talks. "We're closing in, but it's not closed," he said. "The concept is for no new sanctions, nothing comes into effect now, all the sanctions relief Iran received in Geneva, they keep. All this does is focus on down the road, six-plus months with flexibility -- should a deal fall apart, should Iran violate, here is what a future sanctions effort looks like. Prospective sanctions so everyone knows what could appear at the end of the tunnel."
A Menendez spokesman couldn't be immediately reached for comment.
The 10 senators who signed the letter are Banking Committee Chair Tim Johnson (S.D.), Intelligence Committee Chair Dianne Feinstein (Calif.), Armed Services Committee Chair Carl Levin (Mich.), Appropriations Committee Chair Barbara Mikulski (Md.), Commerce Committee Chair John Rockefeller (W.Va.), Environment and Public Works Committee Chair Barbara Boxer (Calif.)., Homeland Security and Government Affairs Committee Chair Thomas Carper (Del.), Judiciary Committee Chair Patrick Leahy (Vt.), Energy and Natural Resources Committee Chair Ron Wyden (Ore.), and Health, Education, Labor and Pensions Committee Chair Tom Harkin (Iowa).
MoveOn Executive Director Anna Galland also came out against Menendez and Schumer. "Democrats like Senators Schumer and Menendez should stop supporting Republican efforts to undermine President Obama's diplomacy. The last thing our country needs right now is another war. It is shameful and wrong for Senators to intentionally undermine the potential for a negotiated, diplomatic solution. We urge all Senators to avoid action that heightens the risk of conflict," she said in a statement.
Becky Bond, political director of Credo, likewise declared, "It's outrageous that Senators Menendez and Schumer would try to sabotage President Obama when he is in the midst of delicate negotiations with Iran. Any new sanctions against Iran at this point would put us on a path to war. Virtually the only Americans who want another war of choice in the Middle East appear to be a group of out-of-touch politicians from both parties in Washington DC. CREDO will hold any politician -- whether Republican or Democrat -- accountable who ties the hands of the White House in negotiating peace with Iran and pushes us into another unnecessary and costly war."
This story has been updated with comments from MoveOn and Credo, and information about the Senate co-sponsors of the Iran sanctions bill.
Before You Go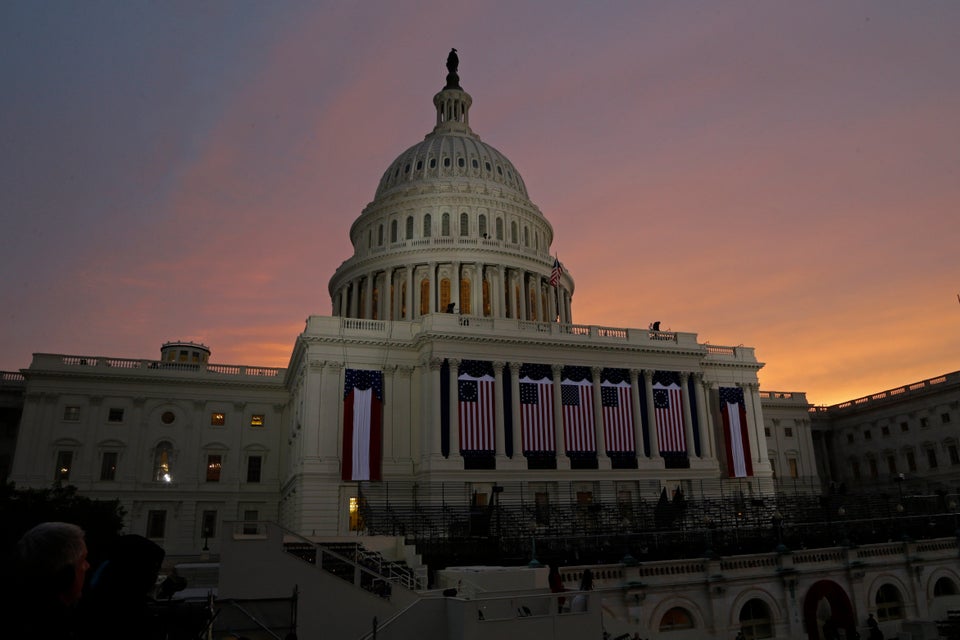 U.S. Capitol Photos
Popular in the Community