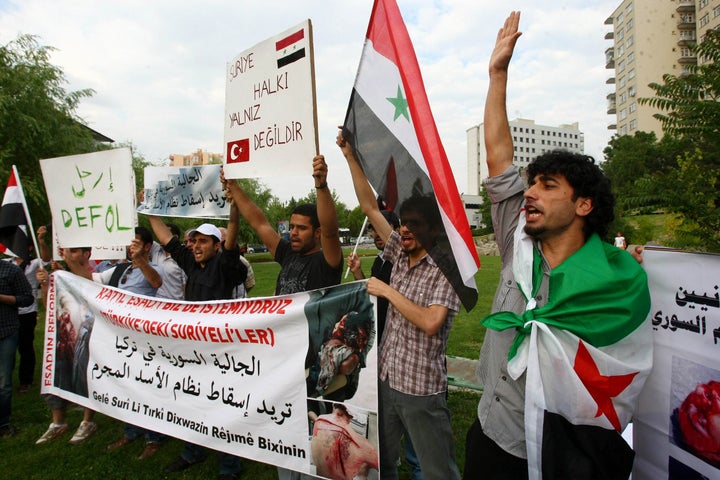 (Reuters) - Iranian Supreme Leader Ayatollah Ali Khamenei backs offering $5.8 billion in aid to Syria to bolster its economy, a French newspaper said Friday, citing a report by a Tehran think-tank linked to Iran's leadership.
Damascus has long been Tehran's main ally among otherwise mainly hostile Arab states. After four months of popular unrest, Syria's economy is reeling under the weight of strikes, reduced oil exports, scaled-back trade and international sanctions.
Its troubles have prompted Iran's leadership to consider offering $5.8 billion in financial help, including a three-month loan worth $1.5 billion to be made available immediately, French business daily Les Echos said.
It added that Supreme Leader Ayatollah Ali Khamenei has backed the idea of the aid, which was outlined in a secret report by the Center for Strategic Research, a think tank linked to the Iranian leadership.
It was not possible to verify the report Friday.
Iran, Les Echos said, could also provide 290,000 barrels of oil to Syria each day over the next month while helping to boost border controls to stop Syrians from fleeing the country for Lebanon with cash.
After four months of civil uprising in Syria, human rights groups report that more than 1,400 civilian have been killed, drawing a chorus of condemnation from around the world.
International sanctions are only targeted at Syria's leaders, not its banks and companies. But France and the United States are pressing for tougher penalties and a U.N. Security Council resolution condemning the crackdown, after the embassies of both countries in Syria were attacked.
Related
Popular in the Community