Ideologically speaking, Iran's hardliners, primarily Supreme Leader Ayatollah Ali Khamenei and senior officials of the Islamic Revolutionary Guard Corps (IRGC) who enjoy the final say in Iran's domestic and foreign policies, have made it clear that Iran will not change the core pillars of its religious and revolutionary establishment: Anti-Americanism or hatred and animosity towards the "Great Satan" and the "Little Satan", Israel. Supporters of Ayatollah Khamenei and the IRGC enthusiastically shouted "Death to America" in response to a recent speech that Khamenei gave, applauding the 1979 hostage-taking and takeover of the US Embassy in Tehran. In his latest public speech to thousands of people, which was televised via Iran's state TV, Khamenei made it clear that Trump's presidency will cause "no difference" to Iran-US relationships.
Militarily, strategically and geopolitically, Tehran's core pillars of damaging US national interests, and scuttling US foreign policy objectives will remain intact.
Khamenei and IRGC are sending a strong message that Iran will neither alter its core religious and revolutionary pillar of anti-Americanism, nor change its foreign policy and military objectives of damaging US interests. Iran's policy towards the "Great Satan" will remain as it has been since the establishment of the Islamic Republic of Iran in 1979.
This article was originally published by Gatestone Institute. For more details and nuances, you can read full version on here.
You can sign up for Dr. Rafizadeh's newsletter for the latest news and analyses on Here.
Harvard-educated, Dr. Majid Rafizadeh is an American political scientist, president of the International American Council on the Middle East, business advisor, and best-selling author. He serves on the advisory board of Harvard International Review. Dr. Rafizadeh is frequently invited to brief governmental and non-governmental organizations as well as speak, as a featured speaker, at security, business, diplomatic, and social events. He has been recipient of several fellowships and scholarships including from Oxford University, Annenberg, University of California Santa Barbara, Fulbright program, to name few He is regularly quoted and invited to speak on national and international outlets including CNN, BBC World TV and Radio, ABC, Aljazeera English, Fox News, CTV, RT, CCTV America, Skynews, CTV, and France 24 International, to name a few. . He analyses have appeared on academic and non-academic publications including New York Times International, Los Angeles Times, CNN, Farred zakaria GPS, The Atlantic, Foreign Policy, The Nation, The National. Aljazeera, The Daily Beast, The Nation, Jerusalem Post, The Economic Times, USA Today Yale Journal of International Affairs, Georgetown Journal of International Affairs, and Harvard International Review. He is a board member of several significant and influential international and governmental institutions, and he is native speaker of couple of languages including Persian, English, and Arabic. He also speaks Dari, and can converse in French, Hebrew. More at Harvard.
You can also order his books on HERE.
You can learn more about Dr. Rafizadeh on HERE.
You can contact him at Dr.rafizadeh@post.harvard.edu or follow him at @Dr_Rafizadeh.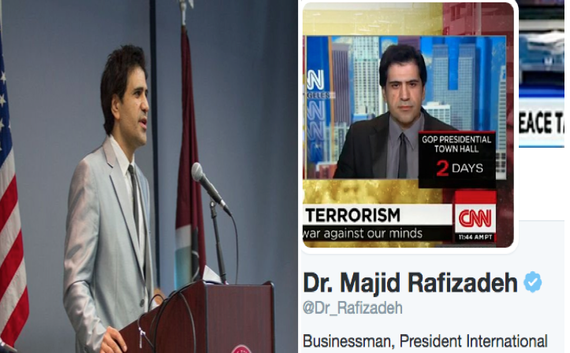 REAL LIFE. REAL NEWS. REAL VOICES.
Help us tell more of the stories that matter from voices that too often remain unheard.