WASHINGTON -- A bill offered Thursday by Arizona's two senators would aid a company that partners with Iran in an African uranium mine.
The bill, the Southeast Arizona Land Exchange and Conservation Act of 2013, is sponsored by Sens. Jeff Flake (R) and John McCain (R). It would swap 2,400 acres of federal land in Arizona for 5,500 acres of land that the Department of the Interior deems as "important" for conservation.
The idea is to give the Resolution Copper Mining Co. access to land that would allow it to extract vast amounts of metal, while theoretically boosting the economy and protecting public property. A press release from the senators said the mine would generate more than $64 billion in economic activity, as well as tax revenue, and would meet as much as 20 percent of U.S. demand for copper.
But the bill comes at a time of extreme sensitivity about anything linked to Iran, under stiff sanctions because of its nuclear program. Late last year, America's ambassador to the U.N., Susan Rice, was harshly criticized for her investments in firms that do business with Iran.
Resolution Copper Mining is 55 percent owned by Rio Tinto, a giant mining firm that partners with Iran at Namibia's Rossing uranium mine. The rest of Resolution Copper is owned by BHP-Billiton PLC, an Australian company that reportedly made millions doing business with Tehran. Rio Tinto is the world's second-largest mining company. BHP is the biggest.
McCain told The Huffington Post he didn't know about the mining operation's Iranian links. "I'm not sure what they do ... This is the first I've heard of it," McCain said. Brian Rogers, a spokesman for McCain, later downplayed the benefit Iran gets from its partnership with Rio Tinto.
"The issue of the Namibia mine is often used by anti-mining groups to distract from the benefits of the Arizona project, Resolution Copper," Rogers said in an email. "Rio Tinto is the majority shareholder of the Rossing uranium mine in Namibia. The Iranian Foreign Investment Company technically owns a 15 percent share that it acquired before the fall of the shah. International sanctions prevent Iran from receiving any uranium or any financial windfall from the mine."
Flake's office did not respond to a request for comment. He almost surely would know about the firm's relationship with Iran. He was a lobbyist for the Rossing mine in the early 1990s, according to a National Journal story that also noted Iran was believed to be involved in the operation as far back as the 1970s. Flake co-sponsored similar legislation in the last Congress.
The senators' press release talked up the potential benefits for America.
"We won't let Congress overlook how important this land exchange is for Arizona and our nation," said Senator John McCain. "This bill gives us access to the largest copper deposit in North America and creates about 3,700 jobs in an area of our state particularly hard-hit by the economic downturn. It's shameful that some in Congress have played politics with this proposal for seven years and it is now costing hardworking families their livelihoods as the layoffs announced in December continue. I am grateful for Senator Flake's dedication to this issue and to my colleagues in the House who are working together across party lines to breathe new life into this tremendous opportunity."

"This bill presents Congress with a rare opportunity to approve a measure that not only allows for the creation of thousands of private-sector jobs at no cost to the federal government, but to also protect thousands of acres of environmentally sensitive land," said Senator Jeff Flake.
Support HuffPost
The Stakes Have Never Been Higher
Before You Go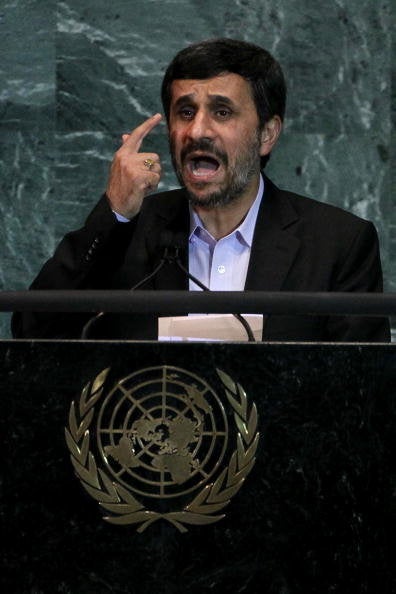 Ahmadinejad's Craziest Quotes
Popular in the Community