Syria is one of the worst catastrophic humanitarian tragedies of our generation. Iran's role in Syria has significantly impacted the direction, magnitude and longevity of the conflict. Nearly half a million people have been killed including thousands of children in Aleppo and other cities, and almost half of the population is displaced. Its role has evolved over the five years since the uprising began. With experience of cracking down on its own popular uprising in 2009-2010, Iran provided the Syrian government with technical support, social-media monitoring systems, surveillance, intelligence, military troops, and advisory support.
To further bolster Assad, Tehran trained and oversaw the creation of the National Defense Forces, a domestic militia comprising tens of thousands of regime loyalists. However, the regime still faced critical challenges in maintaining control over major territories, so Iran summoned Shiite militias from across the region to fight in Syria, adding to the sectarian element of the war. Tehran implored Russia to forge a military partnership to help the IRGC and Syrian troops gain ground. As the nuclear deal was reached, IRGC senior cadre became more involved and public about their role in Syria.
Assad is increasingly dependent on Iran militarily and financially, and Tehran does not see a viable alternative to the Alawite-dominated state that would preserve its interests in Syria. Iran cannot afford to lose Syria, so it is using Assad to tip the balance of power against other regional powers and strengthen the Shiite axis. Any fundamental change in Syria's political structure will directly and significantly threaten Iran's national security.
Tehran's role will continue to deepen. This will further militarize, radicalize and widen the conflict. A reformist presidency in Iran will not change the status quo. Though Iranian policy on Syria is formed by the supreme leader and senior IRGC officials, Iranian politicians across the spectrum agree on that policy. Moderate President Hassan Rouhani declared in June 2015 that Tehran would back Assad "until the end of the road."
For more details and nuances you can read full versionon Here.
You can sign up for Dr. Rafizadeh's newsletter for the latest news and analyses on HERE.
Dr. Majid Rafizadeh is an American political scientist, president of the International American Council on the Middle East, business advisor, and best-selling author. Harvard-educated, Rafizadeh serves on the advisory board of Harvard International Review. He is regularly quoted and invited to speak on national and international outlets including CNN, BBC World TV and Radio, ABC, Aljazeera English, Fox News, CTV, RT, CCTV America, Skynews, CTV, and France 24 International, to name a few. Dr. Rafizadeh is frequently invited to brief governmental and non-governmental organizations as well as speak, as a featured speaker, at security, business, diplomatic, and social events. He has been recipient of several fellowships and scholarships including from Oxford University, Annenberg, University of California Santa Barbara, Fulbright program, to name few. He analyses have appeared on academic and non-academic publications including New York Times International, Los Angeles Times, CNN, Farred zakaria GPS, The Atlantic, Foreign Policy, The Nation, The National. Aljazeera, The Daily Beast, The Nation, Jerusalem Post, The Economic Times, USA Today Yale Journal of International Affairs, Georgetown Journal of International Affairs, and Harvard International Review. He is a board member of several significant and influential international and governmental institutions, and he is native speaker of couple of languages including Persian, English, and Arabic. He also speaks Dari, and can converse in French, Hebrew. More at Harvard.
You can also order his books on HERE.
You can learn more about Dr. Rafizadeh on HERE.
You can contact him at Dr.rafizadeh@post.harvard.edu or follow him at @Dr_Rafizadeh.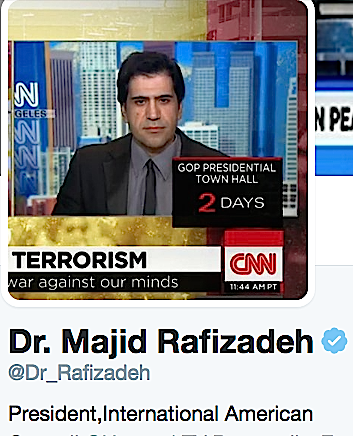 REAL LIFE. REAL NEWS. REAL VOICES.
Help us tell more of the stories that matter from voices that too often remain unheard.