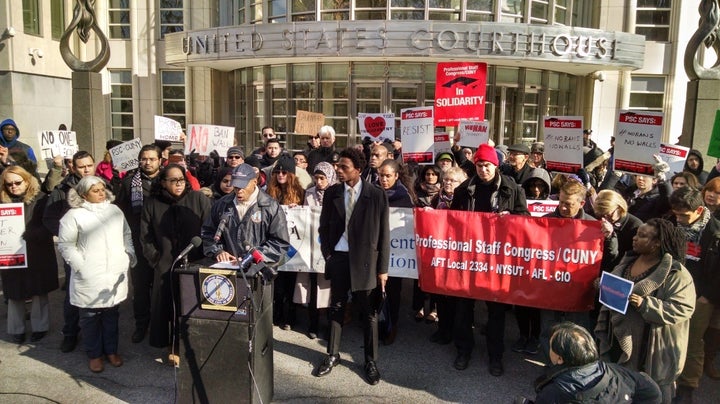 As a result of Trump-imposed ban, nationals of 7 countries face onerous restrictions
"I, Saira Rafiee, Ph.D. student of political science at the Graduate Center, City University of New York, was among God knows how many citizens of Iran, Iraq, Syria, Sudan, Somalia, Libya and Yemen that have been denied entry to the U.S.," the former Brooklyn resident wrote Sunday on Facebook.
"I was on a vacation, going back to my country to see my loved ones," she continued. "I was about to check in at the airport, when Donald Trump signed the [Executive Order], banning people from the above-mentioned countries from entering the U.S. I got on the flight to Abu Dhabi, but there at the airport was told that I would not be able to enter the U.S."
Despite possessing an F1 student visa, Rafiee was unable to return to New York and resume her studies after winter break. Apparently she is just one of 120 CUNY students impacted by the recent ban.
In the first of many moves towards a much more closed immigration system, the new administration of President Donald Trump has struck fear into the hearts of untold millions.
Among the most afraid for the consequences of tightening rules applying to a variety of immigrants are young Iranian nationals residing in American cities who work as scholars and artists.
Although green-card holders are for now exempt from the 90-day ban on admission to the U.S. for citizens of seven Muslim-majority nations, and although a federal judge in Brooklyn on Saturday granted a temporary stay for those already in transit or at U.S. airports, the situation remains dire.
Arguably, Iran is a bizarre entry on the list, with its majority Shia population, a relatively stable internal security situation, and a large number of highly educated expatriates living abroad.
Political luck, or lack thereof
For many of the Iranians residing in America's liberal meccas, good fortune could save them from legal disaster. Those unlucky enough to be abroad when the order was signed Friday, on the other hand, face difficult choices about how to navigate uncharted territory.
One such person is Ali Abdi, an Iranian activist and current Yale anthropology PhD student who left his country amidst the turmoil of the Green Revolution in 2009. He's now staying in Dubai, en route to Afghanistan to conduct ethnographic fieldwork.
But Abdi may fare decently because he retains permanent residence in the U.S., and Trump's team reversed course this weekend on such green-card holders.
New York-based artist Setare Arashloo is experiencing the legal and financial insecurity common to many immigrants in her shoes.
"Bank of America has applied a 'soft restriction' on my bank account, as my current visa status, which is stated on my current documents, will be expired in 30 days," she wrote last week on Facebook.
"And as a citizen of a sanctioned country the bank can and did cancel all of my cards. I [withdrew] the money and closed the account, as I was advised to, before I faced a complete blockage on my accounts."
"We fantasized about my long-time dream of road trip with an RV," Arashloo added. "In my head, I am going from plan A to plan B to an alternative plan C, to how much savings I have, in case I need to go for plan D."
From fearing deportation to work interruption and the inability to visit sick relatives, the list of possible negative outcomes is endless. Much of the problem revolves around the incredible ambiguity of the new policies, and arbitrary enforcement by the Department of Homeland Security and Customs and Border Protection.
A variety of forms, waivers, and requests often need to be submitted, at the mercy of officials issuing bond, parole, or possibly detention. To boot, authorities are aggressively searching mobile devices and social media for information, reportedly including anything expressing political opinions on Trump.
Tara Sepehri Far, a researcher at Human Rights Watch living in Washington D.C. who has spent time jailed at Evin Prison in Tehran, wrote on Saturday that she was "surrounded by hundreds of friends and coworkers who are willing to stand up against this ban."
"The cause hasn't changed, although the context has to a great extent," she said. "I want to tell myself that as long as I live here, which I don't know how long will be, I will do my part to fight for justice."
"It's the beginning of a white supremacist state, and the policies will extend to other people of color soon," he argues. "The Muslim ban is not only about faith, it's about race, and needs collective and critical resistance."
But despite the bitterness and anger following incomprehensible political actions, and the National Iranian American Council's statement that restrictions could actually become permanent, some young Iranians in the U.S. are sounding hopeful notes.
Alaleh Chahargameh, a Boston-based engineer, posted on Facebook: "I am overwhelmed by the number of messages, calls and emails I have received over the last couple of days! You guys are my absolute reason for keeping faith in humanity!"
"I am speechless," she concluded. "I love you all and I'm so blessed and forever grateful to have you in my life. You make the world a much better place."
REAL LIFE. REAL NEWS. REAL VOICES.
Help us tell more of the stories that matter from voices that too often remain unheard.