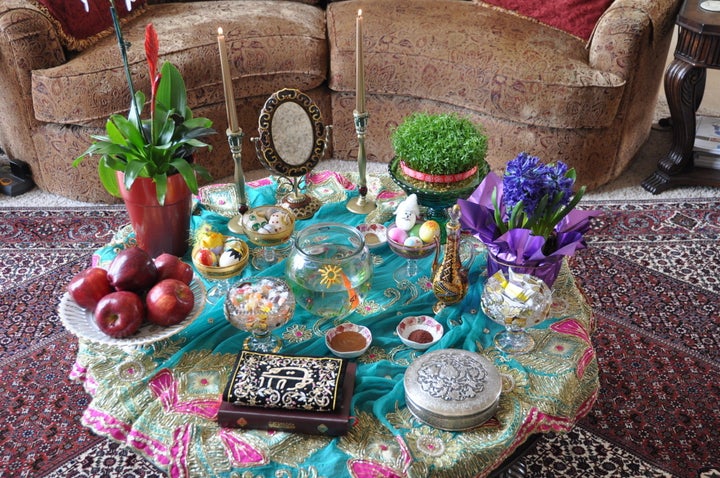 March 21, Naw-Ruz ("new day" in Persian), is the Baha'i New Year and is also an Iranian cultural holiday. Naw-Ruz has ancient roots in early Persian agricultural society and has been celebrated for some 3,000 years at the vernal equinox to mark the coming of Spring. Iranian Muslims, Jews, Zoroastrians and Baha'is celebrate Naw-Ruz with similar customs, although it is a Holy Day only for Baha'is and Zoroastrians.
Many Iranian American Baha'is still observe the cultural traditions of Naw-Ruz, said Behrooz Far, 52, from Castle Pines North, Colo. He grew up in Iran and immigrated to the U.S. in 1975. Behrooz Far and his wife Nava set up the traditional, ceremonial table display called the sofreh-ye haft-sinn ("cloth of seven dishes").
"The haft-sinn table is set with the Kitab-i-Aqdas, our Holy Book, flowers, a bowl of goldfish, a mirror, candles and painted eggs and seven traditional foods each starting with the letter 's' in Persian," said Far.
The seven traditional foods are:
sabzeh: lentil, barley or wheat sprouts growing in a dish, symbolizing renewal
samanu: a thick, sweet pudding made from wheat germ, symbolizing affluence
senjed: dried fruit of the lotus tree, symbolizing love
sir: garlic, symbolizing medicine
sib: apples, symbolizing health and beauty
somaq: sumac berries, symbolizing sunrise
serkeh: vinegar, symbolizing age and patience.
"We sit around the table waiting for the vernal equinox, which varies with the rotation of the Earth. When the exact time arrives, we celebrate by hugging and kissing each other and wishing each other a Happy New Year," said Far. Then the family goes visiting.
"If somebody passed away, you visit that family first. Otherwise it is done by age. You go to the home of the older people first and then the whole group goes to the next house and then the next house. You offer sweets and candy and a lot of pastries," said Far.
The traditional Naw-Ruz dinner is Sabzi Polo Mahi, whitefish served with rice seasoned with green herbs. The rice is seasoned with parsley, coriander, chives, dill and fenugreek.
Naw-Ruz is a major national celebration in Iran and lasts 12 days. School and work are suspended. There are all kinds of festivities on the street. For example. Iranian children have their own version of trick-or-treating. Draped in shrouds, they beat on pots and pans with a spoon and go door-to-door for treats. A traditional character, Haji Firuz, dressed in red and in black-face (an ancient symbol of good luck) dances and sings through the streets accompanied by trumpets and tambourines to herald the coming of Spring.
Naw-Ruz marks the end of the Baha'i month of fasting and is a festive Holy Day for all Baha'is around the globe. Baha'u'llah, the Founder of the Baha'i Faith, wrote: "Say: O people of the world! We have enjoined upon you fasting during a brief period, and at its close have designated for you Naw-Ruz as a feast." Globally, Baha'is mark Naw-Ruz with a worship service and often with visiting and a communal meal. Baha'u'llah revealed a special prayer for Naw-Ruz:
Praised be Thou, O my God, that Thou hast ordained Naw-Ruz as a festival unto those who have observed the fast for love of Thee and abstained from all that is abhorrent unto Thee. Grant, O my Lord, that the fire of Thy love and the heat produced by the fast enjoined by Thee may inflame them in Thy Cause, and make them to be occupied with Thy praise and with remembrance of Thee.

Since Thou hast adorned them, O my Lord, with the ornament of the fast prescribed by Thee, do Thou adorn them also with the ornament of Thine acceptance, through Thy grace and bountiful favor. For the doings of men are all dependent upon Thy good pleasure, and are conditioned by Thy behest. Shouldst Thou regard him who hath broken the fast as one who hath observed it, such a man would be reckoned among them who from eternity had been keeping the fast. And shouldst Thou decree that he who hath observed the fast hath broken it, that person would be numbered with such as have caused the Robe of Thy Revelation to be stained with dust, and been far removed from the crystal waters of this living Fountain.

Thou art He through Whom the ensign "Praiseworthy art Thou in Thy works" hath been lifted up, and the standard "Obeyed art Thou in Thy behest" hath been unfurled. Make known this Thy station, O my God, unto Thy servants, that they may be made aware that the excellence of all things is dependent upon Thy bidding and Thy word, and the virtue of every act is conditioned by Thy leave and the good pleasure of Thy will, and may recognize that the reins of men's doings are within the grasp of Thine acceptance and Thy commandment. Make this known unto them, that nothing whatsoever may shut them out from Thy Beauty, in these days whereon the Christ exclaimeth: "All dominion is Thine, O Thou the Begetter of the Spirit (Jesus)"; and Thy Friend (Muhammad) crieth out: "Glory be to Thee, O Thou the Best-Beloved, for that Thou hast uncovered Thy Beauty, and written down for Thy chosen ones what will cause them to attain unto the seat of the revelation of Thy Most Great Name, through which all the peoples have lamented except such as have detached themselves from all else except Thee, and set themselves towards Him Who is the Revealer of Thyself and the Manifestation of Thine attributes."

He Who is Thy Branch and all Thy company, O my Lord, have broken this day their fast, after having observed it within the precincts of Thy court, and in their eagerness to please Thee. Do Thou ordain for Him, and for them, and for all such as have entered Thy presence in those days all the good Thou didst destine in Thy Book. Supply them, then, with that which will profit them, in both this life and in the life beyond.

Thou, in truth, art the All-Knowing, the All-Wise.
Support HuffPost
The Stakes Have Never Been Higher
Related
Popular in the Community