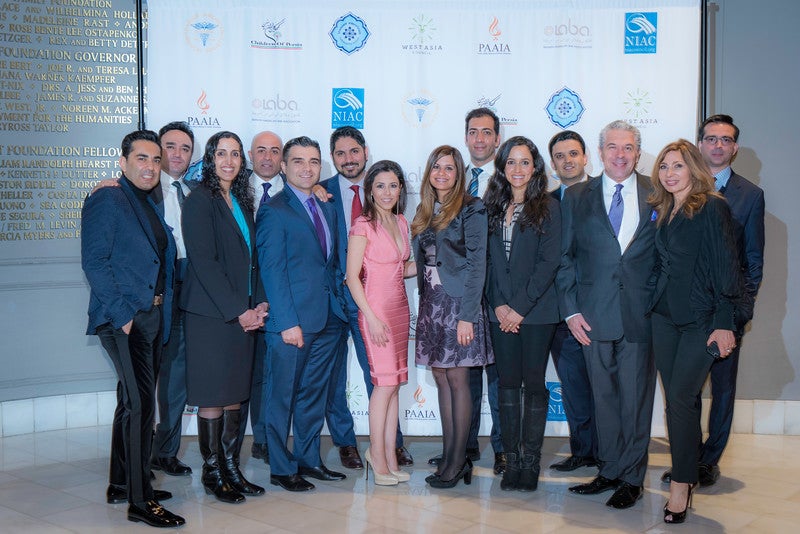 The Iranian-American Bar Association (IABA) held its annual event on November 17-18 in the nation's capital region. Over a hundred members and business people gathered at the Westin in Washington, D.C. and at the scenic CEB Conference center across the Potomac River in Arlington, VA, to share insights and expand their networks of friends and colleagues.
This year's annual event was special for the emphasis it placed on the current U.S. travel ban affecting Iranian citizens, and the notable response of Iranian-American lawyers to this predicament – from rushing in groups to Dulles Airport to assist stranded or detained visitors, to providing free ongoing counsel to those in need, and giving media interviews to educate the public about the human face of travel bans.
Increasingly, the thousands of practicing Iranian-American attorneys who cover virtually all aspects of law find themselves, in position, to advance their careers while simultaneously helping the advancement of the broader Iranian-American community, which is one of the most dynamic and high-achieving segments of America's diverse population.
In this Special Issue, we asked some of the speakers at this year's IABA 2017 Annual National Conference to send us quotes.Their remarks highlight not only the length of the path that must be traveled, but also how much has already been achieved.
Babak Yousefzadeh, President, Iranian-American Bar Association, and Partner, Sheppard Mullin
Vision for the Iranian-American Bar Association
"I would like to see the IABA grow from being an organization that promotes Iranian-Americans in the legal profession, to one that can make use of those same legal professionals to help protect and advance the legal rights and interests of our community; and from an organization that educates our community and the larger American community about legal issues of interest, to one that uses that education to inspire the Iranian-American community and its allies to act on behalf of our interests."
"To that end, I envision the IABA being an organization that works with its coalition partners to strategically identify legislation and selectively choose lawsuits that will help us proactively set and secure goals to advance the interests of our community. In order to make these plans successful, we will need to develop a legal defense fund so that we can pursue these goals without ad hoc and disparate fundraising efforts. Finally, I would like to see the IABA establish permanent relationships with government representatives, especially those that are allies, as we will also need their help in executing many of these goals."
The status of the lawsuit against the Trump Administration's travel ban, mostly affecting Iranians
"The Trump Administration has issued the current Travel Ban, Version 3.0 (an executive proclamation), which orders permanent travel restrictions against the countries on the list. Once again, Iran and Iranian Americans were the largest communities affected, despite any lack of legitimate rationale or legal basis for such an expansive prohibition. As a result, IABA, PAAIA and Pars Equality again amended their complaint to pursue their legal challenges against the new Travel Ban. Given the facts and witnesses we had developed in our case, all of our organizations had offers to join other lawsuits, but IABA, PAAIA and Pars Equality continued to believe that a unified Iranian-American voice and narrative was preferable to other strategic considerations."
"While we were briefing the issues related to Travel Ban 3.0, the Trump Administration issued its current Refugee Ban. Upon receiving it, we again amended our complaint (its fourth iteration), and requested the Court to hold a simultaneous ruling on Travel Ban 3.0 and the Refugee Ban. The Court agreed, and those hearings were held on November 2, 2017. We were the first case in the country to hold a hearing on the Refugee Ban., and we are currently awaiting a verdict on the ruling. At every stage in the litigation, we have challenged the Travel Bans as violating both the constitution and statutory laws."
"I serve the people of Wake County as a District Court Judge. The capital of North Carolina is Raleigh, which is located in Wake County. I currently serve as one of four family court judges. I preside over issues such as child custody, child support, spousal support, domestic violence, and equitable distribution of property. One week per month I preside over criminal cases."
"In North Carolina, judges generally are elected. Most frequently, the people elect the District Court Judges in a county-wide election every four years. The Governor, however, appoints judges in the event of a mid-term vacancy. Earlier this year, one of our District Court Judges was promoted to a position on the Superior Court bench creating a vacancy in District Court. I earned the support of my peers and received the most votes from Wake County attorneys by a significant margin. After a thorough vetting and interview process, Governor Cooper agreed with my colleagues' recommendation and appointed me to fill the vacancy. Although I was recently appointed to the bench, I must turn around and run to keep my seat in 0 8. I am running a county-wide campaign with over one million constituents. To put that into perspective, consider that I have more constituents than a member of the United States House of Representatives."
Increasing the number of Iranian-American Judges
"Unfortunately, many Americans have developed a negative view of Iran, and also wrongly associate certain negative geopolitical events with Iranian-Americans. What I hope people will come to understand is that Iranian-Americans left their country in search of a better life. While politics often makes headlines, people fail to recognize that Iran has a long history, a rich culture, a beautiful language, kind citizens, extraordinary cuisine, and a love for the arts and literature. Governor Cooper's decision to appoint me as the first Iranian-American jurist in North Carolina is a step toward promoting acceptance and tolerance in our community. I am hopeful that my story and my commitment to public service will help dispel some of the misconceptions about Iranian-Americans and inspire others to serve in a similar capacity."
On What Makes North Carolina Special
"North Carolina is an exceptionally beautiful state. I consider myself lucky to have lived in North Carolina almost my entire life. What I am most grateful about is how my state has shaped the person I have become. I was born in Iran, my parents and I moved to Winston-Salem, North Carolina when I was only fifteen months old. Winston-Salem in the 1980s was a small town thriving primarily on the tobacco industry. It was not diverse. When my parents and I were out grocery shopping and spoke to each other in Farsi, people stared at us. I brought kabob or cotlet and pickle sandwiches in pita bread for lunch, while my friends ate peanut butter and jelly or ham and cheese sandwiches. Growing up as a first generation Iranian American in the South, I thought my background was in some way inferior. As an adult, I quickly realized that my background and personal stories have shaped the person I am today. My experiences gave me thicker skin and made me a stronger woman. My experiences gave me the desire to learn about different people and different cultures. My experiences made me fight harder for what I wanted, and they made me understand the importance of living authentically. As the first Iranian-American jurist in North Carolina, I bring a unique and diverse perspective to the bench. I believe my experiences allow me to view the law from different perspectives and to view others in a more understanding and tolerant light. I am especially honored to be the first Iranian-American judge in North Carolina. My fellow North Carolinians are caring, accepting, and willing and eager to learn about different cultures. While many view North Carolina as a conservative, southern state historically, the electorate is currently pretty evenly split. I work hard to earn the respect and support of all the citizens of Wake County, whether they identify as Republicans, Democrats, or Independents. As a judge, I took an oath to follow the law and promote justice. I will work hard to win my election in November of 0 8, but I refuse to let politics affect proceedings in my courtroom."
On Working at Amazon as a Lawyer
"I am a Senior Counsel at Lab 126, an inventive research and development company that designs and engineers high-profile consumer electronics. Lab 6 began in 2004 in Palo Alto as a subsidiary of Amazon.com, Inc., originally creating the best-selling Kindle family of products. My role at Lab is to support the manufacturing and operations team, including component procurement, manufacturing and forward and reverse logistics teams. As to Amazon's culture, we have several leadership principles at Amazon and as I mentioned during the fireside chat, we truly use them every day, whether in discussing ideas for new projects, deciding on the best solution for a customer's problem, or interviewing candidates. I have even applied a lot of them (like ownership, think big and bias for action) in my personal life."
On Amazon's sponsorship of the IABA 2017 annual event
"Amazon has a very diverse customer and employee base, with diverse perspectives coming from many sources including national origin. Amazon is committed to tolerance and diversity and believes that diversity and inclusion are not only good for its business, but also just "right." Amazon has various affinity groups and has recently supported several Iranian-American events, including the IABA National Conference, IABA N. Cal. Chapter Annual Fundraising Gala and the Persian Women in Tech South Bay. Being part of a very diverse legal team at Amazon, I have never felt like my gender or race/national origin has negatively impacted my career. I had both my kids while working as an in-house lawyer at Amazon and didn't feel like going on maternity leave adversely affected my work or career path. In fact, every time, I came back from maternity leave to a bigger role and more responsibilities, which is, unfortunately, not the case in all companies. In addition, both being a woman and an immigrant have helped me understand different perspectives and also advocate for diversity everywhere I can."
How the Iran sanctions under Trump different from under Obama.
"From a regulatory perspective, not much has changed. The same regulations and public statements of licensing policies are largely intact. We have seen, however, a shift in OFAC's internal licensing policy, and in OFAC's enforcement posture. On the licensing front, we have seen licenses that we thought would be granted, be denied. For example, there was a recent case where a lawyer was denied authorization to participate as an expert witness in international arbitration involving an Iranian company that was taking place in a European country. OFAC Enforcement has also appeared to become more strict and aggressive, and more interested in pursuing investigations related to apparent violations for export of services and facilitation, than the traditional export of goods to Iran cases, we're more accustomed to seeing--although we still see those as well. Finally, the Trump Administration has taken on a much different tone with respect to Iran sanctions, and Iran generally. This has caused increased hesitation in engaging in lawful trade with Iran, and further exacerbated the de-risking phenomenon that has led many financial institutions to shun processing any Iran related transactions."
On the newer sanctions on Russia and Venezuela – and the relaxation of sanctions on Sudan
"I think the answer here is two parts. First, it shows that the U.S. is more willing to go outside their traditional modes of sanctioning, and come up with more nuanced ways to apply pressure through sanctions to attack certain key economic sectors of targeted countries, and minimize the humanitarian impact on those sectors--although I believe there will always be some level of humanitarian impact. Second, it presents a resource problem. The irony of increased reliance on sanctions without a concomitant increase in funding to the agencies involved in implementing sanctions is that you see a greater desire to coerce geopolitical adversaries through the use of sanction, but a diminished capacity to do so. In other words, we're left with a situation where we have more tools to do the work, but higher workload than can be effectively managed. I don't think the termination of most of the Sudan sanctions program freed up enough resources to solve that dilemma, as most transactions with Sudan had been authorized since earlier this year, and the amount of economic activity curbed by that program was minimal in comparison to the international community's commercial engagement with Iran and the impact sanctions are having there."
On the role of the U.S. Legal Profession in Settling International Disputes
"I certainly think lawyers have a big role to play in international dispute resolution cases, especially where the laws implicated by those disputes are complex and esoteric--such as in the case of sanctions. Lawyers are needed to navigate those laws and help the parties define the environment in which they are negotiating a dispute.
I know that some of these countries have retained counsel, and I think there is a high likelihood that they all have. For example, it is fairly well known that the Government of Venezuela hired a D.C. firm to assist in removing sanctions against its current and former officials that were designated by OFAC. Given the impact of U.S. economic sanctions on a target's economy or financial condition, it would be unwise for any country not to have counsel experienced in sanctions issues to advised them on those laws and represent them before OFAC or other relevant agencies as issues arise."
Shahrzad Rezvani, Attorney at Rezvani Law Offices and President, Iranian-American Bar Association, DC Chapter
Vision for the D.C. Chapter of IABA
"My vision for the DC Chapter revolves around community and advocacy. We are persistent in inviting congressmen, judges and scholars to attend our events, whether as distinguished speakers or guests. Having these prominent individuals see the community involved in IABA will significantly strengthen our backbone. It will also give insight into the role of the judiciary in the travel ban, as an example. I also believe that by engaging in joint events with other bar associations and advocacy groups, we can strengthen our presence in the legal community. As the travel ban cycles in and out of courts, we will continue our advocacy and legal pursuits by assisting the legal team wherever needed and by offering direct support to travelers."
"One of the distinguishing features of the DC chapter is our focus on the travel ban. Dulles Airport was one of the main airports where lawyers volunteered to assist those with questions or those being held in "secondary screening." Our board members were very active at Dulles Airport and we tracked the flights coming into DC to prepare for those arriving and to make sure people were able to board their flights. DC is also the location of the lawsuit filed by IABA and other plaintiffs in Federal Court. Meeting with the lawyers, preparing for the trial, assisting with translations, and showing up to the trials to show our support has been a big part of our board members' year. We are getting emails almost every day from people with questions such as, 'how do they establish a genuine relationship after they have won the Green Card Lottery'? It is a tough pill for Iranians to swallow when they hear they will not be able to come without this type of relationship. I am very proud of our board and how we have stepped up to the challenge this year. The hope, of course, is that the travel ban will fade and we can focus our attention on legal clinics, CLEs, advocacy, and our mentorship program among other things."
Leila Mansouri, Attorney at Mansouri Law Offices, and former President, Iranian-American Bar Association, DC Chapter
On the Community Service Role of Iranian American Lawyers
"When the travel ban came in late January 2017, I was serving as President of the IABA DC chapter, and fielding calls and emails from both DC and national board members, IABA members, and people from the community. It was absolute chaos. We had a few days notice that the travel ban was coming, but did not know the extent of extreme measures it would contain. We had already begun a campaign to urge Iranians to call their senators and that was being reinforced. At the same time, my relative was detained in Dallas, TX as soon as she landed, the day after the executive order was signed. I spent the entire day on the phone with not only her family to calm them as she was elderly and in danger of being sent back to Iran, but also lawyers and journalists. When I learned of her detention around noon on Saturday, I immediately made a public post on Facebook to see if anyone could help. That post was shared almost 1000 times just in the first few hours. Because of that, lawyers from major law firms were offering help. Media outlets were contacting me for information. I could not work, sleep, shower, or eat those first 48 hours. I spent every minute with the ACLU Texas lawyers, while we were researching laws, drafting briefs, finding judges we could call on a weekend evening, looking for contacts at CBP Dallas, and all the other things I mentioned before. It really took a big village to accomplish the things we did, and time was of the essence."
"The gist of what I said in initial interviews (on CNN, Sky News, ABC Australia, BBC Persia, Manoto TV, and Radio Javan) was that the ban is an irrational response because none of the 9/11 hijackers were from the countries on the list; no one from Iran has committed a terrorist act in the USA; the executive order was poorly drafted because it was implemented right away, stranded travelers, and violated constitutional rights of permanent residents and citizens."
" Beyond the travel bans, Iranians have had many immigration problems, even before President Trump took office, and these include a higher denial of visitor visa rates, and enhanced case security check delays that are called "administrative processing," which can take prolonged periods for Iranians to be reunited with their loved ones. There is also the problem of journalists and other asylum seekers who are stuck in other countries, such as Turkey, for years with no rights, who cannot get work authorizations, and who are living in really poor conditions. Even if the travel bans are lifted, Iranians need to lobby harder for equitable treatment."
Robert Babayi, Founder Vector IP Law, Co-founder, Iranian-American Bar Association
On the Reasons for Launching IABA
"The impetus for launching IABA was to protect to the interests of Iranian Americans in the U.S., as well as educating them on their legal rights if and when the government steps out of bounds. When IABA was first organized in March of 2000, the organizers had no idea that 9/11 was only six months away. The very first highlight of the organization's successes came in 2004, when IABA independently investigated the government's egregious behavior when congress passed the Patriot Act with NSEERs provisions that required Iranian nationals to register.
The NSEERs program resulted in mass arrests of Iranians in late 2002 and early 2003, targeting people who tried to comply with NSEERS, because the government was clueless about implementing the regulations. The IABA's report to the houses of congress helped result in suspension of the NSEERs program. IABA continues to highlight its importance to this day by protecting the rights of the Iranian American community against Trump's travel bans."
On comparing IABA to other minority bar associations
"I am not aware of any other minority Bar association that is carrying the albatross of having to deal with nuances of the U.S.-Iran relations. IABA has grown from a 501(c)(3) non-profit organization to one that has an advocacy arm. IABA also serves the Iranian American community by holding pro-bono sessions and awarding scholarships to law students through its foundation."
Calling all HuffPost superfans!
Sign up for membership to become a founding member and help shape HuffPost's next chapter
This post was published on the now-closed HuffPost Contributor platform. Contributors control their own work and posted freely to our site. If you need to flag this entry as abusive,
send us an email
.