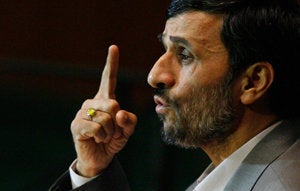 It was reported this morning that Iranian-Canadian blogger and activist Hossein Derakshan, known as the "Godfather of the Iranian blogosphere", was arrested in Tehran and charged with spying for Israel. He could face the death penalty if convicted.
Derakhshan, whom I was fortunate to meet this past June, is an exceptional blogger and controversial figure for his support of the Iranian regime. In 2006, he visited Israel to meet with bloggers, in the hopes of painting a different picture of Israelis to his Iranian followers and breaking taboos. Unfortunately, a visit to Israel would rule out any future visits to Iran, as the two countries are bitter enemies with no diplomatic ties.
And yet, Derakhshan, who goes by "Hoder" (a portmanteau of his first and last names), returned to Iran last month for an extended stay and recently shared on his Facebook page that he was looking to reunite with old friends. Although dates have not yet been confirmed, he was arrested sometime within the past two weeks.
Online activists are abuzz with the news: Sami Ben Gharbia of Global Voices Advocacy was the first to break the story in English, spreading the news to major media outlets. Nart Villeneuve, best known for his work with the OpenNet Initiative and the Information Warfare Monitor, blogged about the news this morning, urging activists to support calls for Derakhshan's release, regardless of disagreement with his beliefs.
Nasser Weddady, Civil Rights Outreach Director of the American Islamic Congress states, "Blogging is the ultimate frontline of the freedom of expression, Hoder was Iran's blogging pioneer, we will work tirelessly to secure his release." Weddady was a driving force in the letter-writing campaign to release Iranian artists and women's rights advocate Esha Momeni, and intends to provide similar support for Derakhshan. A Facebook group backed by Reporters Without Borders and calling for the release of Derakhsan has been created as well.

Calling all HuffPost superfans!
Sign up for membership to become a founding member and help shape HuffPost's next chapter