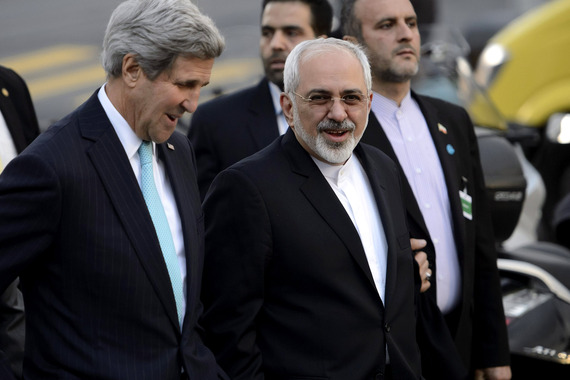 Iranian Foreign Minister Javad Zarif and US Secretary of State, John Kerry in Geneva, Switzerland, January 14, 2014, Photo Credit, AP
Iran's Foreign Minister Javad Zarif is scheduled to come to New York to address the five-yearly review conference of the nuclear Non-Proliferation Treaty (NPT) that will be held from April 27th to May 22.
During the daily foreign ministry press briefing in Tehran, the ministry's Spokeswoman Marzieh Afkham confirmed Zarif's trip to New York and added that, "given the presence of Iranian diplomats as well as other members of the P5+1, there may be talks on the nuclear negotiations on the sideline."
This comes a day after President Obama's agreement to sign a compromising bill with Congress--allowing them to weigh in and review the final nuclear deal with Iran.
In response to this decision, Iran's Zarif said that, "we hold the government of the United States responsible for implementing its international obligations," adding that, "we will look into what the Senate adopted to see whether it impinges upon or hinders the capability of the President to carry out his obligations that he's going to assume with Iran." Zarif made these remarks during a news conference after meeting with his Portuguese counterpart in Lisbon on Wednesday.
According to Iran's semi-official Fars news agency, during a speech held in Iran's northern city of Rash, Iranian President Hassan Rouhani emphasized on the importance of these negotiations, saying that, "our counterparts in negotiations are not the United States Congress, but the 5+1 as a whole", adding that "the lifting of the sanctions should come at the end of these negotiations."
During her press briefing today, Afkham also said that Iran's counterpart is the government of the United States and "how the government wants to deal with its Congress, is the responsibility of the US government."
According to Afkham, the next round of talks are "most likely going to begin next Wednesday", but as far as the location of the meetings, "there is one or two places in mind, but nothing has been confirmed."
Zarif's trip to New York comes only weeks after the historic April 2nd accord, where Iran and six other world powers made a preliminary deal that could pave the way for a final agreement that's set to be made by a June 30 deadline.
Iran demands the removal of sanctions as soon as any final deal is made, but the United States and other world powers support a gradual removal of sanctions.
Calling all HuffPost superfans!
Sign up for membership to become a founding member and help shape HuffPost's next chapter