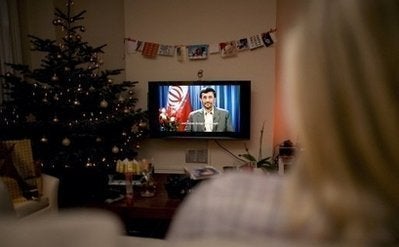 Mahmoud Ahmadinejad, the President of Iran, delivered Channel 4's alternative Christmas address yesterday, sending a message of "happiness, prosperity, peace and brotherhood for humanity" which immediately ignited a furious row.
The speech by Mr Ahmadinejad, whose nuclear ambitions and views on Israel and homosexuality have strained relations between Iran and the West, was moderate, with none of the harsh rhetoric for which he has gained notoriety. God, he said, had created "every human being with the ability to reach the heights of perfection". He also urged Muslims and Christians to work together towards a world of "love, brotherhood and justice".
Perhaps mindful of its controversial choice of speaker, Channel 4 did not broadcast the message at 3pm to coincide with the Queen's speech on BBC and ITV, as it has done every year since 1993. Instead, the programme was screened at 7.15pm. However, that did not prevent a backlash which started even before the broadcast. The human rights campaigner Peter Tatchell had urged Channel 4 to "pull the plug on this criminal despot, who ranks with Robert Mugabe, Omar al-Bashir of Sudan and the Burmese military junta as one of the world's most bloody tyrants".
Speaking in Farsi with English subtitles, Mr Ahmadinejad sent his congratulations to "the followers of Abrahamic faiths, especially the followers of Jesus Christ, and the people of Britain". He said the world's ills had come about through nations failing to follow the teachings of the Prophets, including Jesus. He also made a thinly-veiled attack on the US, claiming Christ would have been against "bullying, ill-tempered and expansionist powers" and would have opposed "warmongers, occupiers, terrorists and bullies the world over".
The Foreign and Commonwealth Office rebuked Channel 4 for giving a platform to the President, who has called the Holocaust "a myth", saying it would cause international offence. A spokeswoman said: "President Ahmadinejad has during his time in office made a series of appalling anti-Semitic statements. The British media are rightly free to make their own editorial choices, but this invitation will cause offence and bemusement not just at home but amongst friendly countries abroad."
Israel called the message a "sick and twisted irony". Ron Prosor, the Israeli ambassador to Britain, said: "In Iran, converts to Christianity face the death penalty."
Calling all HuffPost superfans!
Sign up for membership to become a founding member and help shape HuffPost's next chapter