A coordinated hunger strike by Iranian political prisoners is gaining international support and reminding the world that the Iranian dissident movement is far from defeated.
Jafar Azimzadeh, a prominent labor activist and president of the Free Union of Workers of Iran has been on hunger strike since April 30th to protest the "repression of activities of workers and teachers by the security charges," and is reportedly in critical condition. Azimzadeh is currently serving a six year term of imprisonment in the notorious Evin Prison in Iran, and has reportedly spent periods in solitary confinement and been subjected to torture.
Azimzadeh was reportedly arrested for coordinating an effort to gather 30,000 signatures in support of labor organizing in Iran, as well as organizing labor protests and actions in a country which continues to repress labor and undermine workers rights.
In an open letter to Deputy Labor Minister Hassan Hefdahtan, Azimzadeh dismissed the charges against him and other activists as politically motivated and refused to back down from his sharp criticism of the Rouhani administration and the regime as a whole.
"In the three-year lifespan of the [Hassan] Rouhani administration, the majority of the most effective independent labor activists and teachers have been prosecuted under national security laws and given long prison sentences...Most of these individuals were arrested by the Intelligence Ministry under the current government and all of them were charged with 'assembly and collusion against national security' and faced maximum penalties in the Revolutionary Court."
According to Iranian human rights groups, Azimzadeh's wife petitioned Tehran's Prosecutor, Abbas Jafari Dolatabadi regarding her husband's deteriorating health. Dolatabadi reportedly told her: "I will do nothing for him, even if he dies."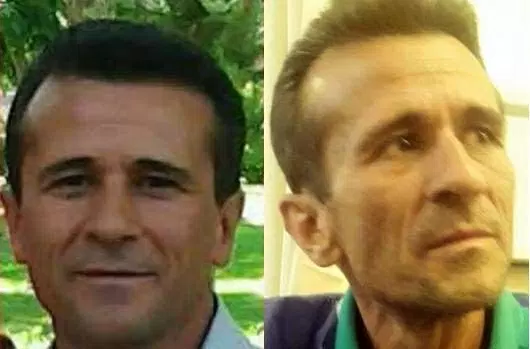 Photos of an emaciated Azimzadeh have circulated on social media, as activists around rally behind his hunger strike and demand improvements in the treatment of political prisoners in Iran. The defiance displayed by Azimzadeh in his gaunt state is reminiscent of Bobby Sands and other famous political prisoners who were determined to test their will against the brutality of a repressive state.
Azimzadeh's case has won support both inside and outside Iran. Earlier this month scholar and activist Noam Chomsky signed a letter along with more than 20 distinguished academics and activists from around the world calling for Azimzadeh's release. Human rights activists have also participated in tweet storms and campaigns to raise awareness with regard to his case.
Other Iranian political prisoners have gone on hunger strike to protest the lack of judicial due process and abuse within the Iranian penal system. A list of 182 political prisoners recently signed a statement declaring their support for Azimzadeh and starting their own temporary hunger strikes in solidarity with him.
Kurdish political prisoner Ayoub Assadi has reportedly been taken to solitary confinement in a bid to end his hunger strike which has lasted more than 20 days. Assadi has been subjected to torture and sentenced to 20 years in prison for his affiliation with Kurdish opposition groups. Another Kurdish prisoner, Mohammad Abdollahi, has been on hunger strike since May 29 in protest of his prison conditions and the pronouncement that his execution could occur at any given time. He was sentenced to death for his affiliation with Kurdish opposition groups.
The spirit of Azimzadeh and the defiance of Iran's political prisoners is an embodiment of hope for Iran's dissident movement, reminding us all that even the most defenseless can wage a heroic struggle against tyranny, and the hunger for freedom can overcome all other earthly desires.
UPDATE (7/11): On June 30th, Jafar Azimzadeh was granted a temporarily release from Evin Prison following a two month hunger strike. Although he remains at risk of future incarceration and is set to attend a new court date, his hunger strike and the international campaign that followed was a success.
Crowdsourcing the struggle for human rights. Be part of the solution at Movements.org. The views expressed are the author's own and do not necessarily represent the views of Movements.
Popular in the Community