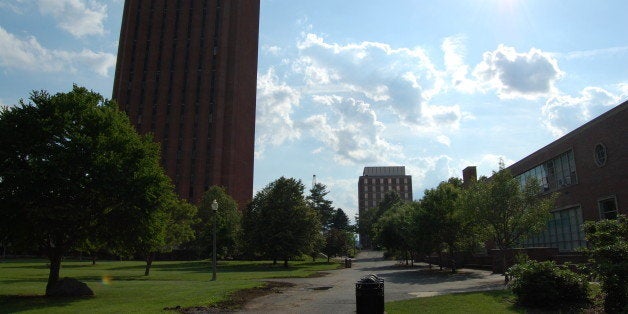 Two student groups are decrying an "outrageous" University of Massachusetts Amherst policy that restricts Iranian citizens from enrolling in some engineering and science programs, arguing that the policy is "clearly in conflict with academic values and principles that prohibit discrimination."
The university first posted the policy denying admission to Iranian students planning to study in certain engineering and science fields last week, citing U.S. sanctions against their home country. UMass Amherst, the flagship campus of the UMass system, deleted the policy Friday morning after it was criticized online. That afternoon it reposted the policy and told news outlets the school was standing by it.
The Iranian Graduate Student Association and the Persian Student Association at UMass then established a Facebook page to drum up opposition to the admission ban. They released a statement over the weekend saying they felt "betrayed, excluded, and threatened" by the policy.
We are in a state of distress, feel betrayed, and are worried for our friends and families who can no longer pursue their dreams of coming to America for an education. Coming to America as an Iranian is already difficult, and now UMass has made it much more intricate, with little explanation. UMass Amherst is voluntarily punishing us as a collective, because of what our home government does. We strongly believe UMass Amherst's recent policy implementation is arbitrary and discriminatory, and should not be tolerated.
UMass cited a section of a 2012 sanctions law stipulating that the U.S. Secretary of State shall deny a visa to an Iranian citizen seeking to study in the U.S. in order to launch a career in the energy sector or nuclear science or engineering fields in Iran. The university is restricting Iranians from enrolling in several "specific programs in the College of Engineering (i.e., Chemical Engineering, Electrical & Computer Engineering, Mechanical & Industrial Engineering) and in the College of Natural Sciences (i.e., Physics, Chemistry, Microbiology, and Polymer Science & Engineering)."
The students contend that UMass is taking upon itself the State Department's role by barring Iranians. They also criticized the university's reading of federal law, calling it "broad" and saying the law "does not prohibit admission to all of the science fields."
A State Department official likewise told The Boston Globe that current law "does not prohibit qualified Iranian nationals coming to the United States for education in science and engineering." The Associated Press reported similar remarks from the State Department.
While the groups said they were not aware of any other U.S. college with a similar practice, Inside Higher Ed found that Virginia Commonwealth University has a stated policy of declining admission to Iranian citizens for "mechanical and nuclear engineering" graduate programs. The National Iranian American Council noted that, to the best of its knowledge, the Virginia university is the only other with such rules.
A UMass spokesperson said that it "is not alone among universities in its compliance with this or any other federal law," but declined to name any other universities with similar policies when asked by The Huffington Post on Tuesday. The school also declined to respond to the State Department's comments.
Read the full statement from the Iranian Graduate Student Association and the Persian Student Association below:
Support HuffPost
The Stakes Have Never Been Higher
Related
Popular in the Community