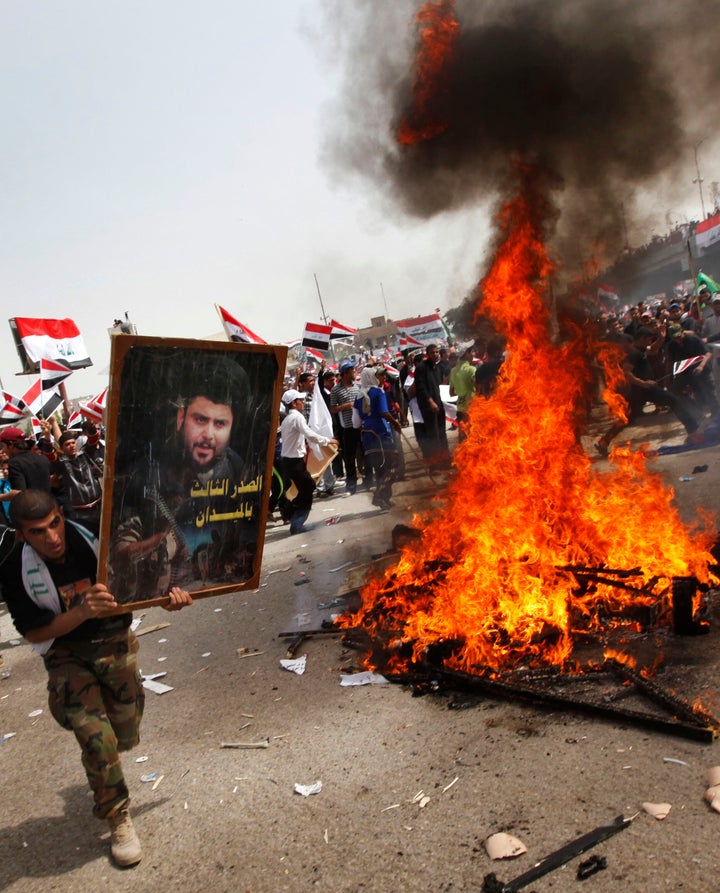 WASHINGTON -- The United States is negotiating with Iraq to extend the U.S. military presence, as the number deadly attacks against U.S. troops in Iraq by militiamen trained and armed by Iran is on the rise.
Adm. Mike Mullen, Chairman of the Joint Chiefs of Staff, said Iranian-backed Shiite militias "are killing our troops" in Iraq with sophisticated weapons that include lethal armor-piercing versions of IEDs and rocket-boosted mortars.
Fifty-one American troops have been killed in Iraq since President Obama declared an end to combat operations there last August, and the fighting has wounded 244 U.S. soldiers. Roughly 46,000 troops remain advising and training Iraqi army and police forces, but they are due to be withdrawn by Dec. 31.
The potential extension of the U.S. military presence in Iraq has been bitterly opposed by Muqtada al-Sadr, the fiery Iraqi cleric and militia leader. He has repeatedly vowed to "escalate armed resistance" if the Americans stay on. Sadr's militia has long had close ties with Iran.
In a meeting with reporters Thursday, Mullen said Iran is "shipping high-tech weapons in there -- the forensics prove it." He said top Iranian officials "know about it," but he declined to say the anti-U.S campaign was being directed by Iran's leadership.
"Iran is playing an outsize role" in Iraq as the shaky government of Prime Minister Nouri al-Maliki struggles to stem the growing violence, Mullen said. "That has to be dealt with. It's killing our people."
Asked if U.S. forces could go after the Shiite militias, Mullen did not rule out a counter-offensive. "Anything we do would clearly be focused on our inherent right of self-defense," he said.
The U.S. military personnel in Iraq are largely engaged in training Iraq security forces and assisting with capabilities the Iraqis lack: intelligence analysis, logistics, medical care, and air operations assisting in battlefield evacuation, border control and air defense. U.S. Special Operations Forces also are active in the country, working in conjunction with Iraqi commandos on counter-terrorism missions to capture or kill top terrorist leaders.
All American military personnel are to be withdrawn from Iraq by Dec. 31 under the terms of a formal agreement signed by Iraq and the United States during the Bush administration. Senior U.S. officials have said the United States will comply with the agreement unless Iraq formally requests that some forces stay on, and Washington agrees to the extension.
Privately, senior officials have expressed concern that Iraq could slide into civil war as deadly violence among Shiite and Sunni militias grows. Last week, the 82nd Airborne's 1st Brigade rehearsed at Fort Bragg an airborne combat assault into Iraq in case such a mission has to be mounted during a crisis.
"Negotiations are on-going" about extending the U.S. troops beyond December 31, Mullen said, "and they're hard." He said both Iraq and the United States recognize there are "gaps" in the capabilities of Iraq's security forces. "We clearly see some areas" where the United States could help, he said, using the existing forces to continue training and advising Iraq's forces.
But Mullen stressed that extension of the U.S. military mission in Iraq is up to the government and the people of Iraq as they determine how to ensure their own security.
The weapons being shipped into Iraq from Iran include Explosively Formed Penetrators, or EFPs, which detonate and drive a slug of molten metal through armor. Iran is also providing rocket-boosted weapons, called Improvised Rocket Assisted Munitions, which often consist of propane tanks filled with explosive and strapped to 107mm rockets.
Mullen said the newest version of Iranian IRAMs, which are termed "indirect fire" weapons by the Pentagon, are more sophisticated than the simple versions they were providing in 2007 and 2008. "They are significant and improved, more lethal," he said. The IRAMs are used against U.S. barracks, mess halls and motor pools.
Last week three American soldiers were killed by indirect fire at a remote base on the Iranian border.They are Army Capt. David E. Van Camp, 29, of Wheeling, W.Va., Spc. Robert G. Tenney Jr., 29, of Warner Robins. Ga., and Capt. Matthew Gunnar Nielson, 27, of Jefferson, Iowa. All three were assigned to the 2nd Squadron, 3rd Armored Cavalry Regiment based at Fort Hood, Texas.
Related
Popular in the Community