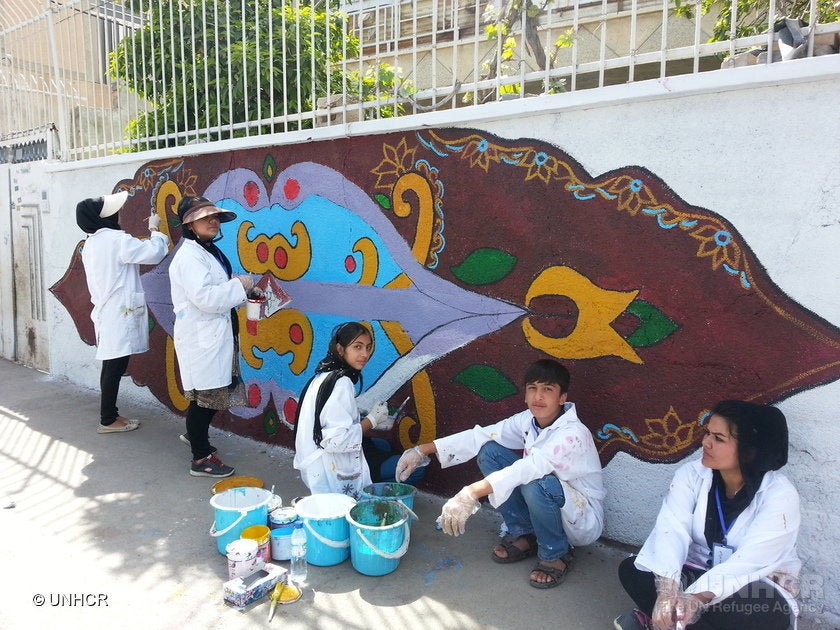 Once tarnished by walls covered in hateful graffiti and streets littered with garbage, the Saadi neighborhood of Shiraz, Iran, now boasts beautifully-painted murals and a newly fostered sense of community.
The United Nations Refugee Agency and the Iranian government spearheaded a collaborative initiative to clean up and beautify Shiraz while uniting its residents ― a diverse population of Iranians and Afghan refugees ― who have endured divisive social tensions and hostility.
While the UNHCR notes there are nearly 1 million Afghans currently living in Iran, the country's interior ministry estimates the actual number is closer to 3 million. Large numbers of Afghans in Iran risk being deported, including many who are living there illegally.
"It had become custom for Afghans and Iranians to blame each other – verbally and through graffiti and hate slogans – for the problems they saw around them," explained Alex Kishara, who heads UNHCR's operations in Shiraz.
A team of more than 60 community volunteers and students from both groups worked together with local artists to paint over walls tagged with discriminatory messages, in addition to picking up trash. The new murals feature designs depicting Iranian and Afghan carpets, as well as other cultural symbols.
Check out UNHCR's photographs of the inspirational transformation below:
REAL LIFE. REAL NEWS. REAL VOICES.
Help us tell more of the stories that matter from voices that too often remain unheard.