UPDATE 5/21 --

Iranian political satirist and radio host Kambiz Hosseini, who started the #FreeHappyIranians hashtag, tweeted on May 21 that all of the young men and women released for their involvement with the "Happy" clip have been released, except for the director.

A tweet from President Hassan Rouhani has led to speculation that he had a hand in their release.
Sources report that seven to eight young Iranians have been arrested in Tehran, for the simple crime of being "Happy."
Three men and three women danced unveiled to Pharrell Williams' smash hit in a video that was widely shared on social media, garnering over 30,000 views before it was taken down. Copies have been quickly re-uploaded as news of the arrest has broken, sparking the hashtag #FreeHappyIranians.
Many Iranians praised their joyful video, but it was met with censure by the conservative religious forces which have ruled Iran since the Revolution in 1979.
"After a vulgar clip which hurt public chastity was released in cyberspace, police decided to identify those involved in making that clip," Tehran police chief Hossein Sajedinia told the ISNA News Agency, according to ABC.
Footage from Iranian state TV appears to show seven men and one woman being interrogated about the video, which is shown in the clip with the dancers blurred out. The BBC reported that the exact number of detainees has not been released.
A subtitled edition of the TV clip identified those arrested as "actors," who claimed that they were tricked into making the "Happy" video for an audition, and were promised that it would not be broadcast.
A source told Iran Wire that the producers of the video were lured in by the police. The source said, "All of the young producers received phone calls informing them that a friend had suffered a car accident and required their help. When they arrived at the address they had been given over the phone, security forces were waiting to arrest them."
Police chief Hossein Sajedinia attempted to use it as a teaching moment for the repressive regime, telling the reporter, "Our dear youths should try to avoid these kinds of people. Like actors, singers, and these kinds of problems. Try to avoid it."
The credits at the end of the video seem to argue against that explanation, as they proudly say:
We have made this video as Pharrell Williams' Fans in 8 hours, with iPhone 5S. "Happy" was an excuse to be happy. We enjoyed every second of making it. Hope it puts a smile on your face. © All Rights Reserved by Sol Production.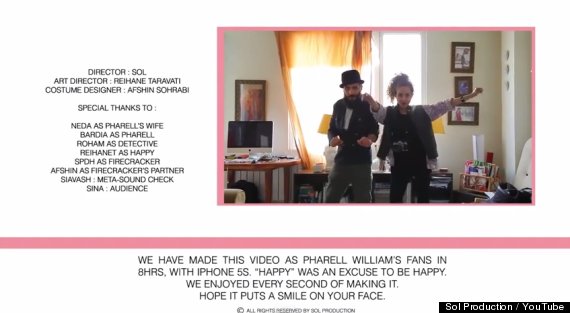 The creators told Iran Wire three weeks ago that they made the video to celebrate the UN's International Day of Happiness on March 20th.
Their message? "We wanted to tell the world that the Iranian capital is full of lively young people and change the harsh and rough image that the world sees on the news," said Neda, one of the video's stars.
Tensions have been running high in Iran as president Hassan Rouhani attempts to advocate for greater freedoms in the country while remaining subject to Supreme Leader Ayatollah Ali Khameini, who is in charge of the judiciary and thus the police.
Just on Saturday, Rouhani tweeted his belief that cyberspace should be seen as an "opportunity:"
It is a crime to go out in public unveiled, though many Iranians did not commonly wear the hijab prior to the Revolution. A Facebook page, My Stealthy Freedom, has showcased the private protests of many women who take the opportunity to remove their hijabs in places where the police won't see them. Creator and participant Neda told Iran Wire that the girls in the video covered their hair with wigs in order to conform to the dress code.
The creators of "Happy" knew that they were taking a risk. They were afraid of being seen while filming, and didn't tell their families that they were making it until finished.
"On the one hand," Neda told Iran Wire, "they praised us for coming up with a new idea. On the other, they were afraid that something would happen to us, considering the present situation."
REAL LIFE. REAL NEWS. REAL VOICES.
Help us tell more of the stories that matter from voices that too often remain unheard.