(Regular Updates Follow The Post)
On Saturday, the Iranian government opened an extraordinary mass trial against a surprisingly high number of election protesters -- over 140 -- accusing them of being pawns in an international plot to undermine the Islamic republic.
The indictment was wide-ranging, but focused heavily on the role of the foreign media in trying to topple the Ahmadinejad regime by instigating a velvet revolution. At first I laughed off this charge as just an excuse to perform another comical "show trial" in front of the television cameras. But two facts stopped me in my laugh tracks:
-- In Iran, the charge of "acting against national security" can carry the death penalty.
-- In the West, some very reliable reporters doubt Iran's Green Wave movement is "100 percent home grown." For instance...
Last summer, Pulitzer Prize winner Seymour Hersh reported in The New Yorker that the U.S. Congress allocated up to $400 million to fund an escalation of covert operations in Iran, not only to undermine the country's nuclear ambitions "but also to undermine Iran's government through regime change."
This summer, noted Newsweek reporter Fareed Zakaria opined that "it's worth remembering that the U.S. still funds guerrilla outfits and opposition groups that are trying to topple the Islamic republic."
Last week, Foreign Policy Journal blogger Jeremy R. Hammond concluded in a very detailed post that the Western media has "pretty much dismissed the claim that unrest in Iran is being fueled by foreign interference, despite the fact there is ample reason to believe the U.S. had a hand in fomenting the chaos."
Holy mackerel, is the Green Wave for real -- or not?
Ali Tehrani, the Canadian professor who spearheaded the international Green Scroll campaign, told me via telephone last night that "even people close to the ruling powers in Iran know the conspiracy charges are a lie. The televised confessions were made under enormous mental and physical pressure. Their purpose is to scare the Iranian people away from political activism."
Former Iranian president Hashemi Rafsanjani also condemned the charges. On Saturday, the powerful government insider posted this comment on his Web site:
The obtaining of confessions from those who have recently been imprisoned has thrown the basis of Iran's entire government into question.
"Rafsanjani is a key player, along with Karoubi and Mousavi," said Kevin Ehsani, a clean energy entrepreneur who recently returned to the U.S. from Tehran, where he voted in the election, then spent a week in the streets protesting the election results.
"For the record, nobody told me or anyone I know to go out into the streets on behalf of America, or on behalf of the media. We all knew why we were there. We wanted our votes to be counted. The authorities who said Ahmadinejad won the election can be very dubious in nature," explained Ehsani. While discussing U.S. clandestine efforts in the Middle East, the former college professor told me why he is skeptical the U.S. was instrumental in this crisis: "How knowledgeable were those same forces about Saddam and what he was up to? Have they caught Bin Laden yet? How effective have they been against Hezbollah? I could go on forever."
Ehsani is convinced the Green Wave is heartfelt. "I say this not as an Iranian, or as an American, but as a human being. We mustn't fail to hear this massive cry for freedom and equality."
For weeks, the Western media has been trying to get a handle on the size of the demonstrations. Do protesters number in the thousands, or in the millions? Ehsani says he saw millions of Iranian citizens. "I was there. I stood on a bridge and watched the enormous crowd pass under me for hours."
On Saturday Newsweek reporter Maziar Bahari -- who is on trial for conspiracy in Tehran -- was paraded into the courtroom, where he proceeded to criticize the media's role in the post-election crisis. Few Iranians are buying Bahari's somewhat incoherent remarks. "In Iran, what people are saying about Bahari is that under duress, even Galileo confessed that the earth is flat," said Ehsani. "The threat to these lives is real, and this is a kangaroo court."
Opposition candidate Mir-Hossein Moussavi posted a message of support for Bahari and the other defendants. Excerpts from his 10th Statement on the Confessions were emailed to me by Banafsheh Madaninejad, an Iranian PhD student at the University of Texas at Austin:
Dear brothers, don't be sad. Know that the people understand your situation and know that the most important thing for you today is to survive to see another day. It won't be long before the Iranian people will stand witness to the trials of those who are committing these tortures against you and playing with your honor.
The prophet Mohammad said, "There is no punishment for the person who has confessed after being tortured."
Late last night, Ehsani sent me an email. "Check out this picture of an Iranian girl sitting alone, surrounded by anti-riot troops. How much would a foreign government or media outlet have to pay her to do that? I say such bravery cannot be bought."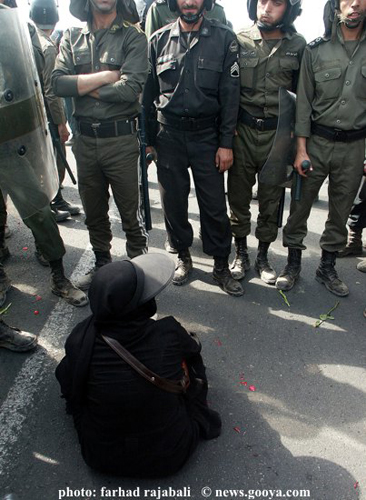 Can such bravery be bought? Not tens of thousands of times. And even if some people were inspired by an outside source, so what? You may recall that two centuries ago, American revolutionaries were inspired by the French government, even though the French were less concerned about our liberte and more interested in stickin' it to England.
When it comes to creating democracies, there's no such thing as an immaculate conception. But that doesn't make Iran's Green Wave movement any less home grown.
According to a report published on the English-language Web site of Iran's Parliament on Saturday, President Ahmadinejad quietly assigned himself new powers by taking direct control of the country's intelligence ministry last week. Robert Mackey, who is live-blogging events in Iran for the NYTimes, wrote: "Even if he does not intend to hold on to the position, Mr. Ahmadinejad is in direct control of the intelligence ministry at a sensitive moment, as the regime attempts to convict leading members of the opposition that it has charged with conspiring to overthrow the government on behalf of foreign powers."
(In other words, now the fox has keys to the hen house.)
The office of the Association of Iranian Journalists was raided and sealed off tonight by judiciary officials, according to the secretary of the association Badr al-Sadat Mofidi.
A young French research academic and an analyst at the British Embassy in Tehran were put on trial today for spying. Both took the stand to apologize, saying they had wanted only to update their embassies on Iran's recent political turmoil. According to Ali Ansari, an Iran expert at St. Britain's St. Andrews University, these forced confessions are nothing but an attempt by Iranian hardliners to impose their narrative. "You can't kill that many people on the street and not try to prove you were right," said Ansari.
French President Nicolas Sarkozy is working to secure the release of French academic Clotilde Reiss, who is standing trial in Tehran on espionage charges. Said Sarkozy's very French-sounding foreign minister Bernard Kouchner, "Do you think my country would be so naive and shorthanded as to send a 23-year-old woman to spy in Iran? That's stupid. It's not possible."
Online journalist Kaveh Mozafari wrote to the head of the Iranian judicial system on August 10th, criticizing the many violations of his rights that have taken place since his arrest:
"After a month in detention and an arrest warrant issued by the first chamber of the prosecutor's office for security, I still do not know what I am officially charged with," the journalist wrote in his letter. "Like others, all I have been given is a copy of the arrest warrant."
Mozafari's letter continues: "The authorities deny using physical torture at Evin prison, but the psychological pressure and violence is real."
Iran postponed the fourth hearing of the "show trials" because lawyers representing the defendants requested more time to work on their cases. The next hearing will be August 25th.
The show trials are back on. Today Saeed Hajjarian, a hero of Iran's reform movement who was partially paralyzed in an assassination attempt, was propped up in court, where he proceeded to renounce his entire career as a reformist. Click here to read more about the most perverse forced confession yet.
Iran's supreme leader Ayatollah Ali Khamenei said yesterday, "I do not accuse the leaders of the recent incidents to be subordinate to the foreigners, like the United States and Britain, since this issue has not been proven for me." Khamenei advised the judiciary to only give rulings based on solid evidence -- not on rumors, guesswork, or circumstantial evidence.
"The leaders and the main elements behind the unrest should be dealt with most firmly," said Iran's hardline president Mahmoud Ahmadinejad yesterday at Tehran University. Those on trial include a former vice president, several former ministers, and a number of wealthy businessmen.
A court has sentenced three people to death over the street unrest that erupted after Iran's disputed election. ISNA news agency did not identify those condemned, giving only their initials. "These sentences are not final and can be appealed in a higher court," said Zahid Bashiri-Rad, an official associated with the Tehran provincial court.
Calling all HuffPost superfans!
Sign up for membership to become a founding member and help shape HuffPost's next chapter