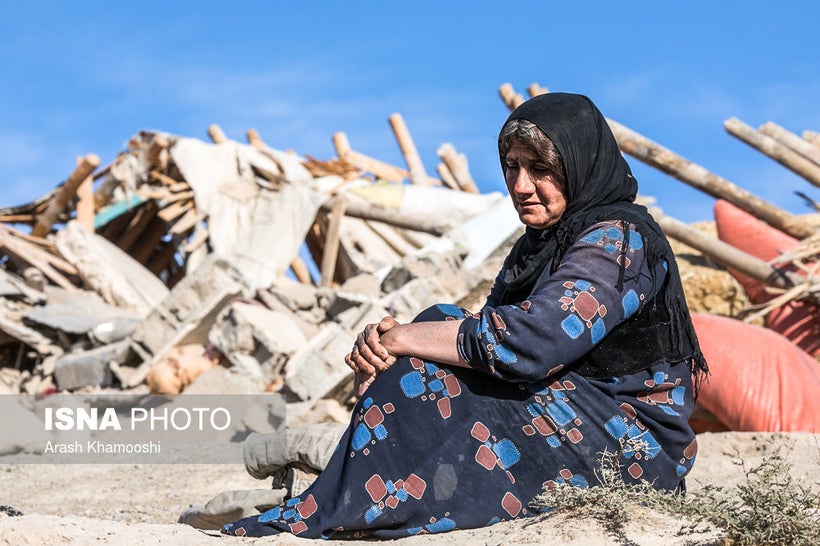 Earlier this week, Iran experienced its deadliest earthquake of the year. The 7.3 magnitude earthquake killed over 530 people and injured over 9,300 in the western province of Kermanshah. Iranians, both inside and outside of the country, have wasted no time in doing everything possible to help the victims of this devastating earthquake.
Across the country, people have worked tirelessly to gather water, food, blankets, tents, and money for the thousands of affected people in the region. Indeed, many have immediately hit the road to personally deliver aid and to assist the search and rescue teams digging through the rubble to find missing people.
Outside the country, Iranians have attempted to organize private, public, and online fundraising campaigns to provide international organizations like Red Crescent with the funding needed to continue their humanitarian efforts in Iran.
However, sanctions prohibit Iranians, regardless of their purpose, from sending money directly to Iran. For instance, Tohid Najafi, a medical professional based in Detroit, U.S., launched a fundraising page on Facebook to raise money for the victims and survivors of the earthquake.
Over $200,000 USD was raised in two days. The day after the money was raised, Facebook removed the fundraising page and asked Mr. Najafi to provide authorization from the United States Department of the Treasury. In a similar case, Tara Kangarlou, an Iranian-American journalist, noticed that YouCaring cancelled her online fundraising page due to the sanctions on Iran.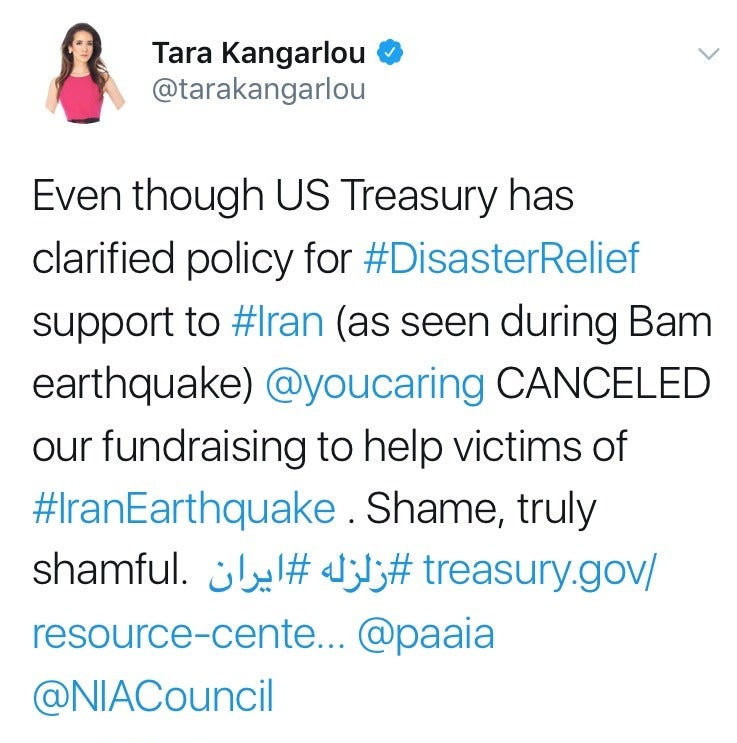 Despite the official lifting of all nuclear-related sanctions in 2015, non-nuclear related sanctions remain in place in the U.S. and prohibit direct banking relations between Iran and many Western countries. For instance, Canadian banks still do not permit Iranian donors to send their financial aid directly to Iran, even when it is aimed at prominent humanitarian groups like the Iranian Red Crescent.
What is clear is that sanctions, in any form, directly hurt ordinary people. This earthquake is only one example of many that perfectly illustrates this sad reality. In my interview with Ashkan Cherachi—a volunteer who has taken medical aid from Tehran to Kermanshah—he shared the story of an old Kurdish man who was exposed to chemical weapons during the Iran-Iraq war and has now lost all his medication in the earthquake.
He said: "These people need to take special medication to stay alive. Sanctions already made it difficult for these people to get their medication. Now, the situation has become even more challenging and complicated for them."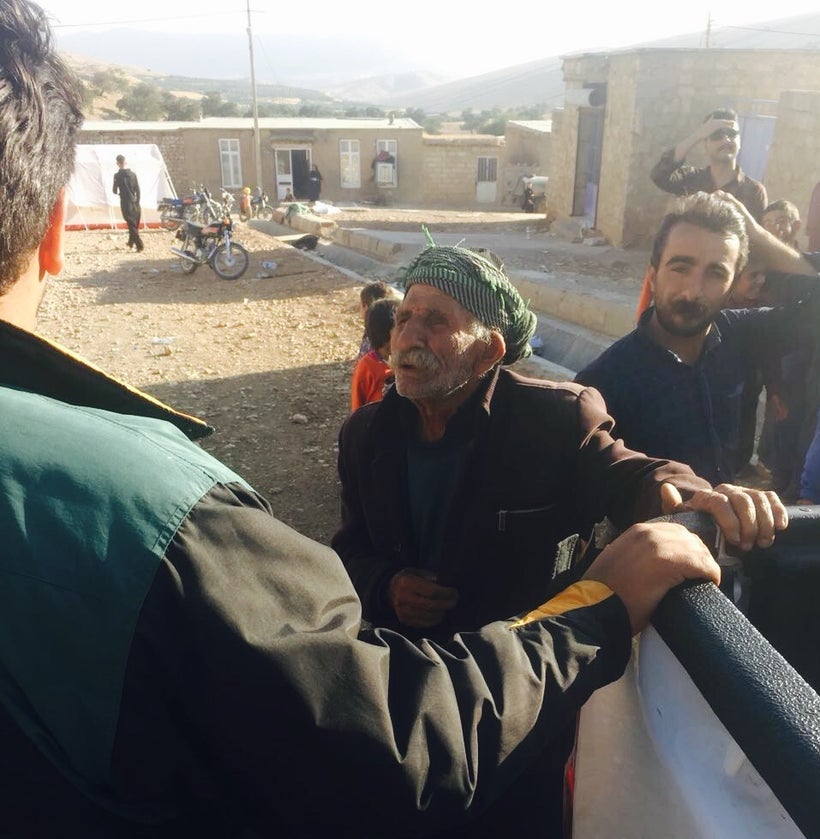 While Iranians are struggling with one of their worst humanitarian disasters in recent years, Canadian politicians like Senator Tkachuk and Senator Frum are pushing hard to pass Senate Bill S-219, the Non-Nuclear Sanctions Against Iran Act that calls upon the Canadian government to expand and strengthen the current Special Economic Measures Act (SEMA) regime against Iran. Indeed, these are the very same sanctions that today hinder emergency aid from reaching the survivors of the earthquake in Kermanshah.
The Conservative Senator Frum claims that it is via such actions that Canada can promote human rights in Iran and around the world. She believes that it is extra pressure, not engagement, that can lead to the improvement of human rights. In her supporting statement for Bill S-219, she stated:
"We can all hope that a "revolution from below" may overthrow the present regime, but it is a fallacy to think that the current regime can itself be reformed through closer engagement."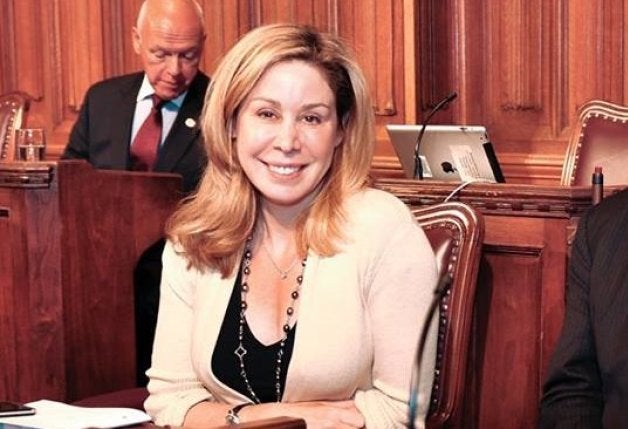 The truth of the matter is that this kind of rhetoric sends the opposite message to the Iranian people. After almost four decades under the toughest sanctions regime in the world, Iranians rightly question the intentions behind such actions.
Western governments, including Canada, claim that the sanctions are intended merely to help Iranians whose human rights are being violated by the Islamic Republic. We must ask, though, what the Western achievements of the past 40 years have been. If isolation and pressure have not worked thus far, why not try engagement based on mutual trust and respect with Iran?
Under President Rouhani's leadership, the current Iranian government has proved that it is ready to engage with the international community based on mutual respect. The best example is the Joint Comprehensive Plan of Action (JCPOA), which is arguably the most comprehensive and verifiable non-proliferation agreement since the nuclear Non-Proliferation Treaty (NPT). The international community, under the leadership of former U.S. President Obama, was successful in resolving the long-standing Iranian nuclear issue by choosing a policy of engagement over isolationism.
Since the Nuclear Agreement of 2015, the Iranian government has also demonstrated a certain degree of goodwill to discuss reforms and to engage in dialogue about human rights with the international community. The European Union (EU) has rightly taken advantage of this unique opportunity to build trust with Iran in order to play a more constructive role in improving the human rights situation in the country. For instance, the EU specifically insists on the importance of developing political dialogue comprised of human rights issues and based on mutual trust and respect—dialogue that includes representatives of the judiciary, security forces, and civil society.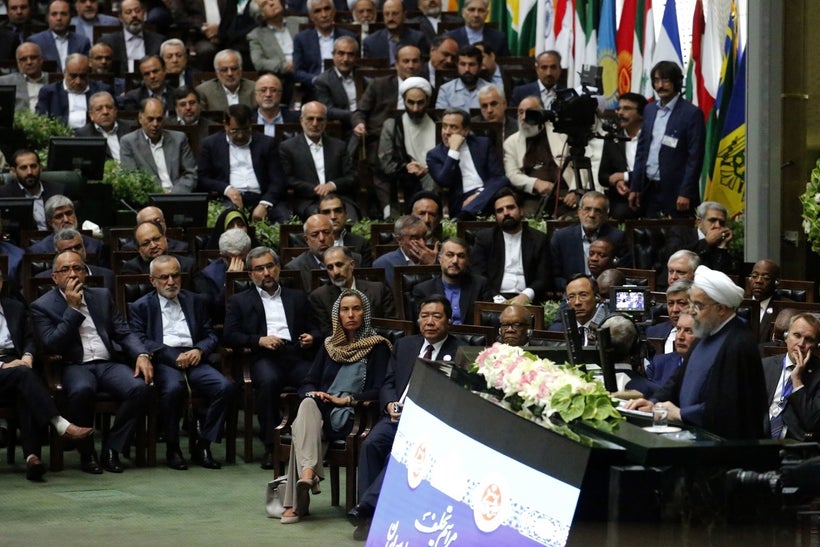 These are steps in the right direction which can result in gradual, but real, improvements of human rights in Iran. Undoubtedly, Rouhani's government still has a long way to go. However, his administration has taken some positive steps to improve conditions in Iran.
The most important step is the implementation of the Citizen Rights Charter, which, for the first time, officially recognizes the obligations of the Government of the Islamic Republic of Iran to provide the conditions for the right to life, human dignity, and justice for all Iranians, including those living outside the country, regardless of ethnicity, religious belief, age, and gender. Another step is Rouhani's political push to pass a bill in Parliament that eliminates the death penalty for non-violent drug offences, which accounts for more than 75% of executions in Iran.
It is important to underline that this kind of open dialogue with Iran will play a significant role in ensuring sustainable and gradual improvement of human rights conditions in the country. Now, it is time for the Canadian government to look to their European partners and recognize that it is only through constructive engagement based on mutual respect that will result in the improvement of human rights in Iran. Sanctions in any form (smart or comprehensive) are counterproductive and ultimately only hurt ordinary people.
Calling all HuffPost superfans!
Sign up for membership to become a founding member and help shape HuffPost's next chapter
This post was published on the now-closed HuffPost Contributor platform. Contributors control their own work and posted freely to our site. If you need to flag this entry as abusive,
send us an email
.