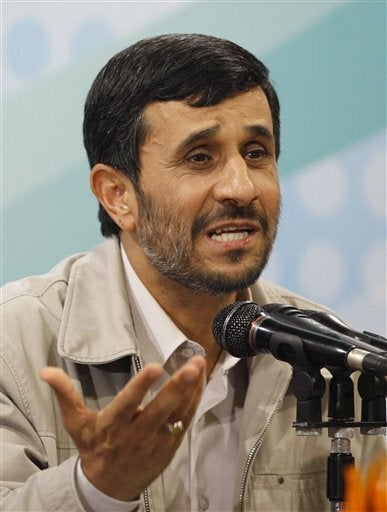 WASHINGTON, Mar 9 (IPS) - After Iranian President Mahmoud Ahmadinejad called in October 2005 for an end to the state of Israel, Israeli leaders began stepping up talk of an "existential threat" to the country.
Likud Party leader Binyamin Netanyahu, who is now forming a new government, has even used it to support his argument that the Iranian president is threatening a new "holocaust" against Jews.
Serious Israeli and Iranian analysts of Iran's national security policy, however, have long viewed similar statements by Iranian leaders - and its assistance to Hamas and Hezbollah - as having nothing to do with ending the Israeli state, much less using military force to destroy it.
The Iranian condemnation of Israel and embrace of the Palestinian cause, according to these analysts, have been largely a strategic ploy to turn Arab public opinion against the Sunni regimes' policies of hostility toward Iran.
Shlomo Ben-Ami, who was Israel's foreign minister and minister of public security from 1999 to 2001, observed in a lecture in Bologna in November 2007 that Iranian policy toward Israel has been misunderstood. Iran has been "more an enemy of an Israeli-Arab reconciliation than of Israel as such," said Ben-Ami.
The U.S.-sponsored Oslo peace framework, which involved an Arab-Israeli peace process, was a "nightmare" for Iran, Ben-Ami explained. "For the Iranians, the best way to protect their regime," said Ben Ami, "is by rallying the masses in the Arab world against the leaders who are selling out the interests of the Palestinians and the Muslims' most precious assets in Jerusalem to the Jews."
Iran began to step up its anti-Israeli rhetoric and to reach out to the Palestinian armed resistance group Hamas for the first time in response to the Oslo peace process of the 1990s. Prior to Oslo, Iran had only minimal contact with Palestinian resistance groups, according to Trita Parsi, author of 'Treacherous Alliance', the most authoritative account of Iran-Israel relations.
Ben-Ami noted that Iran had no direct political dispute with Israel. The Israeli threat to attack Iran's nuclear facilities in recent years, however, has introduced a new factor in the equation.
University of Tehran professor Hossein Seifzadeh, who is now a fellow at the Middle East Institute in Washington, agrees that Iran believed it had to play the Islamic card - which meant the anti-Israel card - in the Middle East, in order to gain a more favourable image among the populations of Sunni Arab states.
Iran's anti-Israel rhetoric and support for Hamas and Hezbollah has been a successful exercise in public diplomacy in the Arab world, according to Seifzadeh. In an interview with IPS, he said, "The whole image of Iran in the Middle East has changed. Ten years ago, Iran was regarded simply as a Shi'a state."
Because of his high profile position on Israel and the Palestinians, however, Ahmadinejad has now become "the most popular figure in the Middle East", according to Seifzadeh.
Another objective of Ahmadinejad's anti-Israel rhetoric appears to be to reduce domestic Iranian opposition to possible negotiations with the United States. Rejection of reaching agreement with the United States had been a red line in Iranian politics prior to Ahmadinejad's presidency.
According to an Iran specialist who participated in a private meeting with Ahmadinejad during his October 2007 visit to the United Nations, Ahmadinejad explained his anti-Israel rhetoric as necessary to make an opening to the United States acceptable politically in Iran.
The analyst, who asked not to be identified because the meeting was off the record, quoted Ahmadinejad as saying, "I can't open up to the United States unless I create an enemy who is even worse than the United States." When asked if he couldn't have chosen to make Russia the enemy instead of Israel, Ahmadinejad replied, "No, that wouldn't work," according to the analyst.
That private comment is consistent with the ironic fact that the ultranationalist Ahmadinejad has gone farther than any previous Iranian leader in publicly expressing a willingness to negotiate with the United States - provided that Washington signals an end to its hostility toward the Islamic Republic.
But his own right-wing conservative and ultra-nationalist political constituency has been strongly opposed in the past to a political agreement with the "Great Satan." Ratcheting up the anti-Israel rhetoric was a way for Ahmadinejad to reduce the political risk of such negotiations.
Dr. Hooshang Amirahmadi, a professor at Rutgers University and president of the American Iranian Council, who has brought Iranian officials and former U.S. officials together for informal discussions, said in an interview that he would not be surprised at such a statement by Ahmadinejad. The Iranian president has been eager to open talks with the United States, he said, adding, "His concern with domestic politics has made him seem more radical on Israel than he really is."
Conservative editor and political strategist Amir Mohebbian, a longtime supporter of Ahmadinejad, referred to Iran's two-level policy toward Israel in an interview in Tehran last December.
"As a slogan, Iran says we can't accept the reality of Israel," Mohebbian said "but we have slogans and we have action. There is a difference between the two."
Mohebbian, who no longer supports Ahmadinejad as the conservative candidate in the next election, said a U.S.-Iran accord could "help the United States solve the Israel-Palestinian issue," suggesting that Iran is ready to sacrifice its public policy on ending the State of Israel as part of a settlement with the United States that takes the pressure off the Islamic Republic.
Iranian financial and military support for Hezbollah and Hamas are portrayed by Israel and the United States as evidence of the desire to eliminate the state of Israel. Beginning around 1999, Iran gave Hezbollah thousands of rockets that could be fired into Israel in case of an Israeli attack on either Lebanon or Iran but not for offensive use by Hezbollah. The rockets were regarded by Israel as a key element of the Iranian deterrent to U.S. or Israeli attack on Iran's nuclear facilities.
But Iran's May 2003 secret proposal for U.S.-Iran negotiations on the full range of issues appeared to propose to trading away Iranian support for Hezbollah and Hamas as part of a broader negotiated agreement. It proposed as a negotiating point "action on Hezbollah to become a mere political organization within Lebanon" and "acceptance of the Arab League Beirut declaration" (the Saudi proposal for a two-state solution in Israel-Palestine).
It also offered a "stop of any material support to Palestinian opposition groups (Hamas, Jihad, etc.) from Iranian territory" and "pressure on these organizations to stop violent action against civilians within borders of 1967."
The proposed deal thus converted Iran's anti-Israel policy into negotiating chips.
Every Iranian president since Ayatollah Ruhollah Khomeini's death in 1989, including Ahmadinejad, has given itself such negotiating flexibility by saying that Iran would support whatever solution to the Israeli-Palestinian conflict was acceptable to the Palestinians.
In testimony before the Senate Foreign Relations Committee last week, former U.S. Ambassador Frank Wisner recounted a conversation some years ago with then President Mohammad Khatami, in which he asked Khatami whether he realised how dangerous Iran's arming Hezbollah could be in inviting a war with Israel and possibly the United States.
Khatami answered, "You've got to remember we plan our defences along external lines," Wisner recalled. "We're trying to keep you from putting your hand on our throat."
*Gareth Porter is an investigative historian and journalist specialising in U.S. national security policy. The paperback edition of his latest book, "Perils of Dominance: Imbalance of Power and the Road to War in Vietnam", was published in 2006.