The Joint Plan of Action Agreement (JCPOA) between six world powers and Iran hints at "addressing UN Security council resolutions" regarding Tehran. However, the JCPOA (UNSCR 2231 Annex II, paragraph three) states, that Iran should not undertake any ballistic missiles activity "until the date eight years after the JCPOA Adoption Day or until the date on which the IAEA submits a report confirming the Broader Conclusion, whichever is earlier." Nevertheless, the Islamic Republic has repeatedly test-fired, long-range ballistic missiles and laser-guided surface-to-surface missiles. In October and November, just after the nuclear deal was reached, Iran tested a new ballistic missile capable of carrying multiple warheads. This was in breach of two UN Security Council resolutions and JCPOA.
Iranian leaders seem empowered to project their military power. When his country was unveiling a new missile, Fateh 313, the Iranian President Hassan Rouhani pointed out that "we will have a new ballistic missile test in the near future that will be a thorn in the eyes of our enemies." An Iranian state news agency, Fars, also posted a video of Iran's underground missile testing facility.
But why would Iran need such a diverse ballistic arsenal? Why doesn't Iran fear breaching UNSC resolutions and JCPOA? How will the international community react and what implications will Iran's actions have on the nuclear deal?
Iran's ballistic capability is one of the most critical pillars of Tehran's national security policy. Aside from managing Iran's nuclear program, and supporting its proxies, the third important program of Iran's revolutionary Guard Corps (IRGC) is its ballistic missile program.
Surpassing Israel, Iran possesses the largest ballistic missile program in the Middle East. No country, other than Iran, has acquired long range ballistic missiles before obtaining nuclear weapons. This makes IRGC one of the most formidable military institutions in the region. Ballistic missiles can be used for offensive or defensive purposes, but sophisticated missiles are mainly developed as delivery vehicles for nuclear weapons. Tehran's ballistic missiles can hit any country in the Middle East. But Iranian leaders are seeking to expand these capabilities.
Iran's ballistic technology has grown due to Iran-North Korea ties. But gradually, Tehran has relied on its domestic infrastructure as well, and adapted new technology to expand its ballistic arsenal. Iranian leaders have previously boasted that they possess an intercontinental ballistic missile, which can hit any place on earth, ranging over 9,000 miles. Even if we assume that this is an exaggeration and Iran's current missile capability may actually range between 1,200-2,000 miles, Iran will undoubtedly work toward developing second generation ballistic missiles which will be capable of a 9,000 mile range.
Iran's determination to have the most robust and largest ballistic missile arsenal in the region complicates regional security and highlights the Islamic Republic's ambitions for supremacy through militarization.
By emphasizing the need to fight the "enemies", IRGC leaders have succeeded at rallying the Parliament (Majlis) to secure billions of the government's revenue to spend on Iran's ballistic and nuclear program. Iran's improving military capabilities are increasing support for IRGC and the Supreme Leader, Ayatollah Ali Khamenei.
If we argue that the Islamic Republic isn't going to use these ballistic missiles against other nations, Iran's expanding program and frequent test-fires are create fear in the region. This inevitably leads to further destabilization, militarization, and arms race in the region. For example, Israel has begun improving its Arrow Missile Defense system in response to Iran's missile program. The United Arab Emirates previously signed a $3.3 billion dollar deal to buy missiles from the US firm Raytheon, to further invest in its weapons program.
These developments suggests that not only did the nuclear deal not temper Iran's foreign policy, IRGC leaders appear to be more empowered to manifest their military capabilities.
Despite the efforts of the international community since the 1980s, the Islamic Republic has managed to expand its missile program to be the largest in the region. Despite the United Nations Security Council resolution 1929 that states "Iran shall not undertake any activity related to ballistic missiles capable of delivering nuclear weapons, including launches using ballistic missile technology, and that States shall take all necessary measures to prevent the transfer of technology or technical assistance to Iran related to such activities", Iran's missile range has grown from 500km to over 2000km.
However, Iran's rapidly improving missile capabilities are less likely to cause a reaction from P5+1. In addition, these breaches of the JCPOA and UNSC resolutions are not going to change P5+1's decision to lift the ban on Iran's ballistic program and remove sanctions by early next year. P5+1 should be cautious that they are indirectly bolstering IRGC's military prowess and rallying more hard-line support behind IRGC.
Dr. Majid Rafizadeh, an American scholar and political scientist, is the president of the International American Council on the Middle East. Harvard-educated, Rafizadeh serves on the advisory board of Harvard International Review. He is originally from Iran and Syria. You can contact him at Dr.rafizadeh@post.harvard.edu or follow him at @majidrafizadeh This post first appeared on Al Arabiya.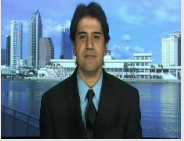 Popular in the Community