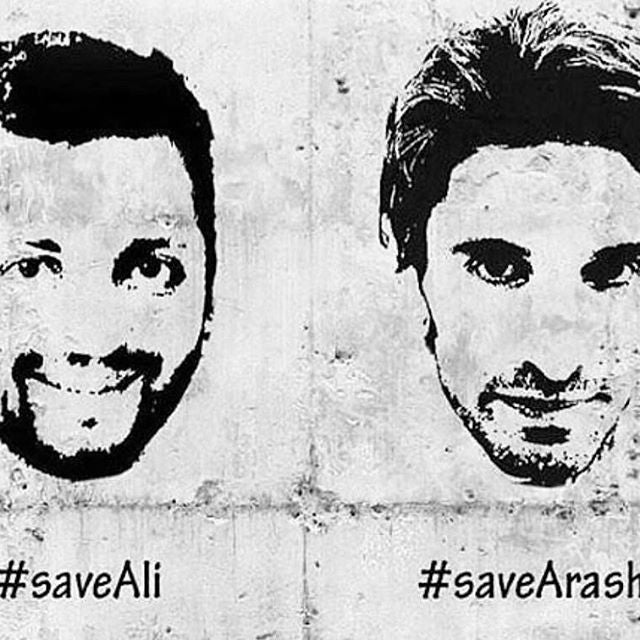 Iranian civil society is as active and defiant as ever, if you know just where to look. Over the past few months, dissidents, activists and political prisoners have staged heroic acts of defiance against the brutal theocracy in power, and provided hope that change can one day come to Iran. This includes lengthy hunger strikes by political prisoners Arash Sadeghi and Ali Shariati. Sadeghi ended his hunger strike after 71 days, while Shariati concluded his after 75, but not before attracting global attention to the plight of Iranian prisoners of conscience.
A number of activists in Iran have also recently staged hunger strikes to protest the mistreatment of prisoners and the lack of due process in Iran's justice system. Political prisoners in Iran remain particularly vulnerable to abuse, neglec,t and repression. Medical negligence is routinely cited as a means by which the regime has tortured and murdered dissidents while refusing to acknowledge responsibility or improve conditions.
Despite the serious challenges faced by dissidents in Iran, including the widespread use of torture, public executions and state sanctioned violence, Iranian civil society remains vibrant.
In December, during a rally to commemorate Student's Day in Iran, a defiant student gave a fiery speech at Tehran's Amir Kabir University, blasting authorities and challenging the status quo. He sharply criticized the ruling establishment's injustices against its own people, but also provided a scathing indictment of Iran's murderous policy in Syria. (See full video with English subtitles).
In his speech, the university student also addressed what is perhaps the most salient subject of all: Tehran's involvement in the destruction of Syria and the massacre of its people. "I believe history will condemn us because we have been silent about Syria and the terrible genocide that's taking place," the student leader said. Addressing Ali Motaheri, a member of parliament who was in attendance at the rally, he said, "as a representative of the people I ask you, are we on the right side in Syria? Five hundred thousand people have been killed. It is easy to cite a number, but an entire generation are being wiped out…. We are surely guilty when confronted by the tears of Syrian children."
A similarly passionate speech was given by another student at Tabriz University, who hailed the history of the student movement in Iran and criticized the repressive political climate in the country. He ended the speech with subtle but breathtaking defiance, offering the following remarks as the moderator literally pulled the microphone from his hands:
"They may imprison and oppress us as students, but no, the student movement is not something which can be destroyed. This idea is lasting, because it is just. This idea will find its place in society and in history. If today this flag falls from our hands, tomorrow someone else will pick it up…. And the future is ours. Have faith in the belief that the future is beholden to the student movement and actions of the just revolutionary."
The remarks were powerful not only for their content, but because the speech included a direct reference to a famous speech given by Mousa Khiabani, one of the main leaders of the People's Mojahedin of Iran (PMOI). The student's speech repeated Khiabani's lines almost verbatim with regard to the everlasting appeal of a just cause or idea, and the notion that even if individuals fall someone will take up the flag and continue the struggle. The PMOI is outlawed in Iran, and any association with such groups can result in lengthy prison terms and execution.
The speeches of these two young Iranians stand hand in hand with the bravery of the older generation of activists, who remain just as active in their oppositions. One year earlier, in December of 2015, activists rallied outside of Evin prison and the judiciary, in protest of the lack of civil liberties in Iran. Video clips of the protests include the elderly Mohammad Maleki, the former President of Tehran University, singing a hymn asking when freedom will come to the people of Iran. The clips also include a brave woman who removes the hood of her jacket revealing that she has no headscarf, in blatant defiance of compulsory veiling in Iran.
The courage of these activists, and their strategy of civil disobedience is indeed a sight to see and provides a compelling view of Iran's rich and organized civil society. Yet, you won't find these stories in mainstream coverage on Iran, nor is Iranian civil society acknowledged as a player when discussing political and economic deals with the Ayatollahs.
Despite the dreary and oppressive conditions to which it is confined, the flame of Iran's civil society continues to burn bright. These political activists have presented a formidable challenge to the claim that the Nuclear Deal with Iran would benefit human rights and political reform. Their presence is also a sharp critique towards the facade of reform projected by Hassan Rouhani. Their resistance is an inconvenient truth for those who seek to engage the regime in Iran, but a powerful inspiration for those who are seeking true change.
---------------------------------------------------------------------------------------
Hamid Yazdan Panah is an Iranian-American human rights activist and attorney focused on immigration and asylum in the San Francisco Bay Area.
Crowdsourcing the struggle for human rights. Be part of the solution at Movements.org. The views expressed are the author's own and do not necessarily represent the views of Movements.
Calling all HuffPost superfans!
Sign up for membership to become a founding member and help shape HuffPost's next chapter
This post was published on the now-closed HuffPost Contributor platform. Contributors control their own work and posted freely to our site. If you need to flag this entry as abusive,
send us an email
.