As I predicted in a previous article, Rouhani conducted his tactical shift moving towards Iran's hardline spectrum, after Iran achieved its objectives through the nuclear agreement by lifting four round of UNSC sanctions (which took decades to put in place by persuading Russia and China), and after the West, specifically the US, lost their political leverage against the Islamic Republic. Rouhani does not need anymore to use a softer, diplomatic tone, smiles, or hide as a wolf in sheep's clothing. At the 71st session of the UN General Assembly, Rouhani's messages were different from the former ones. He shifted to totally reiterate messages of IRGC and Khamenei. He promoted the following agenda and narratives:
• Depicting Iran as the victim of terrorism and frontrunner of fighting against terrorism • Demonizing Iran's "enemies" by describing them as contributors to extremism and terrorism • Blaming the US for not adhering to the terms of the nuclear deal • Attempting to attract more investors in order to bring more revenues for IRGC and Khamenei.
Through the first narrative, Iran claims to be benefiting the West by fighting terrorism (ignoring the fact that Iran is listed as top state sponsor of terrorism by the State Department). This narrative pressures the West to turn a blind eye on Iran's transgressions., and buttress Iran's argument that the international community needs to support the Assad.
By blaming the US, Iran is also attempting to get more concessions from Washington, send a message to the Iranian people that the US remains untrustworthy, and tell the Iranian people that the US is the reason why they have not seen the fruit of the lifting of sanctions.
Rouhani's message at the 71st UNGA is different from his previous ones because Iran has achieved its objectives of having the crippling sanctions lifted. The US and the West have lost their political leverages in the UNSC by the lifting of sanctions.
Rouhani does not to be hiding as wolf in sheep's clothing anymore, he does need to employ higher level of a softer, diplomatic tone, smiles, or deliver a message that differs from that of Iran's hardliners. Rouhnai is tactically shifting his message to resemble that of the hardline spectrum of Iran. After all, he also needs the blessings of the hardliners, particularly Khamenei, in order to increase his odds of winning Iran's upcoming presidential race. ______________________
For more details and nuances you can read full versionon Here.
Dr. Majid Rafizadeh is an American political scientist, president of the International American Council on the Middle East, business advisor, and best-selling author. Harvard-educated, Rafizadeh serves on the advisory board of Harvard International Review. He is regularly quoted and invited to speak on national and international outlets including CNN, BBC World TV and Radio, ABC, Aljazeera English, Fox News, CTV, RT, CCTV America, Skynews, CTV, and France 24 International, to name a few. Dr. Rafizadeh is frequently invited to brief governmental and non-governmental organizations as well as speak, as a featured speaker, at security, business, diplomatic, and social events. He has been recipient of several fellowships and scholarships including from Oxford University, Annenberg, University of California Santa Barbara, Fulbright program, to name few. He analyses have appeared on academic and non-academic publications including New York Times International, Los Angeles Times, CNN, Farred zakaria GPS, The Atlantic, Foreign Policy, The Nation, The National. Aljazeera, The Daily Beast, The Nation, Jerusalem Post, The Economic Times, USA Today Yale Journal of International Affairs, Georgetown Journal of International Affairs, and Harvard International Review. He is a board member of several significant and influential international and governmental institutions, and he is native speaker of couple of languages including Persian, English, and Arabic. He also speaks Dari, and can converse in French, Hebrew. More at Harvard.
You can sign up for Dr. Rafizadeh's newsletter for the latest news and analyses on HERE. You can also order his books on HERE.
You can learn more about Dr. Rafizadeh on HERE.
You can contact him at Dr.rafizadeh@post.harvard.edu or follow him at @Dr_Rafizadeh.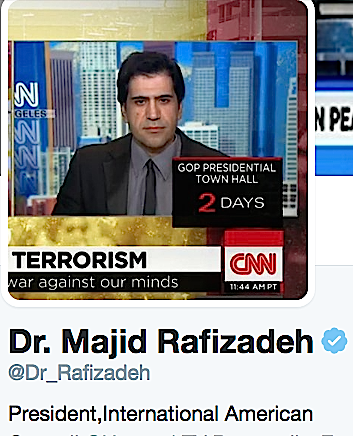 REAL LIFE. REAL NEWS. REAL VOICES.
Help us tell more of the stories that matter from voices that too often remain unheard.