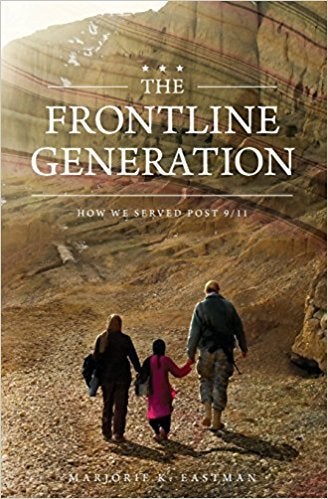 2017 Independent Publisher Book Award Winner (IPPY) Non-Fiction Book
Policy makers have already begun to refer to post 9/11 service members as the generation who fights the Global War on Terror, or GWOT. More recently, those outside of the military are getting to know post 9/11 service members on HBO as Generation Kill, a microburst perspective seen through the eyes of a journalist. Going on sixteen years into this war, there hasn't been a distinct name given for those who said, 'count me in.' Not until now. Veteran and author Marjorie K. Eastman presents a compelling argument that how her generation served should define them—not who or what we they fought against.
She makes the definitive point that the combination of asymmetric warfare (there are no frontlines—rocket attacks could happen on any and every base to the gutless attacks in San Bernardino and Orlando) and an all-volunteer force who repeatedly deployed, set the stage for what is different post 9/11. Further, she argues, the real one percent we should be talking about are post 9/11 veterans—not the wealthiest in society. And our nation should be more concerned about the service gap, she claims, because the value that service adds to a person's life engenders not only personal benefits of purpose and leadership. Service, Eastman says, unites seemingly disparate people to work together and solve problems.
In reading this national 2017 Independent Publisher Award Winning book, you learn quickly that The Frontline Generation is not only a personal journey but more-so about how this remarkable generation transformed the military. The author is not shy about informing the reader of the politics and policies—from stop loss, female integration to loss of life—or in making the point it wasn't about the good war or bad war. Eastman says, it was about how those who live with purpose, live for each other, and lead can be the change we need to see in this world. As you flip through the pages in this book, you recognize there is something new to be said—and yet sometimes all too familiar—about the post 9/11 generation's character, sacrifice and service.
Non-military readers get a raw glimpse of our military and how real people made a real difference—how service was the catalyst in changing ordinary to extraordinary. Veterans will especially enjoy this book because those who have worn a uniform have known a Schmidty, a Mac, a Starkey. Eastman captures the personalities of those with whom she served like Band of Brothers introduces Bull, Guarnere, and Winters. All of which is wrapped into short chapters that highlight these unforgettable people along with the struggles, inspiration, wisdom, and humor of post 9/11 service.
It is probably enough of a reason for you to read the first book that defines the post 9/11 generation of service members with accuracy and love. Yet more of a reason to do so is this: it was penned by a veteran who has been twice deployed and has a distinguished record as an enlisted soldier and as an officer (Bronze Star, Combat Action Badge, and the #1 ranked intelligence commander in eastern Afghanistan in 2009-2010); and the author is also the spouse of a soldier who served multiple combat deployments. Nevertheless, the impetus in her writing this book is incredibly moving. Eastman collected this treasure chest of military history from old journals she kept while deployed to help her survive her infant son's fight with cancer.
Surviving that special kind of hell, she says, can be largely attributed to the hardening she and her husband have acquired from serving post 9/11. Now that her son is cancer free, she says looking back she was only trying to capture her hope for the man she wanted her son to become one day—how she wanted him to learn the lessons from her Frontline Generation. Yet, what she achieved is that Eastman also gave all post 9/11 veterans something to be proud to call themselves.
In her own words, "The leadership lessons learned in combat apply here at home: take care of the people to your left and to your right. You are the frontlines—it is not a place—no matter where or how you serve."
The Frontline Generation: How We Served Post 9/11 is a national 2017 Independent Publisher Book Award Winner. It is available now at online retailers Amazon, Barnes & Noble, at www.thefrontlinegeneration.com.
__________________________________
Landmark Life Coaching's (www.landmarklifecoaching.com) Mission is to honorably and respectfully serve courageous groundbreakers and transitioning veterans to persevere in defining and executing their future by providing an atmosphere of comradery and trust that honors their dedication and commitment. This will empower our clients to feel whole, honored, respected and fulfilled in defining and living their life purpose.
Charlie Mike Podcast (www.charliemikepodcast.com) is where our Nations Combat Veteranpreneur's talk about how they transformed their combat experience into a groundbreaking entrepreneurial success. We will discuss their experience in relation to what I have defined as their VisualReality; their personal vision of building a successful business leveraging their combat experience to bring the core strengths of a combat veteran into the entrepreneurial realm.
Dwayne Paro - Veterans Coach/Podcaster/Blogger/Speaker
Related
Popular in the Community