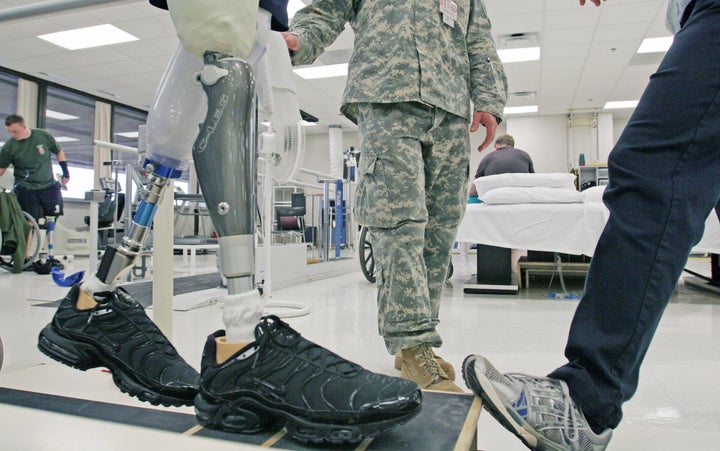 Though thousands of injured troops in need of medical care have recently come home, they're not taking advantage of the Department of Veterans Affairs services, a soon-to-be-published study reports.
Since the Iraq and Afghanistan wars began, only 51 percent of eligible veterans have sought care through the VA, a Centers for Disease Control and Prevention study, that will be published in January, found. Researchers say that these servicemen and servicewomen are reluctant to call on the VA for help for a number of reasons. They may be unfamiliar with the system, live far from a center or doubt the quality of care available.
"To reach young veterans, we need to establish partnerships that cut across traditional institutional domains," Rachel Widome wrote in the CDC study.
When Scott Kimball returned from Iraq and was battling PTSD, he couldn't bear admitting that he had a problem.
The Department of Veterans Affairs is looking to an increased budget and improved communications to reach more veterans.
Next year's budget will hit $61.85 billion, a 10.6 percent increase from 2010. Of those funds, $6 billion will go to mental health care and $52.5 billion in advance money for the VA medical care program in 2013, according to NBC.
Among its many purposes, having a strong social media presence has helped the VA to identify veterans in need. The VA's Crisis Line counselors, for example, have connected with veterans over the last year who expressed suicidal thoughts.
"Veterans of all eras are depending on us to get the right information to the right person at the right time," Brandon Friedman, VA's director of online communications, said in a press release. "With more troops returning home, we also have a responsibility to connect with the thousands of servicemembers who have been -- and will be -- entering our system. They're using social media, so that's where we need to be."

Related
Popular in the Community