UNITED NATIONS -- More than 20 years after sanctions were imposed on Iraq for Saddam Hussein's invasion of Kuwait, the UN Security Council lifted most restrictions, symbolically closing what Baghdad calls a "dark chapter" in its history.
"Today is a great day for the people of Iraq and the country," said Iraqi Foreign Minister Hoshyar Zebari. "The adoption of these important resolutions marks the beginning of the end of the sanctions regime and restriction on Iraq's sovereignty, independence and recovery."
With the United States drawing down troops in Iraq, the quest toward normalcy was evident. Vice President Joe Biden, who presided over the meeting, called the action "an important milestone for the government of Iraq" and "an end to the burdensome remnants of the dark era of Saddam Hussein." (The United States holds the rotating Council presidency for December.)
While no one completely glossed over problems still facing Iraq, which had just formed a government after nine of months of deadlock, UN Secretary-General Ban Ki-moon spelled them out:
They continue to struggle with insecurity and appalling violence. They lack jobs and basic services. (Iraq) will have to normalize Arab-Kurd relations in the disputed areas, and ensure the protection of all minorities, including Christians. It will have to manage oil production and move forward with the return of refugees and internally displaced persons. It remains essential to restore the basic services that make daily life bearable. Access to education and health services is likewise critical for the country's future. Iraq's development vision should also encompass its mosques, churches and shrines ...
However, no one mentioned that the Security Council (as well as President Obama) did not endorse the Bush administration's 2003 invasion of Iraq that toppled Saddam Hussein and that made the lifting of sanctions possible. Iraq did have weapons of mass destruction, and the United States accused Baghdad of still harboring them as the main reason for the invasion, but then found they had been destroyed before the war.
Another dog that did not bark was Iraq's recent boycott of the Nobel Peace Prize ceremony in Oslo won by Liu Xiaobo, who is serving an 11-year prison sentence in China, which has interests in Iraq's oilfields. Baghdad was one of 17 countries succumbing to Chinese pressure, and none of us thought to ask Zebari.
Nuclear, Oil-for-FoodSpecifically, the meeting on Wednesday adopted three resolutions: on weapons of mass destruction, on ending the oil-for-food program and on ending immunities that protected Baghdad from claims during the Saddam Hussein era.
Iraq has signed prohibitions against chemical and biological weapons and cooperated with the International Atomic Energy Agency, the UN nuclear watchdog. One resolution allows it to develop a civilian nuclear program, although the Council in February said Iraq first had to ratify an agreement, the so-called Additional Protocol that would allow intrusive inspections by the IAEA. Parliament has not ratified yet and the resolution requires it to do so as soon as possible.
Another resolution formally shut down the mismanaged oil-for-food program, which was supposed to bring in supplies to ordinary Iraqis suffering under sanctions. France abstained on this measure, concerned that it did not sufficiently protect BNP Paribus, the Paris-based bank, which handled payments. And a third resolution dissolves in June a special supervised fund over how oil revenues are spent and protected Iraq from legal claims. About $22 million in claims are still outstanding.
But resolutions concerning Kuwait were left intact, including compensating for stolen items and demarcating the border, especially the waterways. 5 percent of the Iraq's oil revenues will continue to be earmarked for Kuwait.
A Super-Active Susan RiceThe meeting organized by US Ambassador Susan Rice in the 15-nation Council attracted foreign ministers or other high-level officials from Uganda, Turkey, Bosnia, Gabon, Brazil, Austria, Britain and Japan. The Council has had a turbulent month, with meetings on the violence in Darfur, the upcoming referendum in southern Sudan and the disputed elections and killings in Ivory Coast, among others. On Thursday the Council followed up on the rising sexual abuse during and after conflicts.
Rice also transported the Council members to Washington where they met with congressional leaders (not too interested in the United Nations, reported one envoy) and President Obama at the White House (interested), had her husband, ABC producer Ian Cameron, entertain spouses of Council members and solicited comments from youth around the world on what the Council should do.
Amid it all, she danced at the UN Correspondents Association annual awards dinner and starred in a spoof video (filled with bleeps) on how the Security Council would tackle the bedbug epidemic in New York that has spilled into the United Nations.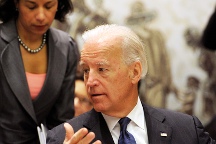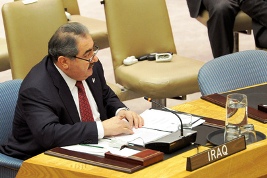 VP Joe Biden and Ambassador Susan Rice; Iraq Foreign Minister Zebari(UN Photos/Evan Schneider)
Related
Popular in the Community