 Long targeted during the country's sectarian war, Iraq's best hairdressers and beauticians have held a festival in Baghdad to show their talents, a symbolic move to break with years of fear.
The event, officially called the Make-up, Hairdressing and Fashion Show, was organised over the weekend in the small Sadeer Hotel in Andalus Square, the first of its kind since the 2003 US-led invasion and its violent aftermath.
It is the latest in a series of efforts by the Iraqi capital's residents to benefit from a decline in violence from its peak in 2006 and 2007 and restore Baghdad, once a dynamic and liberal city in the Middle East.
"The most important thing about this festival is spotlighting the brightness of Iraqi women, which has gone unseen by the world," said Nadya Hamza Fuad, one of the organisers.
"This is a first for us after the events of 2003," she said. "We see it as a first step towards achieving success."
"Darkness used to dominate, and the light of beauty was extinguished 10 years ago, especially in women's salons. Society has been held back because of the dark period."
The festival, sponsored by Iraq's Labour and Tourism Syndicate, brought together a handful of shy participants, upon whom beauticians and hairdressers showcased their talents, and a crowd of onlookers in two conference rooms in the hotel where the festival was held.
In one of the conference rooms, experts showed aspiring beauticians tricks of the trade and best practices, while in the other, a small platform was set up where three top hairdressers showed their skills in front of onlookers before their subjects walked across an adjoining catwalk.
It marked a sharp difference from the climate that once prevailed in the country, when tens of thousands were killed in the insurgency and sectarian war that followed the invasion that ousted now-executed dictator Saddam Hussein.
Religious extremists in particular targeted hairdressers, most of whom closed their shops in fear. Women, few of whom were veiled pre-2003, were suddenly forced to cover themselves and stay at home.
"We sat behind locked doors and nobody used to see us -- only our customers," lamented Najim Ashur, owner of a beauty and hairdressing academy and one of Iraq's best-known hairdressers.
"Our art in Iraq got sick, but it did not die," he said. "It is always renewing."
Violence has dropped dramatically since that period, but attacks are still common and Baghdad remains one of the world's most dangerous cities.
Among the beauticians exhibiting their talents was Ali Bulbul, who has over 30 years experience doing makeup for television broadcasters and now runs a one-stop beauty centre in central Baghdad which he opened in late 2011.
"We hope this movement will continue, and become acceptable to the Iraqi people again," said Bulbul, who left Iraq in 1990, after Saddam Hussein invaded neighbouring Kuwait. He returned for good in 2005 resuming as a television makeup artist.
Despite the positive atmosphere, attendees acknowledged that much remained to be done, with Iraqi actress Meelad Sirri noting that "there is some confusion, and there needs to be greater attendance, and more styles on display".
"But it was generally good," she said.
The one-day festival was limited to word-of-mouth advertising, largely to avoid garnering the attention of militants who, while weakened compared to years earlier, still carry out regular attacks in Baghdad and across Iraq.
And while participants were excited about an increasing openness among beauticians and hairdressers, some did voice lingering fears.
"We did not have any opportunities because of the society and the circumstances, but girls want to imitate fashions around the world," said Suad Taha, a 20-year-old who was undergoing a makeover.
"This festival is a chance for Iraqi girls to show their beauty -- that reflects the beauty of Iraq."
But she admitted: "I have mixed feelings -- of fear, and happiness."
Copyright (2013) AFP. All rights reserved.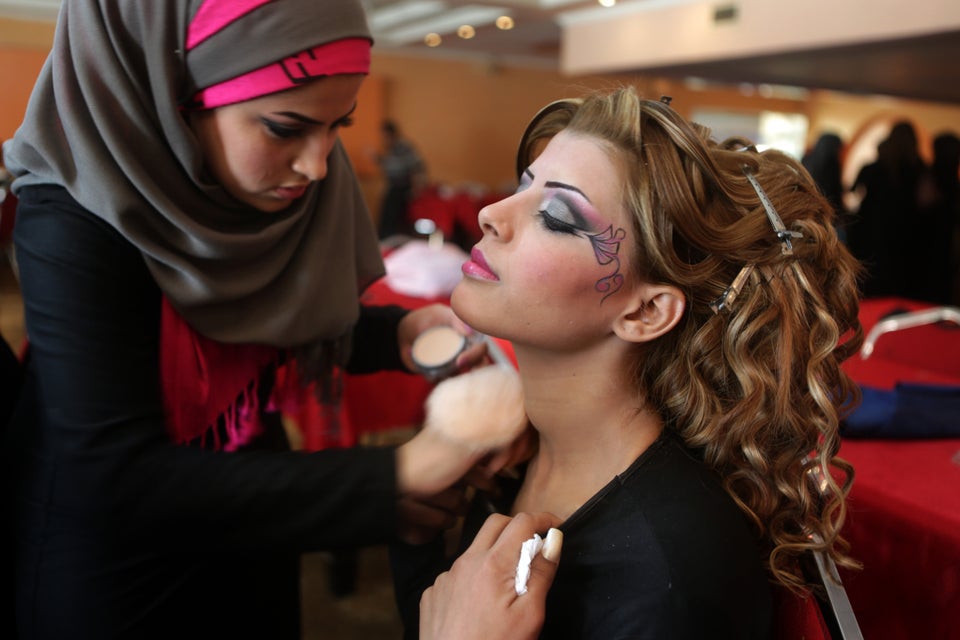 Iraq Beauty Festival 2013
Popular in the Community