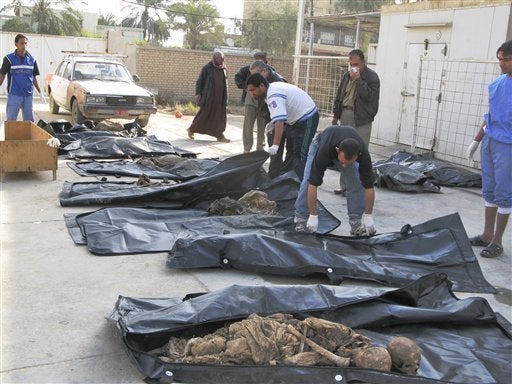 Violent civilian deaths in Iraq rose 36 percent in February from the previous month after a series of large-scale bombings blamed on al Qaeda, Iraqi government figures showed on Saturday.
A total of 633 civilians died violently in February, compared with 466 in January, according to figures released by Iraq's interior, defense and health ministries. It was the first increase after six consecutive months of falling casualty tolls.
Despite its sharp rise, the February 2008 figure was still dramatically lower than the 1,645 civilians who died violently in the same month a year ago. A total of 701 civilians were wounded, compared with 2,700 a year ago.
Declining civilian casualties have been hailed by Iraqi and U.S. military officials as proof that new counter-insurgency tactics adopted last year have been working and Iraq is safer.
February's casualty figures spiked after female bombers killed 99 people at two pet markets in Baghdad on February 2 and a suicide bomber killed 63 people returning from a Shi'ite religious ritual south of Baghdad on February 24.
Both attacks were blamed on al Qaeda.
Popular in the Community