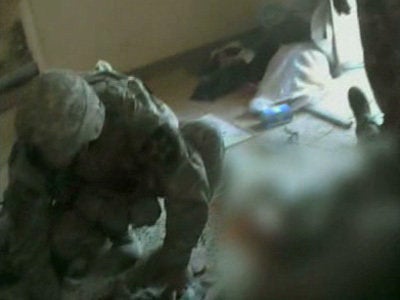 Oct. 14, 2008 | PHILADELPHIA -- Once a cop, always a cop. Asked if she wanted to see a graphic battle video showing her son Albert bleeding to death, Jean Feggins, retired from the Philadelphia Police Department, said yes.
"Listen, I've moved dead bodies of people I don't even know," she told me, as she sat on a brown couch in the den of her West Philadelphia row house. "I need to know everything. Because he is not a stranger. That's my baby. That's my child."
When Pfc. Albert Nelson died in Iraq in 2006, the Army first told Feggins that he might have been killed by friendly fire, and then that it was enemy mortars. She says she never believed the Army's explanation. "I always felt like they were lying to me," she said. "I could never prove it."
"I would ask the casualty officer what was going on. I'd be told they are still working on the report," she said. "They were still doing their investigation. What could I do? It's the U.S. military. I had no control."

Calling all HuffPost superfans!
Sign up for membership to become a founding member and help shape HuffPost's next chapter