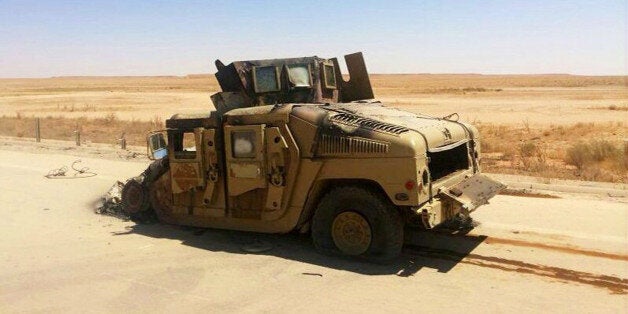 Iraqi Prime Minister Haider Al-Abadi told state TV on Sunday that Iraq's government lost 2,300 Humvee vehicles when Islamic State insurgents seized the city of Mosul in June 2014.
The Islamic State, also known as ISIS, took over Iraq's second-largest city following the staggering collapse of the Iraqi military in the region. Faced with the militants' advance, the Iraqi troops defending the city fled so hastily that some soldiers reportedly stripped off their uniforms and left behind the equipment they carried.
The militants also lynched and burned captured soldiers on the hoods of Humvees after taking Mosul, an Iraqi army sergeant told Reuters last year.
The total monetary value of such a staggering number of vehicles isn't known, as the price of Humvees varies greatly depending on the equipment and options. The State Department in 2014 approved a potential sale of Humvees whose estimated cost was $579 million for 1,000 vehicles with "increased armour, machine-guns, grenade launchers, other gear and support," Agence France-Presse reports.
Since the fall of Mosul, ISIS seizures of U.S.-supplied weaponry from Iraqi security forces have continued to be a problem. Pentagon spokesman Col. Steve Warren said earlier this month that ISIS likely obtained half a dozen tanks and around 100 Humvees after seizing control of the western city of Ramadi.
Calling all HuffPost superfans!
Sign up for membership to become a founding member and help shape HuffPost's next chapter
BEFORE YOU GO
PHOTO GALLERY
Fighting In Iraq