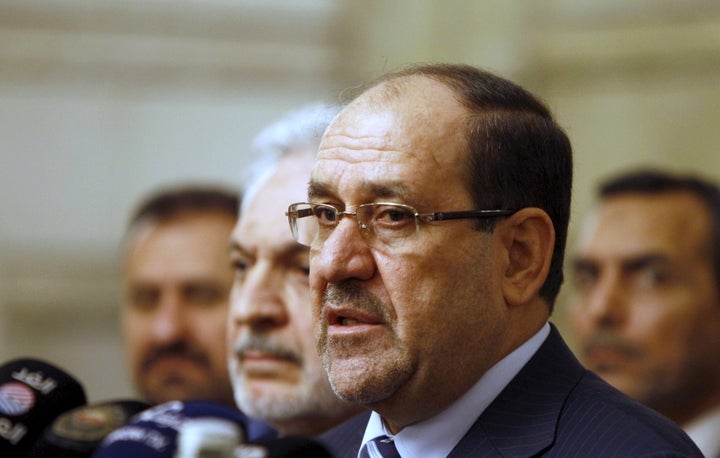 BAGHDAD, Aug 17 (Reuters) - Iraq's parliament on Monday referred to the public prosecutor a report calling for the trial of former Prime Minister Nuri al-Maliki and dozens of other top officials over the fall of Mosul to Islamic State last year, lawmakers said.
In the most dramatic step yet to provide accountability for the loss of nearly a third of the country's territory, the assembly endorsed the report that found security and political leaders responsible for the loss of the city.
Their possible trial, combined with Prime Minister Haider al-Abadi's campaign to reduce Iraq's patronage system, risks further polarizing Iraqi politics.
But it could also help restore confidence in the government, especially among Sunni Muslims marginalized by Maliki's divisive politics, and rebuild a security establishment riven with graft and incompetence.
Abadi, a moderate Shi'ite who has promised to seek reconciliation with Sunnis, launched an ambitious campaign last week aimed at transforming a system that has deprived Iraqis of basic services while undermining government forces in the battle against Islamic State.
The panel's report alleges Maliki had an inaccurate picture of the threat to the northern city because he chose commanders who engaged in corruption and failed to hold them accountable.
There has been no official accounting for how Mosul was lost, or of who gave the order to abandon the fight. Maliki has accused unnamed countries, commanders and rival politicians of plotting the city's fall.
Maliki, whose vice president position was canceled last week by Abadi's reforms, did not comment on the accusations during a visit to Iran that began before the report's release. In Tehran he met Vice President Eshaq Jahangiri.
It was not clear when - or if - Maliki would return to Baghdad, and his office refused to comment.
 RELIANCE ON SHI'ITE MILITIAS
An investigation by Reuters in October showed how troop shortages in Mosul and infighting among top officers and Iraqi political leaders played into Islamic State's hands and fueled the panic that led to the city's abandonment.
The fall of Mosul in June 2014 exposed the weakness of the system after the 2003-2011 U.S. occupation and left Baghdad dependent on Shi'ite militias, many funded and assisted by neighboring Iran, to defend the capital and recapture lost ground.
Even before the city's collapse, Islamic State had found some support in western Anbar province, where minority Sunni tribes had revolted in 2013 - fed up with years of corruption and intimidation by Maliki's Shi'ite-majority government and incensed by his violent response to protests.
Despite a U.S. program to train Sunni recruits to fight Islamic State, Abadi has struggled to bring the tribes fully on board, instead relying heavily on Shi'ite militias at the risk of inflaming sectarian tensions.
Iraq expert Renad Mansour said the report could help Abadi tackle underlying issues of legitimacy that are key to any lasting military victory.
"You're not going to be able to win back Ramadi, to win back Mosul, to win back Iraq without addressing some of the underlying concerns that people have and that's rebuilding trust," said Mansour, of the Carnegie Middle East Center.
 Islamic State's seizure of Mosul as it swept across the Syrian border and declared a caliphate last year exposed the failings of a governing system defined largely by ethno-sectarian party patronage.
In addition to Maliki, the report's findings placed responsibility for the fall of the city on Mosul Governor Atheel al-Nujaifi, former acting defense minister Sadoun al-Dulaimi, former army chief General Babakir Zebari and Lieutenant General Mahdi al-Gharrawi, former operational commander of Nineveh province, of which Mosul is the capital.
Others accused include Nineveh police commander Major General Khalid Hamdani, former Deputy Interior Minister Adnan al-Assadi, former army intelligence chief Lieutenant General Hatam al-Magsousi and three other Kurdish members of the Iraqi security forces.
The report further alleges links between Islamic State and the Turkish consul in Nineveh, and a cover-up by Nujaifi and other provincial officials.
The coalition led by Sunni politician Osama al-Nujaifi, whose vice president position was also eliminated last week, condemned the panel as "political and unqualified to reach real conclusions." (Additional reporting by Bozorgmehr Sharafedin in Dubai; Writing by Stephen Kalin; Editing by Dominic Evans)
PHOTO GALLERY
Fighting In Iraq
REAL LIFE. REAL NEWS. REAL VOICES.
Help us tell more of the stories that matter from voices that too often remain unheard.