WASHINGTON -- In nine years of war in Iraq, 4,448 Americans died and 32,221 were wounded in battle, leaving behind a deeply divided country steeped in corruption. And despite a $60 billion U.S effort to rebuild Iraq, life for most Iraqis has not improved significantly, according to a bitter and regretful retrospective by Iraqi officials and U.S. diplomats, military officers and politicians.
Their views come with the final report of the Special U.S. Inspector General for Iraq Reconstruction, released Wednesday. Congress set up the SIGIR office in November of 2003 to monitor the vast sums of Iraqi and U.S. money being spent by the U.S. occupation authorities in Baghdad.
Over nine years, Inspector General Stuart W. Bowen and his staff relentlessly tracked down what happened to the $146 billion in Iraqi money and the $60 billion in U.S. funds -- much of it airlifted to Iraq in pallets of shrink-wrapped $50 bills. Despite the claims of President George W. Bush and other U.S. officials that the United States would rebuild an even better Iraq after the March 2003 invasion and occupation, the money "underperformed," Bowen noted dryly in the report.
"There was misspending of money," said Iraqi Prime Minister Nouri al-Maliki, in one of the colossal understatements contained in the massive report.
The one bright spot, the report said, was the $20.2 billion the United States spent to train and equip Iraqi security forces, which have managed to keep Iraq relatively stable despite rising political tensions and sectarian violence.
But apart from the detailed investigations and assessments in the final SIGIR report, it is the observations of senior Iraqi and American officials that are most damning. Bowen and his staff talked with Maliki and Iraqi politicians and jurists, former Ambassador Ryan Crocker, former Gen. David Petraeus and Gen. Ray Odierno, now U.S. army chief of staff.
Bush, former Vice President Dick Cheney, former Defense Secretary Donald Rumsfeld and L. Paul Bremer -- who ran Iraq in the crucial years of 2003 and 2004 as head of the Coalition Provisional Authority (CPA) -- did not offer their own assessments.
There is little chance that the United States, given the difficult lessons of its wars in Iraq and Afghanistan, will embark on a major invasion and military occupation any time soon. But if it did, the ineptness and hubris of the U.S.-led reconstruction effort will serve as a guide to how it shouldn't be done.
"The level of fraud, waste and abuse in Iraq was appalling," Sen. Susan Collins (R-Maine) told SIGIR. She said she had urged the White House to make careful loans to Iraq for reconstruction, but Bush had insisted on a "no strings attached" approach instead.
A senior Iraqi bank auditor, Dr. Abdul Basit Turki al-Sae'ed, who has led many investigations of Iraqi government spending, said the flood of U.S. dollars into the country had fostered a "triangle of political patronage" among Iraq's political parties, sectarian groups and government officials that sparked corruption and terrorism.
Former Iraqi Prime Minister Ibrahim al-Ja'afari said Iraq's oil profits, which in 2003 and 2004 were spent by Bremer's CPA, were "gravely mismanaged," eroding the country's educational and medical facilities and sapping its ability to provide such basics as electricity.
U.S. Army Chief of Staff Odierno, who commanded in Iraq for six of the war's nine years, said in retrospect it would have been better to have held off major U.S. investments in reconstruction projects until five or six years into the war, when U.S. troops and U.S.-trained and equipped Iraqi forces were beginning to bring the violence under control.
In 2004, for instance, the U.S. launched an ambitious project to build a sewer and water system in Fallujah, a center of intense and bloody sectarian fighting. Originally slated to cost $35 million and take 18 months to complete, the project so far has cost $195 million and is scheduled to be finished in 2014.
Raheem al-Ugaili, a judge and head of Iraq's Commission on Public Integrity until 2011, pursued dozens of corruption investigations involving U.S.-funded projects until he was fired for reaching too deeply into Iraq's political elite.
"Vast amounts of money were wasted without attaining actual intended results," al-Ugaili told SIGIR. He identified one major problem common to U.S. reconstruction efforts: Americans excluded Iraqis from the planning and prioritizing of projects.
But worse than simply wasted money and incomplete projects was the culture of corruption left behind. "Sketching out a grim picture of Iraq's anti-corruption institutions in full retreat, the judge asserted that the level of kickbacks to [Iraq government] officials and the volume of money laundering continue to grow," SIGIR reports.
That culture has seeped into the U.S. involvement in Afghanistan as well, according to Ryan Crocker, who served as ambassador to Afghanistan from 2011 to 2012 after leading the political-military campaign in Iraq from 2007 to 2009 with Petraeus. Corruption, cost over-runs and unfinished construction of U.S.-funded projects in Afghanistan are documented in regular reports from the U.S. Special Inspector General For Afghan Reconstruction (SIGAR), also a congressionally mandated watchdog.
Crocker told SIGAR that the United States had done a better job in Afghanistan in including local Afghans in the planning process. But as in Iraq, he said, the United States had launched ambitious projects for which Afghans had neither the expertise nor the money to operate.
For instance, he said Afghanistan lacks the money to maintain the new road system built with reconstruction funds.
"We're already seeing them crumbling," he said.
Before You Go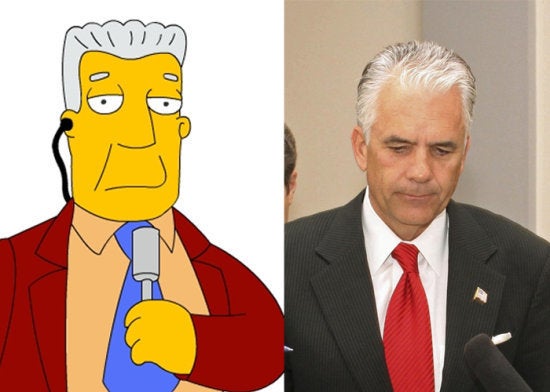 Political Look-Alikes
Popular in the Community