 MOSUL, Iraq, Oct 6 (Reuters) - A suicide bomber drove a truck packed with explosives into the playground of a primary school in northern Iraq and blew himself up, killing 14 children and their headmaster on Sunday, police and medical sources said.
Another suicide bomber attacked a group of Shi'ite pilgrims on their way to visit a shrine in Baghdad, killing at least 14 people and wounding more than 30, some of them critically, police said.
No group immediately claimed responsibility for either bombing, but the tactics used point to the Sunni Islamist al Qaeda, which views Shi'ites as non-believers and has been regaining momentum this year.
"Pools of blood, shoes and flesh are covering the ground," said a policeman at the scene of the blast in Baghdad, which came on the anniversary of the death of a Shi'ite imam. Women and children were among the victims, the policeman said.
More than 6,000 people have been killed across the country this year, according to monitoring group Iraq Body Count, reversing a decline in sectarian bloodshed that had reached a climax in 2006-07.
The attack at the primary school followed a suicide bombing minutes earlier on a police station in the same town, Tel Afar, about 70 km (45 miles) northwest of Mosul city, where Sunni Islamist and other insurgents have a foothold. There were no casualties in the police station attack.
The majority of Tel Afar's residents are from Iraq's Shi'ite Turkman minority, which in recent years has been the target of killings and kidnappings.
"The fingerprints of al Qaeda are clear on both attacks," said an official in the town who declined to be named.
Al Qaeda's Iraqi affiliate was forced underground in 2007 after a joint offensive by U.S. troops and Sunni tribesmen.
But the group has re-emerged this year, invigorated by growing resentment towards Iraq's Shi'ite-led government, which the country's Sunni minority accuses of marginalising their minority sect.
Sunnis launched street protests in December after Shi'ite Prime Minister Nouri al-Maliki sought the arrest of a senior Sunni politician. A bloody raid by security forces on a protest camp in April touched off a violent backlash by militants.
Relations between Islam's two main denominations have come under added strain from the conflict in Syria, which has drawn Sunnis and Shi'ites from Iraq and the wider Middle East into a sectarian proxy war.
Earlier this year, al Qaeda's Syrian and Iraqi wings merged to form the Islamic State of Iraq and the Levant, which has claimed responsibility for attacks on both sides of the border.
At least 60 people were killed on Saturday in two suicide bombings, one of which targeted Shi'ite pilgrims on their way to visit a shrine in Baghdad. Two Iraqi journalists were also shot dead by unidentified gunmen in central Mosul.
In a statement on Sunday, U.N. envoy to Iraq Nickolay Mladenov urged political, religious and civil leaders to work with the security forces to halt the surge in bloodshed.
"It is their responsibility to ensure that pilgrims can practice their religious duties, that school children can attend their classes, that journalists can exercise their professional duties, and that ordinary citizens can live a normal life, in an environment free of fear and violence," he said.

Related
Before You Go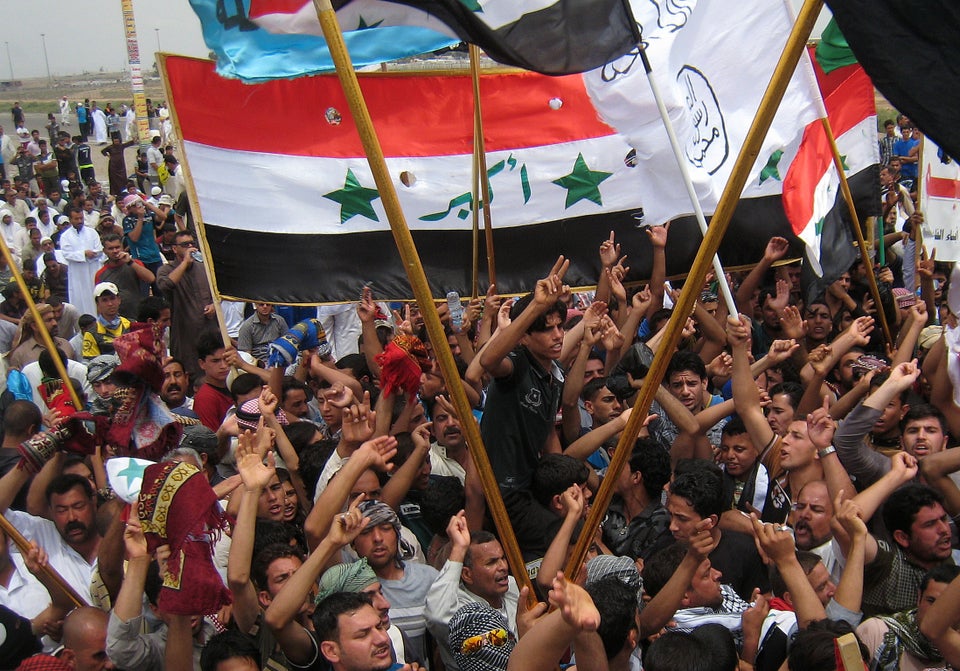 Deadliest Month In Iraq In Five Years
Popular in the Community