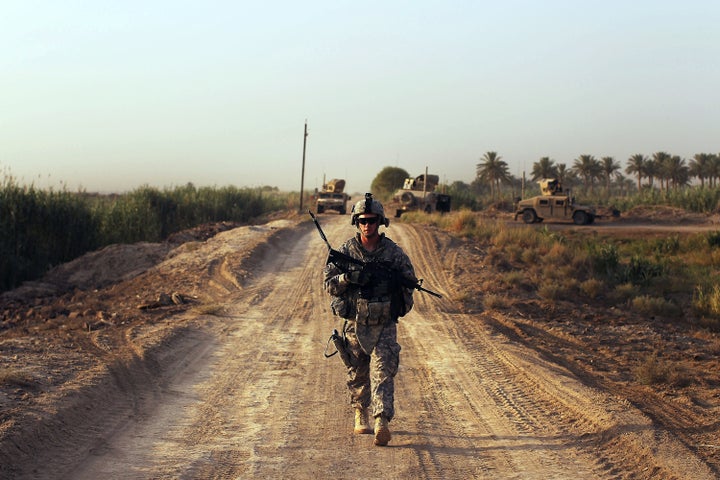 The Obama administration is willing to drop American troop levels in Iraq to as low as 3,000 by the end of this year, The Huffington Post has confirmed.
The new figure, first reported Tuesday by Fox News, represents a significant drop in the number of American military personnel expected to remain in the country after the American mission in Iraq expires on Dec. 31.
A source familiar with the situation told HuffPost that the 3,000 figure was correct, although there may end up being as many as 5,000 troops in the country at any time, given the logistics of troop rotations.
Administration and Pentagon officials had hoped to secure Iraqi-government approval for a larger troop presence in Iraq into 2012, with the U.S. recently pushing for a final figure of around 10,000. But administration officials have lately come to believe that approval would be hard to get for anything more than a few thousand troops.
The troop presence would probably include some combination of military trainers and air and naval advisers, the source said, adding that some Pentagon officials fear the 3,000 number may be too small to achieve even their limited missions.
Pentagon spokesman George Little denied that any final decisions have been made on the troop levels.
"Discussions with the Iraqis on our post-2011 strategic relationship are ongoing, and no decisions on troop levels have been made," Little told HuffPost. "We continue to proceed with troop withdrawals as directed by the president."
Administration officials have been debating troop withdrawal plans for months now, with many officials arguing that while current levels of some 45,000 troops are unsustainable, a long-term military presence is essential for stability in the region.
Brian Katulis, a senior fellow for the Center for American Progress, said the ultimate troop figure might actually obscure a much larger presence of armed American personnel in the country, even after the U.S. withdraws.
"Whether it's three to five thousand, or something larger, the American footprint will remain quite large no matter what," Katulis said.
A May study by the U.S. Institute of Peace determined that even a total handover of responsibilities in Iraq from military to civilian personnel would leave 17,000 State Department contractors and employees in the country.
Plans outlined publicly by the U.S. ambassador to Iraq earlier in the year indicated that the Iraq mission would be the Americans' largest diplomatic presence in the world, including more than a dozen embassy, consular and military assistance sites.
Another 5,000 security contractors would be required to protect civilians at these sites.
"We're going to have the largest diplomatic and development presence in the world, and there's going to be a very large army of private contractors defending them," Katulis said.
UPDATE: 3:15 p.m. -- In an early indication of the strong reaction the newly proposed troop figures may prompt, hawkish Sen. Lindsey Graham quickly tweeted his disapproval Tuesday afternoon, saying, "Reducing our troop presence down to 3,000 would put at risk all the United States has fought for in Iraq."
UPDATE: 4:20 p.m. -- In his daily press briefing Tuesday, White House spokesman Jay Carney noted that the administration has consistently said they would take into consideration any security request made by the Iraqi government, but "that request has not been made. No decision has been made. And as of now we are operating under the current [Status of Forces] agreement."
"We are in negotiations and consultations with the Iraqi government," Carney added. "We want a normal productive, healthy relationship with Iraq going forward."
Popular in the Community