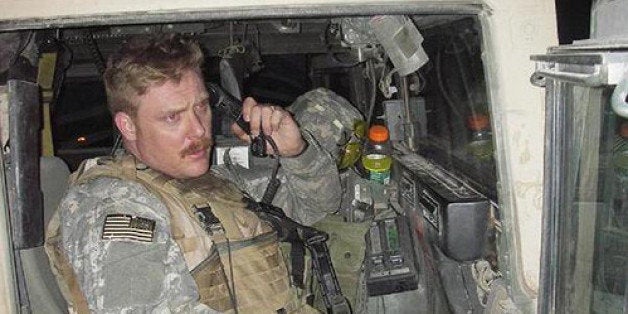 Promethazine, zolpidem, nortriptyline, morphine, divalproex, metoprolol, prazosin, ibuprofen, diazepam, quetiapine, meperidine, trazodone, mirtazapine, hydromorphone.
For Boone Cutler, this was a "combat cocktail" -– just one month's worth of the medications he was given at Walter Reed Army Medical Center in Washington while being treated for traumatic brain injury after a mortar attack in Sadr City, Iraq, in 2005.
"I'll tell you, at one point in time I was on every drug that killed Anna Nicole Smith, plus some," said Cutler, who was an Army sergeant at the time of the attack.
The drugs weren't enough. After being medically evacuated from Iraq, Cutler was confined to Walter Reed, which was then becoming crowded with the unanticipated casualties of the war. Soldiers were crammed together in rotting, rodent-infested neglect and, said Cutler, they were heavily medicated by the overworked staff.
"There were so many wounded and not enough to care for everybody," Cutler said. "So it was a chemical prison. You get there and they just throw you on a shitload of meds, with one 15-minute appointment a week. It was the worst time in my life. Two years. It was jacked. I saw a lot of guys looked better when they came in than when they left, because of the isolation."
Along with the dizziness, memory loss and blinding headaches of his brain injury, Cutler was having trouble speaking, exacerbating his feelings of abandonment. His wife had already left him, taking the kids. He hadn't been home to California in three years. And he felt alienated from people who acknowledged only those wounded soldiers with visible, physical injuries.
"I couldn't get the words out, I couldn't get the words from my head to my mouth. They'd come out screwed up," Cutler said. "I just hid a lot. I thought, I have no home, I can't support myself. … To go from a combat environment to go sit on your bed to now you're a civilian -- these extremes are ridiculous."
Cutler decided, "I'm just gonna check the fuck out," and got his paperwork in order for his family.
"My exit strategy for Walter Reed was to hang myself," he said. "I was ready to roll. Once you've killed people, one more life doesn't really matter. Suicide is a death you'll never have to mourn."
Cutler had been in and out of the military since he enlisted in 1989. His first four years were as an Army infantryman -- two years in Germany and two years at Fort Bragg. He had applied to transfer to Special Forces when he received a job offer as a private investigator in Los Angeles.
He took the job, but after a few years, he "got the itch again," as he described the pull toward military service. He reenlisted and changed his military occupational specialty to "tactical psychological operations" -– "influence attitudes to change behaviors to support the U.S. national objective," he rattled off. Again, after a short enlistment, he got out.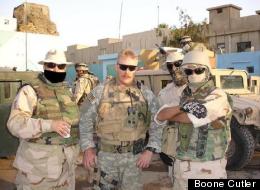 But Sept. 11 prompted him to call up his old unit. "'Are you hot? Are you deploying?'" he remembered asking. "I wanted to make sure we were gonna commit to this thing, that America was actually gonna do this thing, before I committed my life to it again."
He joined back up and deployed to Forward Operating Base Hope in Sadr City, a suburb of Baghdad. His "psy-op" team always worked outside the wire, he said, "assessing the susceptibilities of the enemy so they could be exploited."
In August 2005, they were caught in a mortar attack.
"One came pretty close to me, rung my bell a little bit," Cutler said. "I just kind of sucked it up. I wasn't bleeding, I wasn't pulling shrapnel out of my head."
But his symptoms grew steadily worse. His balance was thrown off by the blast, and the headaches were debilitating. Cutler started taking meticulous notes, to help him keep daily events in order. By March 2006, Cutler said he was only getting out of bed for missions.
"I stayed, I got to be there for the whole fight," he said proudly, but added, "Buddies told me how when I was not outside the wire, when the adrenaline stopped, 'You were just fading the longer you were in country.'"
Doctors on base later ordered him medevacked out to treat his symptoms and an older injury, a dislocated vertebrae in his neck from a "bad jump in '98." "There's more going on there than you think," they told him. That's when he was sent to Walter Reed.
"At that time, nobody was talking about blast injuries," Cutler said. "Just getting my bell rung, I wasn't gonna let that stop me, it's not what we do. I thought, 'OK, not a big deal' -– but it was a big deal. It had seriously affected me." Only later in 2006, once at Landstuhl Regional Medical Center in Germany, did he learn that he was suffering from traumatic brain injury, or TBI.
"They say, 'Well, you look OK,'" he said. "I hear a lot when I talk to guys with TBI, 'I would trade my leg if I could.' Cause then I wouldn't have to explain everything, I wouldn't have to justify my injury, I would just be understood. Because nobody understands."
In the midst of his suicidal depression at Walter Reed, a retired Vietnam-era vet offered him a job.
"'I don't think you understand,'" Cutler said he told him. "'I can't do anything.' … I was pissed. I thought, 'You motherfucker. I could've killed myself by now, but you had to give me a job.' Cause I can't just quit."
Cutler added: "He was the first person who really helped me out. He gave me a bridge."
Cutler began, slowly, to pull himself back together. In 2009, he decided to kick the combat cocktail that doctors had given him to numb his panicked responses to loud noises, crowds, grocery store aisles and certain facial expressions, the "triggers" that could send him spiraling out of control. But in the process, like others in his situation, he'd become addicted to the drugs.
"It feels like you have a self-destruct button, and somebody's got their finger on it and you're wondering when they're gonna push it because you don't have as much control as you think," he said of how he felt on meds. "And you have to make sure to keep telling them, 'Get your finger off that button, get your finger off that button, get your finger off that button.' You're always protecting the button, trying to stay away from your triggers."
It took 17 days for Cutler to go through withdrawal, but he made it. He said he believes stopping the overmedication was critical to getting him out of his suicidal funk. "Now I was the one who said, 'Don't touch that fucking button.'"
Today, Cutler is 100 percent disabled, with some 70 percent attributed to PTSD.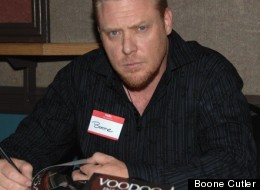 His current wife is his full-time, VA-certified caregiver. Because of his TBI, he still struggles with reading. He had given up on turning his meticulous notes from Iraq into a book when a VA coordinator in Reno, Nev., told him to bring in his draft. Every morning at 7 a.m., she'd come in early to read it to him.
"Imagine the embarrassment. I used to be the protector, and now I can't even fucking read? Somebody has to read to me, like I'm a child?" Cutler said.
His book, Voodoo in Sadr City, was published in 2010. People began contacting him.
"They started asking me my story, and other war fighters started telling me their story. 'It's like you're speaking for me,'" Cutler recalled. "I now had a real mission in life, and that's what saved my life, and continues to save my life every day."
Cutler said staying alive boils down to two simple things: the mission and battle buddies.
His closest battle buddies are his kids.
"Even my psychiatrist says a lot of war fighters live for their kids, because their kids become their team, their squad that they have to care and be responsible for," he said.
Sometime in 2009, a buddy from combat called Nacho reached out to Cutler after another veteran friend committed suicide.
"I said, 'Hey, bro, if you ever feel like that, promise me you'll at least call me first. Don't leave me fucking hanging,'" Cutler recounted. "He said, 'I feel that way all the time,' and I said, 'So do I.' … We gave our word to each other."
This exchange became the "Spartan Pledge," an oath taken by veterans to keep each other alive. In 2010, Cutler founded the National Warfighter Symposium to bring awareness to issues of veterans' homelessness and suicide. And now he has taken his survival strategies to the airwaves with a show called "Tipping Point With Boone Cutler" on Fox News Radio and other affiliates.
"It was almost a surprise to us," Cutler said of that revelation with Nacho. "It was just amazing and sad that somebody had to die for us to have that conversation."
This article is part of a special Huffington Post series, "Invisible Casualties," in which we shine a spotlight on suicide-prevention efforts within the military. To see all the articles, blog posts, audio and video, click here.
Before You Go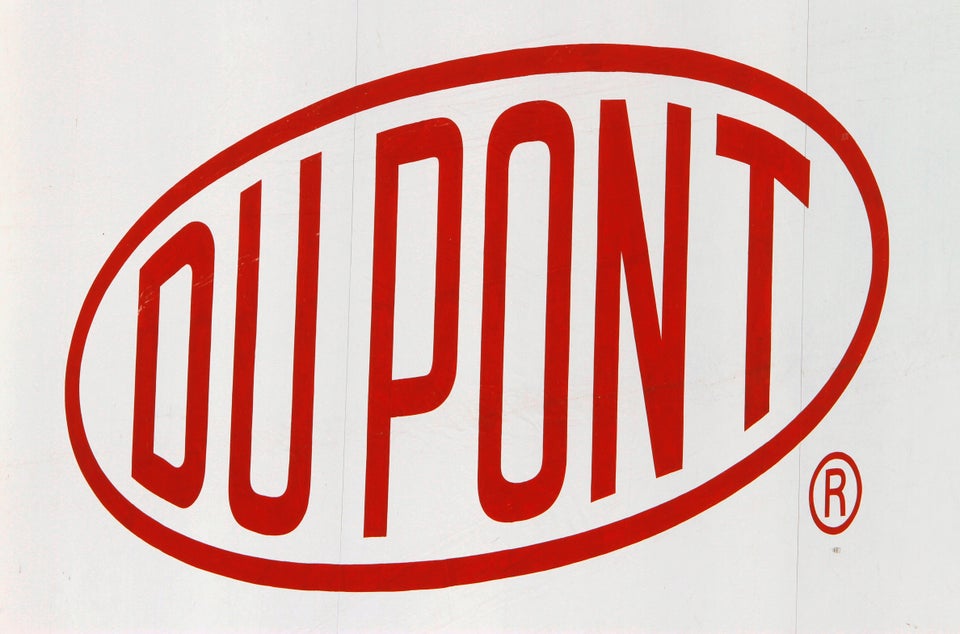 Companies That Work To Hire Veterans
Popular in the Community